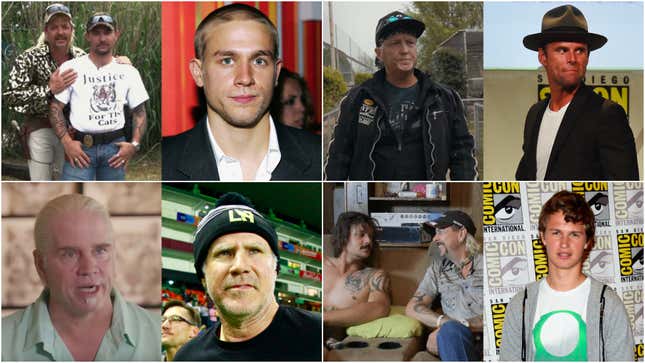 According to Variety, a limited series titled Joe Exotic—based on the second season of Wondery's Over My Dead Body podcast and starring executive producer Kate McKinnon—is now set to air on NBC, Peacock, and USA Network. Since the documentary version of that tale took over Netflix earlier this year, interest in casting the fictional versions of Tiger King's key characters has reached a fever pitch. McKinnon is already slated to play Big Cat Rescue owner Carole Baskin (we can't wait for her to say, "Hello, all you cool cats and kittens"), and actors like Dax Shepard and Edward Norton are on Twitter making the case that they should play the plum role of Joe Exotic himself. And in April, Rob Lowe announced that he and Ryan Murphy are creating their own version of the "insane" story.
But what about all those minor characters, like Joe Exotic's various spouses, and Baskin's current husband, who looks a lot like her missing second husband? We humbly offer our lower-level Tiger King casting suggestions.
This story was first published in April when news broke that McKinnon's limited series was in the works.