The final show before Wrestlemania typically isn't about showcasing great wrestling. A good, memorable match is a bonus, not the intent. (The last great match was Daniel Bryan vs. Roman Reigns at Fastlane 2015). Fastlane is about teeing up storylines for Raw Monday night—in Chicago's Allstate Arena, so a hot crowd expected—which then sets the narrative agenda for Wrestlemania in four weeks.

As a show, Fastlane had its fine moments, but the quantity of mediocre-to-forgettable matches made this felt like a Monday Night Raw with fewer commercials.
To be sure, there were some great wrestling, but not from who you'd expect. Roman Reigns vs. Braun Strowman exceeded middling expectations and became a great match, with much credit to Strowman for giving the performance of his young career. The cruiserweight championship also saw an unexpectedly spirited performance by Jack Gallagher against Neville. In both Strowman and Gallagher's cases, both came out of their losing efforts stronger than when the day began.

The one match with the greatest potential for a killer wrestling bout was Samoa Joe vs. Sami Zayn. As the show's opening match, this could've flown out of the gate and perhaps leave some residual goodwill for the less promising matchups on the card. But given the pedigree of these two athletes, this could only be seen as a disappointment—kept short, and a mostly one-sided showcase for Joe. Booking Joe as the mercenary killer was, of course, the right call, but balancing Zayn's offensive output and added five extra minutes could've yielded a far better match.

The one promising match having fizzled, the rest of the card had a low bar to clear. The tag team championship was a dud with a ref-missed-call finish (and a terrible rocket launcher from Enzo Amore). Nia Jax rag dolled Sasha Banks for 95 percent of their match, which telegraphed a Banks victory—and she did, with what the announcers painted as a fluke victory after a rollup on Jax. There were already seven main card matches scheduled, so what exactly was the point of adding two bonus matches? To steal more time away from the announced matchups? Jinder Mahal vs. Cesaro and Big Show vs. Rusev felt like 8:30 to 9:00 p.m. on Raw.

G/O Media may get a commission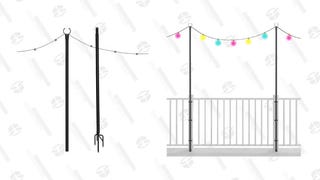 Up To 49% Off
Holiday Styling String Light Poles
But then came the cruiserweight championship, and a novelty act showed newfound vigor. Let's face it, it's hard to take Jack Gallagher as a legitimate contender. But tonight he exhibited a fighting spirit, putting together a fine match with Neville. When Gallagher head butted Neville on the top rope, momentarily I suspended disbelief and thought he actually had a smidgen of a chance. But then Neville awkwardly tossed Gallagher from the middle rope and landed a Red Arrow for the win.

Over the last few weeks, we've seen Braun Strowman incrementally improve in his in-ring performance, displaying a wider and more dynamic move set. The question was how he'd fare in a long match. Strowman didn't need Roman Reigns—a great big match performer—to carry him, because Strowman held his own admirably. Strowman didn't succumb to the curse of the clumsy big man wrestler, showing great timing and athleticism while looking like the unstoppable monster throughout. That spear reversal into a powerslam was killer, and the attempted splash from the top rope brought the crowd to their standing "holy shit"-ready position.

With the women's championship, Bayley and Charlotte put on their usual fine Bayley-Charlotte clinic, but the match served more a storyline purpose, presumably setting up a four-way between Bayley, Charlotte, Sasha Banks and Nia Jax.

And then we had the main event. Did anyone expect a Goldberg match that lasted longer than a minute? Would Kevin Owens be booked to look stronger and more cunning than Brock Lesnar? Of course not. There wasn't much doubt about the spear-jackhammer-pin template; the only question was whether Chris Jericho would get involved Sunday or Monday.

We found out tonight. After some stalling tactics by Owens, Jericho's music hit, Owens became distracted, and Goldberg's prognostication of spear-jackhammer-pin came true. Goldberg is the new universal champion. Now the Goldberg vs. Lesnar match has something at stake.