On August 22, 2015, in Brooklyn, New York at the Barclays Center, NXT arrived. Selling out a crowd of 13,000 for a show that's "just developmental" is a huge deal. Proving that wrestling fans will buy into character development, pay-offs that take longer than just the four, three, two weeks until the next pay-per-view is a huge deal. Really, it's a big fucking deal. When WWE uses the word "revolution," it's often hollow, like a lot words WWE overuses; but when Triple H says at the top of NXT TakeOver: Brooklyn that this is a revolution, it's honest. It's true. It's pure. It's the type of thing that makes a person write about the truth and purity of professional wrestling, a sport (entertainment) originally created as a carnival grift. When NXT has to show up, NXT shows up—you can't say that about main roster WWE, with over 12 pay-per-views a year and less than a handful of them actually being "important" (in presentation, matches, stories, etc.). NXT doesn't do filler TakeOver specials, because it thankfully cannot afford the luxury, given the way it's presented. But even if it were presented in standard main roster WWE format—which is the case here—it still avoids those pitfalls. This is why people have been saying for years now that "the developmental show" is better than the main roster: because effort is put into it. Sure, even at its worst, effort is obviously put into WWE RAW. But the same can't be said about SmackDown or Main Event or Superstars, and as Scott Steiner would agree, that means only a quarter of the main roster product is considered worthwhile. For the little NXT has, everything matters. TakeOver specials are the culmination of that.
Placing TakeOver the night before SummerSlam means the latter has to clear the heights that NXT reached even more so than usual. Watching an amazing (or even just good) TakeOver a month before WrestleMania is not the same as watching an amazing TakeOver the night before WrestleMania. There are already expectations and comparisons, but the back-to-back, double shot weekend makes the expectations and comparisons greater. Keeping in mind that SummerSlam is now four hours this year and being sold more than usual as the WrestleMania of the summer, there's an added pressure for it to steal the weekend.The Bayley/Sasha match is a Match Of The Year candidate for WWE and arguably the Match Of The Year for WWE (and greatest women's match in the history of WWE). SummerSlam (and most every show after that) is going to be working from that point of reference.
But look at the SummerSlam card: This is made harder with a Sheamus/Randy Orton match; a Triple Threat that features crowd killers (especially in Brooklyn) Big Show and Ryback; a Triple Threat elimination tag match with a rule that shows what a crock this #DivasRevolution is in the hands of the WWE spin machine (eliminations of whole teams occur with one person losing the match)—especially after this TakeOver. There's also John Cena versus Seth Rollins in an "If Cena Wins, We Do Nothing But Question Our Viewing Choices" match and Undertaker versus Brock Lesnar in a match no one really asked for.(Hey Kyle Fowle, how you doing?)
On a personal note, the match I'm most looking forward to at SummerSlam features an actor.
G/O Media may get a commission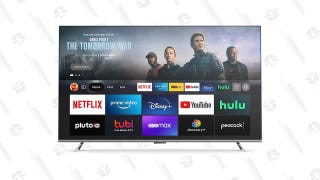 Save 46%
Fire TV 55" Omni Series 4K UHD Smart TV
Before I get into the real TakeOver show, let me address a particular chant from the first match. Here's the thing: Full Sail does suck. Consider it an Impact Zone situation, but the crowd has gotten so used to NXT being its own thing—entitled even—that when Kevin Owens calls them out for being hypocrites who don't really want it to grow, there's no arguing against that. This extends to the things people don't see onscreen, like the clique-like behavior from the NXT audience regulars that make new NXT audience members feel unwelcome. They want to keep it to themselves. It's true, because the same is true in a way for NXT viewers. It's not that we don't want NXT to travel the world and have shows that sell out huge arenas. But there's a reason people "joke" about Vince McMahon learning about NXT and then making it what he wants it to be. That's literally what happened with NXT: Redemption, which had reached a peak creative roll, and then all of a sudden had Great Khali and Ezekiel Jackson stinking up the place, turning it into another Superstars in the last few weeks before it became the NXT of today. It's the justified fear that comes with NXT talent being "promoted" to the main roster (one I've explained many a time). The argument for the (or any) New York wrestling crowd to turn the other cheek seems futile, but also, it was important at the time that these chants only happened once in the night and didn't happen again. They didn't, barring the "streamer guys" situation. It wasn't a pattern. The Full Sail crowd has created a pattern, and they started the immaturity in booing Brooklyn every chance they got. Two wrongs don't make a right, etc. But if, for once, if only for a week, the Full Sail crowd can get a little comeuppance, then let the childish immaturity wash over us all.
TakeOver: Brooklyn begins with a match that still doesn't feel like it really happened: Tyler Breeze versus Jushin "Thunder" Liger. It's hard to explain how surreal and amazing just the very match-up is, because it still feels like a dream. Watching Liger in a WWE ring, watching the crowd react so favorably to him (which is more expected here than if TakeOver were in, say, Idaho), watching him do his signature moves—there's nothing like it, even when you're watching from home instead of live and in person. If WWE were to call it "Breeze versus Liger: Once In A Lifetime," it would be believable and it would also be even more special (after every makes the initial Rock/Cena jokes). It shows so much faith in Breeze from WWE (or at least Triple H) that he is the one who gets to face Liger. But as usual with a TakeOver and a Tyler Breeze match, the uggo elephant in the room remains. With the knowledge that, prior to this match, Tyler Breeze is at a win-loss record of 1-3 at TakeOver specials, it stings even more that he's losing; and that doesn't even call into focus the fact that he's also curtain jerking these specials. In an ideal world, Tyler Breeze could stay in NXT forever, putting on classic matches, making the main roster salary he deserves. But WWE is rarely, if ever, an ideal world (for wrestling or otherwise), and as he remains in NXT, putting on quality work yet constantly losing, he's (still) at a crossroads.

Does he stay in NXT forever, always losing the matches that matter, repeating the same storyline again and again? Or does he go to the main roster, where the chuckle-heads on commentary talk about how he's not a real man and he wrestles Neville (or, most likely, R-Truth) on an endless loop? To say wins and losses don't matter would ignore the fact that Tyler Breeze keeps losing here (or Wade Barrett's entire career), and anyone who's only seen the TakeOver specials knows him as that guy who loses. He keeps losing here, as people who have been here for much shorter time or even with less skill have surpassed him and passed him by. Even Bo Dallas was NXT Champion. Sami Zayn's road to redemption was built on the fact that he couldn't win "the big one." In a reverse Big Match John situation, that pressure got to him in the worst way. But he eventually got past that and became the champ—Breeze is in the same boat, but every time he brings up the fact that he's been pushed aside or whatever, he still ends up losing and being pushed aside. (Apollo Crews, come on down!) While it's unsurprising in that Tyler Breeze is 1-3 (now 1-4) at TakeOver specials, how is that even a little alright? I've compared Breeze to Shawn Michaels before, I could compare him to Shawn Michaels again (and again and again), but all of that talent is sort of wasted if he's going to keep losing and be stuck in a state of arrested development, literally. Breeze has done everything he can do in NXT without winning the title. If he's not going to even win the title—which appears to be the case after all this time—then what?

Then again, Jushin Liger is fantastic, Tyler Breeze is fantastic, that match was fantastic, and we can always talk about the existential crisis that is Tyler Breeze next TakeOver, in the United Kingdom.
Also fantastic is Leva "Blue Pants" Bates, who I maintain should be signed by WWE to a real contract if she hasn't secretly been signed already. She has an entrance theme. She's more over than most people on the entire roster, male or female. She's the person they choose to be The Vaudevillains' third instead of a developmental woman or an established Diva. They're selling Blue Pants merchandise on WWE Shop. Add it up, it all spells "duh."

Maybe it was the euphoria and adrenaline of watching TakeOver: Brooklyn, but I really came out of the tag match seeing Blake and Murphy (who I still call Blurphy in both my notes and life) as a team that is less Edge and Christian (which is the common comparison) and more Young Bucks. That perhaps sounds like nonsense, but I would also elaborate that they remind me a lot of Young Bucks circa "Generation Me," full of talent but missing "something." For the Bucks, that "something" was a million and one superkicks and a '90s sensibility, but for Blake and Murphy, I'm still trying to figure that one out. So are they. As great as Alexa Bliss is—which is a constant reminder that the NXT women's division is missing her—she can't just be that "something." They need something to stand on their own when/if the time comes, and all I can think is that they need to find one more thing that can up their annoyance factor—like New Day did and continues to do. They are so technically sound, but I don't find myself thinking about that during their matches. I think about their opponents, I remember their opponents. They are the tag team champions, but as good as they are, they're never the most interesting part of their matches. Not even when they finally lose the Benoit tights.
Well, they were the tag team champions, as The Vaudevillains finally rise above the odds and vanquish their opponents. I understand the disappointment there had been about Enzo Amore and Colin Cassady not getting the number one contender-ship spot for this specific venue, but there was no world in which Enzo and Big Cass could have put on a better wrestling match than Aiden English and Simon Gotch against Blake and Murphy. And this was a good wrestling match—if nothing else, this TakeOver special is filled to the brim with good wrestling matches. That extends to Apollo Crews versus Tye Dillinger, which is really just an exhibition for the new kid on the block, but it's new, and it's shiny, and it even makes it okay that Dillinger loses despite just now transforming into his house show gimmick.

However, this "good wrestling match" does not extend to Samoa Joe versus Baron Corbin, try as the former might. And really, Joe tried so hard. But Baron Corbin is boring. And if there were any question about whether or not his heel heat is legitimate heat or "X-Pac heat," look no further than the reactions from the hot New York crowd: Because in the case of Baron Corbin, there are no reactions. They don't boo Baron—with the exceptions being the video package before the match and the one moment Baron goads the crowd in the last minute and a half or so of the match—and every chant regarding him is through the context of his opponent, especially addressing the fact that Joe is going to kill him. He's such a non-entity, which makes it even more embarrassing the he's a legitimate "badass" outside of WWE. The thing is, there's nothing wrong with this current character and backstory; he just can't execute it properly, and keeping him in the limelight instead of offscreen and in the Performance Center for fine-tuning isn't even fascinating at this point. It's like trying to fit a square peg into a round (or belly button smiley face-shaped) hole. Baron Corbin turning on the fans doesn't matter if he still can't get it done in the ring—which his why the fans turned on him in the first place. That's why the moment in that video package where he says "Anything they did, I can do." about the indy darlings who get signed is laughable. All signs point to the contrary, and Corbin can't fake it 'til he makes it with his one facial expression.
The Women's Championship match, on the other hand, is the exact opposite of all of that. In fact, Baron Corbin (and really, the majority of the WWE roster) should watch it on a loop and take notes.
Naturally, the worst part of the women's match being the co-main event (second to last match) meant that the actual main event (the last match) ends up underwhelming both the audiences at home and the crowd in the arena. In NXT, gone are the days of the Diva's matches being the cool down matches between main events; but at the same time, there are no cool down matches between main events. So trying to compose oneself after letting out actual tears of joy at the aftermath of Sasha Banks versus Bayley (or even Sasha Banks versus Becky Lynch from the last TakeOver) and trying to get one's heart rate back to normal in time for the next important match is practically impossible. It's an important argument for NXT Women's Championship matches to be the "main" main event: These matches are overshadowing the last match on the show, and they should be treated accordingly.

It took everything in my being as both a writer and a fan of professional wrestling not to just make this a review of the Sasha/Bayley match, instead foregoing that for the possibility of an actual discussion about it. If SummerSlam is the WrestleMania of the summer, then—given the entrances and appearances—NXT TakeOver: Brooklyn might be the WrestleMania of NXT (which I realize I probably say every time there's a new TakeOver special). This is the biggest audience these talents have gotten to perform in front of live on WWE television, and the show treats it as such, also answering the question of how certain entrances will look on a WWE scale instead of just an NXT, Full Sail scale. Remember when Rusev came to WrestleMania on a tank? Of course you do, you have a heart. Sasha Banks is on NXT TakeOver—which is so much smaller than WrestleMania, because everything is so much smaller than WrestleMania—coming out in an Escalade, with a posse of buff bodyguards escorting her to the ring, in a way befitting of a boss. Who expected that? Why didn't we expect that? Just from the opening moments of the match, everything is fresh and new and uncertain. That doesn't stop during the match.
At this point, I don't care how good Nikki Bella has gotten, she has never and will never pull off anything this good. If that sounds like an absolute, that's because it is. Part of that is because of the athleticism of the NXT women (and we're just speaking in terms of the Four Horsewomen now), but it's but also because the Bellas don't have characters or character development. They don't evoke emotion in the same way any of these women do. Watch Sasha Banks in this match; she and Kevin Owens are the only two wrestlers in all of WWE who still really understand the art of mocking their opponents with their own taunts. Watch Bayley in this match; the look on her face, the way her hair ends up, is absolutely the result of an enormous about of frustration she would never usually let out. Read the responses to the post-match hi-jinks, right down to the Four Horsewomen "Curtain Call;" there are tears from men and women alike, children too.

To flat-out say a Bella match would lead to fan tears (because of them and their work) is a lie. A large part of that is on the main roster's approach to women and women's wrestling for so many years, but again, the worker has a hand in it. Natalya going to Full Sail to take on Charlotte isn't something where another main roster Diva could just be inserted. And not to get too into the talk of the "dirtsheets," but for all the times the Bellas went on the record as saying they wanted NXT women called up to challenge them, there was never a time the Bellas went down to NXT for a special attraction match. To say that it was out of their hands would be a cop-out, especially if they could use it for Total Divas footage. Plus, as reminded of in this past RAW, Nikki Bella can't even keep from tipping her hand and half-assing things when she's going to lose to someone. The Divas Revolution has been fallen right into the "They're going to ruin them!" trap, because it's got no motivation or logic. It's impossible to completely ruin Charlotte, Sasha Banks, and Becky Lynch (and Bayley), because they transcend the Divas division across the board—they really are the faces of revolution. But them on the main roster is not the same as them on NXT, not even a little. As much as I love Horsewomen on RAW, I love them there because I loved (and continue to love them) them here.
Sasha versus Bayley is an all-out war. There are times during the match where I legitimately believe these two women are going to each kill each other or kill themselves trying to win this match. As far as I'm concerned, Sasha Banks broke five major bones and suffered three concussions during this match. Bayley will probably have to amputate her hand. Also, they both died with that top rope reverse hurricanrana. All while 13,000 strong chanted for both women, right down the middle, and let the world know multiple times that this is awesome.
It exceeds already high expectations, which is why the Balor/Owens match after is just not up to the level, emotionally. It's a good match, as well a ladder match that doesn't really rely on ladder play for the majority of it, until it's closer to the end. But even the crowd, as into it as they are, aren't as into it as they would be without the previous match. As I mentioned, this is not the first time this has happened with NXT TakeOvers' co-main events, but it really is frustrating for both sides of the argument. The previous match was both physically and emotionally draining, while this (30-minute) match is a rematch that doesn't quite make sense in the first place. The argument Owens has been making is the Japan was a fluke win for Balor, but the argument also ignores the integral part that was there from the beginning of their feud: Balor can only beat Owens one-on-one when he's the demon. That's why Balor loses the first NXT Championship match, and then the second match is all about the demon being in Japan (so, extra strong). So why is this rubber match not centered around the fact that the "fluke" was the demon? As cool as the demon is, it makes a case of Finn not really beating Kevin Owens until he can beat Kevin Owens. And unlike every time that is the case for opponents of John Cena, it's actually sound logic here. Of course, sound logic isn't on Owens' mind during the match, and like his taunt-mate Sasha Banks, his frustrated, inferiority complex-revealing trash talk gets in his way. Well, that and catching a coup de grace from the top of a ladder.

As much as these reviews are about words upon words about wrestling, it seems tedious to say Kevin Owens versus Finn Balor in a ladder match in Brooklyn is anything other than really damn good. Even when Corey Graves was channeling his inner Matt Striker and talking about "the heavens" in the end of the match. But it wasn't the best match on the card, as much as one would want the "main" main event to be the best match on the card.
But you know what the funniest thing about this entire event is, especially being in a wrestling "smark"-heavy area? Every match on the card was won by the babyface, without crowd backlash. There hasn't been an all-face result on any main roster WWE pay-per-view this year and probably even a lot further. The simplest point in wrestling is for good to ultimately triumph over evil, but in main roster WWE, there's a missing factor: the knowledge that the good guys can be winners and triumph over evil without having to ever be terrible human beings (or, in babyface New Day's instance, horribly stereotypical). In fact, good guys don't have to be terrible human being at all, even when they happen to be possessed by demons who just so happen to love wrestling and posing. What's striking about the winners in this show is how genuinely good of people their characters are. The Vaudevillains are chivalrous gentlemen who love sportsmanship. Bayley is sunshine and perseverance personified, a true role model. Finn Balor is—well, you saw the "Who Is Finn Balor?" segments. Again, he is also a demon… yet a good person. Apollo Crews is a disciplined physical specimen who is so happy to be here. The notable exceptions are maybe Joe, who's really just in it for himself and the money, and Liger, who just shows up to wrestle places, I assume. Even a contrarian crowd doesn't think to boo them, because they get it right, for both kids and adults. Yet a more mainstream product that's supposed to suit the general public and demographics of all types apparently can't do it all. Looks like that's one more for the good guys.
Stray Observations
RESULTS: Jushin "Thunder" Liger defeated Tyler Breeze; The Vaudevillains (with Blue Pants) defeated Blake and Murphy (c) (with Alexa Bliss) (NXT Tag Team Championship); Apollo Crews defeated Tye Dillinger; Samoa Joe defeated Baron Corbin; Bayley defeated Sasha Banks (c) (NXT Women's Championship); Finn Balor (c) defeated Kevin Owens (Ladder match, NXT Championship)
Weekly NXT reviews never quite got the views we hoped it would, so there's that. But be on the lookout for more TakeOver reviews in the future, as well as reviews for WWE main roster pay-per-views. Also, I still write about other things, and I find ways to mention wrestling in them too (see: my review of this week's Key & Peele).

Interesting "coming soon" promo from Nia Jax, aka The Rock's cousin. What do we think, hive mind?
KANNA/KANA. I'm hearing she has signed with WWE. Let's talk about this too.
The Dusty Rhodes Tag Team Classic explains some upcoming spoilers, doesn't it?
If you'll excuse me, I'm not done crying over the women's match and everything about it. In my defense, I'm pretty sure Triple H was crying throughout the whole event.