Here's what's up in the world of TV for Thursday, May 19. All times are Eastern.
Top picks
Grey's Anatomy (ABC, 8 p.m.): Against all odds, Grey's Anatomy somehow managed a creative renaissance in its 12th season. The death of Derek "McDreamy" Shepherd last year revitalized the show and even inspired The A.V. Club to start regular coverage for the first time. Tonight Caroline Siede weighs in on the series finale, which promises a wedding, a baby, and an ongoing custody disagreement. While that sounds pretty tame compared to this show's previous finales, maybe the writers will throw in a chemical weapon or something to spice things up.
DC's Legends Of Tomorrow (The CW, 8 p.m.): It's been an uneven first season for this latest Greg Berlanti superhero series. But the penultimate episode turned out to be the show's best yet. Will Legends continue that streak in the finale? Rip returns the team to their own time and their normal lives in Central City where they must decide whether to "sacrifice everything in order to save the world." Considering the show's already been renewed for a second season, Oliver Sava is betting most of the team decide to stay the course.
The 100 (The CW, 9 p.m.): After a season marred by death and controversy, all that remains to be seen is whether or not The 100 can stick the landing. In his most recent review Kyle Fowle noted, "A dark cloud permanently hangs over this season of The 100." On the other hand, he also added that the first half of this two-part finale was "solid and compelling" despite its familiar setup. Tonight Clarke heads into the City Of Light where she gets a visit from an old friend.
G/O Media may get a commission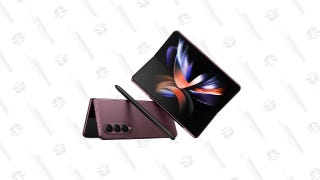 Save Up to $300
Galaxy Z Fold4
Premieres and finales
Mom (CBS, 9 p.m.): In honor of Mom's third season finale, we'd just like to issues our regular reminder that this show is far better than it has any right to be. Tonight, Christy grapples with the realities of law school and Bonnie has to discipline Violet.
The Blacklist (NBC, 9 p.m.): In the Blacklist third season finale, "A stunning betrayal leaves Red and the task force scrambling to save one of their own." Plus the team "closes in on the mysterious person responsible for recent tragedies."
The Catch (ABC, 9 p.m.): It's a two-hour finale for this zippy Shonda Rhimes-produced drama. The Kensington Firm receives an unexpected visit from its matriarch. Surprise! It's Kayla Kumari Upadhyaya.
TV Club Classic
Battlestar Galactica (11 a.m.): First up in "Epiphanies," Sharon's pregnancy and Roslin's illness intersect in unexpected ways. Then Zack Handlen tackles "Black Market," which is generally considered the worst episode of Battlestar Galactica. Lee Adama is feeling a little angsty so he starts sleeping with a prostitute and investigating the seedy black market within the fleet. Even creator Ronald D. Moore was disappointed with how the episode turned out, but who knows, maybe Zack is just the man to reclaim its legacy!
Regular Coverage
Steven Universe (Cartoon Network, 7 p.m.)
Adventure Time (Cartoon Network, 7:45 p.m.)
Orphan Black (BBC America, 10 p.m.)
Inside Amy Schumer (Comedy Central, 10 p.m.)
Archer (FX, 10 p.m.)
Streaming pick
Grey's Anatomy, "Death And All His Friends" (Netflix): Since this year's Grey's Anatomy finale looks to be relatively restrained, revisit the show's most dramatic finale (give or take a plane crash). A vengeful shooter sends the hospital into lockdown mode. Oh and Mandy Moore is there too.