"Small portions. Tweezered everything." That's the description of this new Instagram account that makes junk food look like high end dining cuisine. Under the username Chef Jacques Lamerde (which translates to Chef Jack Shit), this Picasso of processed portions turns everything from SpongeBob SquarePants macaroni and cheese to Hungry Man frozen dinners to Pop-Tarts into intricately plated masterpieces.
The designs toe the line between beautiful and disgusting—which very well may be the point of the satire—but the level of detail is commendable. For instance this presentation of a Lunchables kielbasa with pickle spheres, pork rinds, and Tostitos salsa con queso is finished off with a light dusting of powered cheese from a box of mac and cheese.

G/O Media may get a commission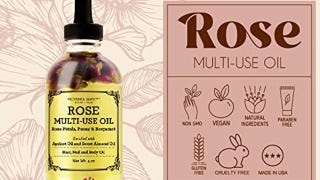 Provence Beauty Rose Multi-Use Oil
And while the Hostess cupcake is the obvious centerpiece here, it's complimented with rainbow Dunk-A-Roos, yogurt raisins, Nibz, "Starbucks Mocha Frappuccino caviar," a tiny mint, and a piece of fancy moss.
Meanwhile this plate featuring a ready-to-eat Jimmy Dean sausage with canned spring vegetables, French's, Frito hoops, and pistachio soil is finished off with a local ingredient as well: That yeast-rimmed shot is full of "fermented Lake Michigan water."

And just in time for Easter, this "S'more Peep Dessert Spec Mash Up" features a graham cracker pastry cream, generic brand chocolate cake from the freezer section, banana popsicle chunks, Muscle Milk spheres, Gusher crudo, and a Peep.

[via BuzzFeed]