It took a minute, but director Dario Argento has finally weighed in on Luca Guadagnino's moody, beautiful remake of his horror masterpiece Suspiria. Don't tell any immortal, unknowable, extremely lethal ancient witches, though, but the notices weren't especially good.

The 78-year-old Argento—who last professionally squandered his talents on 2013's regrettable Dracula 3D—was asked about Guadagnino's film during an appearance on an Italian radio show this week, and (per Indie For Bunnies, plus an assist from Google Translate) seems to have given it a withering pan. Argento previously expressed his skepticism for the project back before production even started, and has now accused the movie of containing "little fear," and, in what must have felt like a weirdly unnecessary swipe to poor composer Thom Yorke, "No music," as well.
Of course, it's possible that Argento was simply being metaphorical about Guadagnino's filmmaking style, which he backhandedly complimented by noting that the Call Me By Your Name director makes "beautiful tables, beautiful curtains, beautiful dishes, all beautiful." It's possible he was being sincere in his praise for Guadagnino's design sense, but given that he also accused him of having "betrayed the spirit of the original film," the implication is that there's no real old-school nastiness to Guadagnino's movie—an argument we'd push back hard against, by the way, given all the visceral, ugly thrills we found within it. In any case, Argento's dim assessment of his successor's "refined" movie probably extends to the decision to swap out Goblin's electronic beats and eerie, whispering vocals for Yorke's ethereal "spells."

One can only hope that newly minted soundtracker Yorke will just kind of roll with this particular punch; he's previously expressed a lot of pride in the soundtrack, which is the first major scoring project that he's ever, well, scored. Yorke is currently planning to release an extended edition of the album, and is reportedly quite pleased that his title track is apparently on the short list of potential Oscar nominations for Best Song at this year's Academy Awards. 
G/O Media may get a commission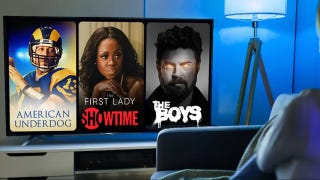 UNDER $1
99¢ Prime Video Channels