Here's what's up in the world of TV for Thursday, January 19. All times are Eastern.
Top picks
The Good Place (NBC, 8 p.m.): Grab some frozen yogurt (we recommend the fully charged cell phone flavor) and settle in for the hour-long Good Place season finale. Billed as The Good Place: Judgment Day, the finale is full of challenges, decisions, and contemplations. Not to mention some questions: Will Eleanor achieve her dream of founding "the Medium Place"? Will Janet and Jason find a way to keep their love alive? Will Chidi declare his love for "real Eleanor"? And just who is this neutral-zone founder Mindy St. Clair? Dennis Perkins doesn't have any answers, but he does have an even bigger question on his mind: Will The Good Place be renewed for a second season? It's too early to tell, but whatever happens, The Good Place will always be the Phoebe to Dennis' Ross ("Weird combo to pick, but okay").
Top Chef (Bravo, 9 p.m.): It's the most wonderful time of the year, at least for Top Chef fans: Restaurant Wars! "Egos collide and tempers flare" as the contestants are divided into two teams and charged with designing a restaurant and its menu. Immunity is off the table as the teams are tasked with transforming the same space into two very different restaurants. Randall Colburn, meanwhile, is just waiting for the inevitable Marvel crossover, Captain America: Restaurant Wars.
Baskets (FX, 10 p.m.): Get pumped, because Baskets is back. And that means Vikram Murthi's reviews are back too. He once referred to the show's first season as "a true oddball experiment that ended up winning me over in spades." And that oddball trend continues in season two. In the premiere, "Chip chooses between a tarp and snacks." Plus the show deals with the ripped-from-the-headlines story of creepy clowns trying to lure kids into the woods as Chip looks into whether or not that's a paid gig.
G/O Media may get a commission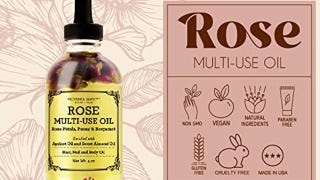 Provence Beauty Rose Multi-Use Oil
Premieres and finales
Through The Fire: The Legacy Of Barack Obama (BET, 7 p.m.): Tonight's "premieres and finales" section is a veritable roller-coaster of political emotions mere hours before Donald Trump is sworn in as America's 45th president. First up, BET reflects back on Barack Obama's legacy. Common, Usher, Russell Simmons, Will.i.am, Mellody Hobson, Valerie Jarrett, and Van Jones are on hand to share their perspectives on America's first black president.
Divided (GSN, 9 p.m.): Then GSN tries to take advantage of America's fraught political landscape with a brand new game show! On Divided, four strangers have to agree on both the same answer and the size of everyone's cut of the prize money. The group may have more combined brainpower, but their prize money dwindles the longer they spend debating. Plus they have to vote a teammate off at some point. And when the prize money is divided into three unequal portions, they have to decide who gets which one. The show is reportedly "informed by the fractured social landscape" of the country and "reflects [its] political divide", so forget relying on GSN for escapism anymore.
America's New First Family: The Trumps Go To Washington (ABC, 10 p.m.): Next up: This special episode of 20/20 profiles America's new first family. But perhaps the special's most famous claim to fame is that it pushed back the return of ABC's "TGIT" Shonda Rhimes shows, Grey's Anatomy, Scandal, and How To Get Away With Murder. Because who would have a problem with the imagery of Donald Trump shutting out a bunch of female-led shows created by a woman of color?
Trump: The Billionaire President (CNBC, 10:30 p.m.): And finally, CNBC rounds out Thursday's pre-inauguration coverage with this profile of Trump and his money. Which, hey, is another excuse to remind everyone that Trump still has yet to release his tax returns. Happy inauguration day eve!
Regular Coverage
Portlandia (IFC, 10 p.m.)
Streaming pick
Parks And Recreation, "The Pawnee-Eagleton Tip Off Classic" (Netflix): Many will be looking to fill the Good Place-sized hole in their hearts, with its first season coming to an end. So look no further than Kristen Bell's guest turn on Parks And Recreation. She makes her debut as Eagleton councilwoman Ingrid De Forest in this sixth-season episode, where she proves better at burning through money than Jean-Ralphio on a bender. After all, those bankruptcy brunches aren't going to pay for themselves.