Here's what's up in the world of TV for Friday, April 11, and Saturday, April 12. All times are Eastern.
TOP PICK
The Neighbors (ABC, 8:31 p.m., Friday): What ever happened to predictability? The milkman, the paperboy, alien neighbors on TV? Those questions and more will be answered on this Neighbors season finale that doubles as a Full House reunion for TV lovebirds Candace Cameron and Scott Weinger. The erstwhile DJ and Steve move into the neighborhood just as a pregnant Larry must decide whether to return to his home planet. We asked Kenny Herzog to check in on what could potentially be a series finale for ABC's odd little comedy. He responded, "You got it dude!"
REGULAR COVERAGE
Grimm (NBC, 9 p.m., Friday): This week's episode is all about Adalind's baby. Nick's trying to protect it. Viktor's trying to kidnap it. And Kevin McFarland just hopes they name it at some point in the near future. 
G/O Media may get a commission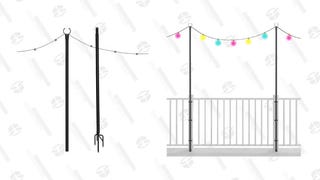 Up To 49% Off
Holiday Styling String Light Poles
Hannibal (NBC, 10 p.m., Friday): Dr. Chilton finally releases Will Graham from his asylum. Given that Chilton is played by famed Broadway star Raúl Esparza, Molly Eichel hopes he sings his apology.
Saturday Night Live (NBC, 11:30 p.m., Saturday): Seth Rogen and Ed Sheeran team up to add a healthy dose of schlubby charm to SNL. Dennis Perkins has already made a celebrity BINGO card full of the duo's famous friends who may show up for cameos. Smart money is on James Franco, Paul Rudd, and/or Taylor Swift.
TV CLUB CLASSIC
Babylon 5 (10 a.m., Friday): Rowan Kaiser continues his new reviewing format as he examines two episodes from the show's fourth season that center on the height on the Shadow Wars. He has his Shadow TV and his Shadow Computer at the ready.
The X-Files (1 p.m., Saturday): Todd VanDerWerff and Zack Handlen finally reach the end of their X-Files coverage as they tackle the show's second feature film, I Want To Believe. Screw Mulder and Scully, we just want to know if Todd and Zack are ever going to address their smoldering sexual tension!
ELSEWHERE IN TV CLUB
Sonia Saraiya checks in on the second season of The Bletchley Circle, which continues to celebrate both the femininity and the crime-solving-power of a group of women in the 1950s. Elsewhere, our staff decides which pop culture character they want to go drinking with in a new AVQ&A. Unsurprisingly, characters from Mad Men and some funny sitcom ladies top the list.
WHAT ELSE IS ON?
Kitchen Nightmares (Fox, 8 p.m., Friday): Kitchen Nightmares' seventh season kicks off with a return to Amy's Baking Company—the restaurant that infamously refused to let host Gordon Ramsay finish his transformation and then had a social media meltdown about it. Expect screaming, name-calling, and lots of frozen ravioli.
Boss Hog (Discovery, 10 p.m., Friday): This brand new series focuses on a man who hunts wild hogs for a living. The first episode is called "Pig Family Values," which isn't really a pun, but it does use the word "pig." So, close enough?
The Secret World Of Muammar Gaddafi (Showtime, 9 p.m., Friday): This documentary examines the life of ousted Libyan leader Muammar Gaddafi. It's a classic rags-to-bloody-dictatorship story.
Orphan Black: The Cloneversation (BBC America, 8 p.m., Saturday): We love Orphan Black, which means we'll gladly sit through a talk show-esque program that features cast members Tatiana Maslany, Jordan Gavaris, Dylan Bruce, and Evelyne Brochu discussing season one and previewing season two. Presumably Maslany will play herself and all of her costars for the special.
Death Clique (Lifetime, 8 p.m., Saturday): If there's one thing Lifetime is scared of, it's teenage girls. Like Fab Five: The Texas Cheerleader Scandal and The Pregnancy Pact before it, Death Clique follows the shenanigans of a dangerous group of high school girls. Only this time those shenanigans lead to… DEATH!
Bermuda Tentacles (SyFy 9 p.m., Saturday): Air Force One goes down in the Bermuda Triangle with the President aboard. If that's not intriguing enough, there's also a vicious sea monster who threatens the entire country!
Notting Hill (TCM, 8 p.m., Friday): She's just a girl, standing in front of a boy, asking him to love her.
Snakes On A Plane (Oxygen, 8 p.m., Friday): They're just snakes, hiding on a plane, trying to eat people.
Titanic (Bravo, 8 p.m., Saturday): It's just a ship, hitting an iceberg, tossing Leonardo DiCaprio to his watery death.
The Masters (EPSN, 3 p.m., Friday): Father's Day isn't until June, but that doesn't mean you can't spend this Friday watching the Masters with your dad. Maybe he'll finally teach you the golf clap he's spent years perfecting.
NHL Hockey: Blackhawks at Predators (NBC Sports, 8 p.m., Saturday): Think of this matchup as Alien Vs. Predators. Except with Blackhawks instead of aliens. And on ice. So maybe something like this. REPTAR!!!!!
IN CASE YOU MISSED IT
Community: Community takes on corporate sponsorship in an episode sponsored by Subway. Todd VanDerWerff thinks you should Subway with your Subway before you Subway.