When organizations with acronyms put out press releases about representation, they almost always contain bad news. So it's pretty exciting that the most recent report from GLAAD actually has some positive updates: Representation of LGBT characters has improved tremendously over the past few years, to the point where there are now 271 LGBT characters appearing across all TV platforms.
The surprisingly positive announcement comes from GLAAD's 20th Annual "Where We Are On TV" report. The 32-page document is full of fascinating data for those who love statistics—and helpful graphs for those who don't—and examines TV characters across three different areas: Broadcast TV, cable, and streaming platforms like Netflix. The remarkably comprehensive report not only breaks down the types of LGBT characters who are currently represented, it also examines how women and people of color are represented on TV as well.
The big news is that in the 2015-16 scripted season, LGBT characters made up 4 percent of primetime regular characters (35 characters in total), which is about the same percentage of LGBT people in the U.S. according to a recent Gallop poll. That means we've come a long way since Ellen DeGeneres made waves for coming out on ABC's Ellen back in 1997.
Despite all the good news, GLAAD President and CEO Sarah Kate Ellis still urges TV creators to "reflect the full diversity of the LGBT community." For instance, How To Get Away With Murder is currently the only show with a positive depiction of a gay character living with HIV. And although bisexual representation increased from 10 to 18 percent on broadcast and cable, those characters are still likely to promote stereotypes about bisexual people. Plus while there are seven trans characters on TV, none of them are on broadcast and only one is a trans man.
The report also indicates that TV is still most likely to feature LGBT characters who are white and male. For instance, 47 percent of the recurring LGBT characters on broadcast TV are gay men, and streaming platforms are the only place in which female LGBT characters outnumber male ones (56 percent to 44 percent). When it comes to race, 69 percent of all broadcast LGBT characters are white. Cable, meanwhile, is lagging even farther behind with its racial diversity—71 percent of recurring LGBT characters on cable are white, even though the U.S. population is only about 63 percent white.
G/O Media may get a commission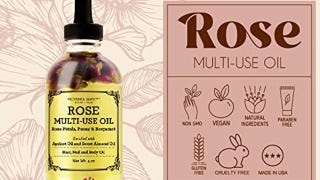 Provence Beauty Rose Multi-Use Oil
The report singles out ABC Family and Showtime as the two most LGBT-inclusive networks. It also praises ABC Family's The Fosters—which follows a mixed-race lesbian couple raising their biological, foster, and adopted children—and Netflix's Orange Is The New Black as two of the most inclusive shows.
The report's data about women and people of color on TV is also unexpectedly encouraging, if far from perfect. Women currently make up 43 percent of regular characters on primetime broadcast; Fox is the network with the highest percentage of female characters (48 percent), while NBC comes in last with 39 percent. However, NBC does get points for having the most characters of color, who account for 41 percent of the network's regular characters. up from 29 percent last year. (People of color make up about 37 percent of the U.S. population so that's actually a slight over-representation.) Overall, characters of color make up 33 percent of broadcast series regulars, up from 27 percent last year. The report notes, "The past two years have seen welcome increases in overall racial and ethnic diversity on broadcast programming after years of little variation."
In the "bad news" column, the report found that people with disabilities are "nearly invisible" and make up less than 1 percent of characters on TV, despite making up 12 percent of the U.S. population according to the U.S. Census. If all these stats aren't enough, Deadline has many more, along with a nice analysis of how far TV has come in the recent past when it comes to depicting the LGBT community. Those will even more time to kill can also check out the full 32-page GLAAD report.