Every Friday, dozens of new records are released into the wild. Some make big splashes, and others sink almost immediately. For most music consumers, it's almost too much information, and save for those precious few who spend their hours glued to review sites and release calendars, it's hard to know what's coming out when. Thankfully, The A.V. Club is ready to help those struggling souls. Each month, we'll publish a fairly comprehensive list of what's coming to record stores and streaming services in upcoming weeks, complete with capsule previews so interested parties can know what to expect.
---
October 7
Nearly 10 years into its career, Balance And Composure is ready for some changes. The four piece tread backwards sonically on Light We Made, simultaneously maturing and getting more emotional, as their third LP loses the Title Fight similarities in favor of early-aught acts' sounds. The chewy vocals of "Postcard" recall mewithoutYou and the airy, intertwined guitars of "Afterparty" mimic early Minus The Bear material. It's an unexpected development, and one the band seems intent on heading into face-first even if fans aren't ready for the change. [Nina Corcoran]
A tripped-out, world music act out of Sweden, Goat is one of those bands that actually is one of a kind. The group's members wear otherworldly masks, blend sounds from just about every corner of the world, succumb to psychedelic freak-outs on stage, and have done a relatively excellent job of keeping their identities secret, at least to the casual fan. Requiem is the group's third studio LP and is billed as a slightly more subdued effort, with press materials noting it's more about "bucolic ritualism than psilocybin freakouts." Fair enough. [Marah Eakin]
G/O Media may get a commission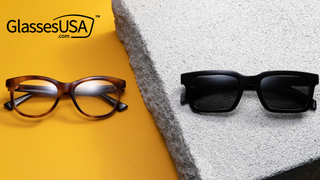 60% off frames
GlassesUSA.com Back to School Sales
It's evident on first single "Bang Bang" that Green Day isn't breaking any new ground on Revolution Radio. That's not a bad thing, though, as the Oakland-based trio is one of pop-punk's most successful stalwarts. For the most part, you know what you're getting with Green Day, and the band is generally happy to deliver in spades. Revolution Radio is Billie Joe Armstrong and company's latest set of musings on modern-day living and what that means, Donald Trump and all. [Marah Eakin]
On Lateness Of Dancers, Hiss Golden Messenger's fifth album and its Merge debut, M.C. Taylor's shape-shifting folk band tightened up, opened up, and added a little more sheen to its eclectic Southern tunes. Taylor has reassembled much of the same crew for Heart Like A Levee—including members of Megafaun, Bon Iver, and Mountain Man—and if the early singles are any indication, this second collection is an even more spirited outing. [Matt Gerardi]
When Norah Jones made her debut back in 2002, she won critics with her ability to wed jazz, folk, and downtempo grace. Her career has morphed, as most do, into different iterations in the years since, but on Day Breaks, she aims to return to those roots—and the singles shared so far show she's staying on point. It's a welcome return to form that sees the jazz pianist and singer doing what she's always done best. [Nina Corcoran]
Joyce Manor, Cody
It's hard to see a record as effortlessly catchy as Cody being divisive, but that could be the case for Joyce Manor. Until now, the band has dealt almost exclusively in short, punchy pop-punk, rarely leaving any breathing room in its tightly wound songs. But On Cody the band doesn't just slow down, it spreads out. "Last You Heard Of Me" is perhaps most indicative of the whole: slower, softer, and far more refined than anything else in Joyce Manor's catalog. [David Anthony]
Kaiser Chiefs' trajectory was easier to predict than a riot. The Leeds quintet—who once boasted, "Every day I love you less and less," and declared "she's not the kind of girl" that it likes—has seemingly been tamed and overcome by the forces of love, and perhaps, the Coldplay-Maroon 5 strata of pop radio. On its forthcoming sixth album, Stay Together, frontman Ricky Wilson shouts to the stadium rafters: "There's a hole in my heart that could only be filled by you again!" If the first two tracks released are any indication, the Kaiser Chiefs of 2016 are no longer the acerbic, fist-pumping, protest-anthem-makers of even one album ago. Lead singles "Parachute" and "Hole In My Soul" are technicolor bursts of synth and strings, crosshairs aimed at Top 40, with a production team that includes songwriters for Westlife and One Direction. [Kevin Pang]
Meshuggah were once labeled the most important band in metal, and there's good reason for that: Over their nearly three-decade career, they've influenced everyone from your Warped Tour metalcore bands to Tool and appeared in one of the internet's best Dicaprio moments. While they're not the most active when it comes to original material, doing an album every three or four years since 1991, they are one of the most consistent, with every release being well-received by critics and fans alike. The Violent Sleep Of Reason continues their streak of commentary on religion and politics, but more important than that, everything out there from it so far rocks insanely hard. When the need for metal comes, Meshuggah is waiting. [Dan Bogosian]
It's a new NOFX album, which means you've likely already made up your mind about whether you'll be getting this record. It's loud, fast punk rock of the fuck-it-all kind, from a band that has never exactly been interested in pushing the boundaries of its signature style. Much like countless other punk groups, you know what you're getting with NOFX: goofy titles, light-speed rhythms, and Fat Mike's snarling nasal vocal style, overlaid with sugar-sweet harmonies. The only surprise is that it's taken this long for the group to write a song called "Oxy Moronic." (Also, leadoff single "Six Years On Dope" is the rare track featuring lead vocals from Eric Melvin.) [Alex McCown-Levy]
Phantogram, Three
Three sees Phantogram reckoning with the losses of Bowie, Prince, and singer Sarah Barthel's sister this year by going toe to toe with the darkness, saying "goodbye to my good side" altogether. For their second major-label outing, the duo collaborates with more big-name producers (The-Game, Tricky Stewart, Ricky Reed) to create a record of intentional bombast and dissonance. Menacing, wasp-like bass lines and aggressive beats portend sinister lyrical invitations ("follow me into a swarm of bees," "say goodbye to your family"), despite their seemingly benign pop delivery. [Kelsey J. Waite]
The South Carolina Americana duo Shovels & Rope—married multi-instrumentalists Michael Trent and Cary Ann Hearst—drew on some serious, real-life source material for Little Seeds: the realities of aging parents and the joys of having a baby. Appropriately, the album reflects the complexities of such situations, as it veers between styles and approaches. Highlights include the swaggering fuzzbomb "I Know" and the stripped-down, folk-leaning "St. Anne's Parade." [Annie Zaleski]
Midnight Room is a breakup record. Songwriter Greta Morgan wrote it in the wake of a painful split, and the album's fractured lyrics were written to reflect the scattered headspace that tends to arise during times of transition. "I felt like I couldn't trust my memory completely—like I was space-cadeting through the weird space between sleeping and dreaming and waking and reality." Lead single "Face In The Moon" feels true to such a journey, with pulse-pounding drums and spastic piano plinks underscoring Morgan's rich, yearning cries to the night sky. Her voice is as sumptuous and lovely as always, and the production sounds a step up from the ramshackle charm of her self-titled debut in 2014. Broken hearts should find some salve in these songs. [Randall Colburn]
A surprisingly personal-sounding album from the band that wrote "Fat Lip," Sum 41's 13 Voices was inspired by singer Deryck Whibley's 2014 brush with death following a rampant run of alcoholism. That incident left Whibley hospitalized and with so much nerve damage he almost lost his ability to play guitar, though through much effort he overcame that, harnessing his struggles into 13 Voices. Songs like "War" are still packed with the band's bratty mall-punk sound, but there's also a little sadness somewhere in there as well. [Marah Eakin]
October 14
Big Star, Complete Third (reissue)
Big Star's final album before its 19-year hiatus has been recut and reissued a million different ways. Whether going by Third or Sister Lovers or no title at all, it's a dark, dreamy classic, and Omnivore Recordings is looking to put out a definitive edition. The label has collected every demo, rough mix, and alternate take that's known to exist and packaged them alongside the 20 final masters that made it through the album's tumultuous creation. [Matt Gerardi]
In 2012, Brooklyn duo Black Marble released their first full-length album, A Different Arrangement, and with it layers of pulsating synth and vocals reminiscent of Joy Division's Ian Curtis. Four years later, the band's sophomore release, It's Immaterial, hasn't strayed too far from the formula, making it an equally serviceable album of dark, cold, and minimalist tracks arriving just in time for the weather to match it. Lead single "Iron Lung" provides the same wistfulness as previous effort "A Great Design," and reinforces Black Marble's ability to create an all-encompassing calm despite lyrics alluding to a more turbulent reality. All of this combined makes for a crisp album perfect for listening to this autumn. [Becca James]
The Dillinger Escape Plan, Dissociation
The announcement of Dissociation brought mixed emotions for fans of The Dillinger Escape Plan. Touted as the band's final album, new Dillinger songs are always welcome, even if they carry a weight of finality along with them. It'd be easy to see the record as the sound of a band running on empty but, as "Limerent Death" proves, even as Dillinger nears its end, the band's songs remain as combustive and creative as ever. [David Anthony]
The Exquisites, Home
The Exquisites ready a sophomore album that should be a fun, fresh take on modern melodic punk, with a horn-addled, surely Rocket From The Crypt-influenced tilt to it that the scene doesn't come across often these days. Home showcases the band's knack for maintaining an intoxicating energy in the face of anxiety and crisis, with the groove-induced "Count On Me" providing a nice introduction. [Brian Shultz]
You might not know Jonny Fritz, but if you're at all into roots rock, you should. On the Jim James-produced Sweet Creep, the former Jonny Corndawg enlists well-known pals Taylor and Griffin Goldsmith of Dawes to act as his backing band, and together the group crafted a record of thoughtful, simplistic country rock. It's all imbued with touches of weirdness, as is Fritz's nature, but the musicality of the whole thing shines through more than anything else, making Sweet Creep one of September's most anticipated records for fans of strum and twang. [Marah Eakin]
Kings Of Leon, Walls
Walls, Kings Of Leon's seventh album, finds the band searching for something a little different as it crawls from under the crushing weight of its arena-rock success. The Followills ditched their longtime producer for Markus Dravs, whose experience recording with bands like Arcade Fire and Coldplay is already coming through loud and clear on the album's soaring, sappy first single, "Waste A Moment." [Matt Gerardi]
Over two decades post-the Madchester craze, Australian trio Jagwar Ma revived the loose, psychedelic indie-dance grooves exemplified by Happy Mondays' Pills 'N' Thrills And Bellyaches on its 2013 debut, Howlin. That same ethos carries over to its follow-up, Every Now & Then, which is the refrain of the song most like its predecessor, "Loose Ends." Trailing after are the directly lifted Stone Roses rubber-band riffs of "Give Me A Reason" and the Charlatans UK-inspired wails of "Ordinary." For the most part, however, Every Now & Then is more structured and less hallucinogenic, yet it maintains the intoxicated, feel-good vibes of its influences. [Lily Moayeri]
For the last 15 years, British musician Jamie Lidell has worked in the spaces between electronica and old-school soul, building a new sound that still evokes the familiar echoes of Stevie Wonder. Building A Beginning may have the strongest Wonder vibe yet, with joyous single "Walk Right Back" setting a high bar for Lidell's sixth full-length. [Laura M. Browning]
Prepare for layers of pensive guitar lines drenched in delay and swelling long-con crescendos: Japanese post-rock powerhouse Mono returns with their ninth studio album. Never not reliable, the foursome pulls all the right levers on "Ely's Heartbeat," a gently morphing track that's without drums its first two minutes and eventually positions a slow, methodical piano line against in-the-distance, impenetrable guitar screams. As you might expect, it's all very moody and beautiful. [Kevin Warwick]
For an artist who see-saws between earnest, revelatory songwriting and self-parody, an album called Ruminations raises just a bit of a red flag. Oberst wrote the album during a snowy Omaha winter, revealing in a press release that he "recorded [the songs] quick to get them down but then it just felt right to leave them alone." Considering how belabored-over and well-produced Upside Down Mountain was, this reads as another possible red flag. But he struck gold before; hopefully he found it again last winter. [Caitlin PenzeyMoog]
As part of a recent flurry of activity for the comedown-tent veterans, English electronic duo The Orb follows 2015's surprisingly vital-sounding Moonbuilding 2703 AD with another new album for Kompakt. The aptly titled COW/Chill Out, World! is described as The Orb's "most ambient album yet," composed of calming, hypnotic moodscapes created on the fly over the course of just six months. [Sean O'Neal]
Perhaps in an acknowledgment that it's been just him for a long time now, Markus Popp has bequeathed his last name to the title of Oval's latest release, coming three years after his last effort. Having long ago moved beyond the glitch sound he helped pioneer, his most recent efforts have continued his experimental style, fusing electronic and organic instruments, dreamy vocals, and unexpected compositions. Look for this one to keep that trend going. [Alex McCown-Levy]
Moving away from the staticky, instrumental drift of last year's Sonnet, Benoit Pioulard—alias Thomas Meluch—returns to vocal-driven, acoustic-folk-inspired melancholy on his sixth album for Kranky. "Layette," the first single from The Benoit Pioulard Listening Matter, has the sort of hushed, haunted wistfulness that should appeal to fans of acts like Gravenhurst, Grouper, or even Bon Iver. [Sean O'Neal]
Portland, Oregon, hard-rock quartet Red Fang doesn't do a lot different on their fourth full-length, Only Ghosts—the 10-song affair is packed to the gills with chunky riffs, howl-along choruses and plenty of head-bang-able moments. What did change, however, is their choice of producer: After working with Chris Funk of The Decemberists on their past two albums, Red Fang went big-time with Only Ghosts, pulling in Ross Robinson for an extra batch of oomph. Bonus: The band's music videos are still as ridiculous as ever, as evidenced by the over-the-top Predator homage of "Shadows." [Scott Heisel]
Jeff Rosenstock, Worry
The title of Jeff Rosenstock's third solo album is incredibly fitting. Worry is a record that sees the Bomb The Music Industry! leader singing about gentrification, capitalism, and all the daily anxieties that inform his world. But as "Wave Goodnight To Me" shows, Rosenstock is capable of taking those nerves and translating them into airtight pop songs. [David Anthony]
Das Racist's Heems and British rapper MC Riz finally have a follow-up to their 2014 EP. In tackling everything from racial profiling to indie-rock tropes, the two use the album to make as many jokes as they do pointed jabs, drawing the best out of themselves in the process. Because, really, when a line like "Even hipsters ain't safe / You gotta be careful what part of your face you shave" is met equally with shrugging- and frowning-emoji responses, your freestyles have transcended elementary-level matters. [Nina Corcoran]
October 21
Reunion records are a tricky gambit, especially when American Football's lone LP is considered a holy grail in the emo world. The band hasn't lost its chops, and its second self-titled album shows exactly why the band was so fiercely loved in the first place. "I've Been So Lost For So Long" shows American Football is capable of shaking off the dust and making a follow-up that lives up to its legacy. [David Anthony]
Leonard Cohen celebrated his 82nd birthday by releasing the title track to his 14th studio album—an engrossing, hypnotic (and, yes, dark) song featuring lurking-in-the-shadows synths and singing from Montreal's Cantor Gideon Zelermyer And The Shaar Hashomayim Synagogue Choir. The rest of the LP will no doubt feature more of the same: A press release summarizes one song as "an old man's take on desire," and another as "a song of courage as the heart moves into the darkness." [Annie Zaleski]
Despite their prior effects-laden, neo-shoegaze proclivities, Crocodiles' songwriting has always trumped sheen as their paramount artistic edict. Their acumen for crafting a killer hook is abundant in spades on Dreamless, which seamlessly integrates synths, acoustic guitars, and a metronomic, lockstep sense of rhythm into their sonic vista. First single, the winsome, New Order-esque reverie "Telepathic Lover," is a fine entry point into the band's brave new world, and a welcoming invitation to dig into their eminently captivating sixth full-length album. [John Everhart]
Kevin Devine has been a quiet firebrand for politically incensed singer-songwriter compositions for well over a decade, taking notes from Elliott Smith's subtle intimacy and Woody Guthrie's reactive critiques. In fact, it's half-surprising he didn't take a knee in solace when performing "The Star-Spangled Banner" at a recent New York Mets game, per his new album's title. Regardless, expect plenty of thoughtfully worded, carefully textured, and musically interesting fare as he's always delivered, including the part-plaintive, heady introspection and part-ragged rock of the 9/11 memorial "No History." [Brian Shultz]
Jimmy Eat World took off nearly all of 2015 to allow Jim Adkins to dip his toes into solo project waters—he released a trio of 7-inches and toured some seriously off-the-beaten-path cities. (Seriously, have you ever heard of Maquoketa, Iowa?) The band reconvened in early 2016 and assembled their ninth album, Integrity Blues, with producer Justin Meldal-Johnsen (Paramore, M83). Based on the pre-release singles, the LP dabbles in both rumbling active rock ("Get Right") and loping college rock ("Sure And Certain"), not showing its hand quite yet. Adkins has already said the album is about "throwing away your default responses to life" and trying to break destructive patterns in order to better yourself. It's about time emo crossed paths with self-help books. [Scott Heisel]
Lady Gaga, Joanne
Mother Monster is pulling out all the stops for her fifth album. The electro-psychedelic wormhole "Perfect Illusion" boasts guitar from Queens Of The Stone Age's Josh Homme, as well as co-production and instrumental contributions from Tame Impala's Kevin Parker and retro-pop shepherd Mark Ronson. These are far from the only guests, however: Gaga said she made a "great dance song" with Beck, collaborated on a tune with Florence Welch, and also worked with Father John Misty. [Annie Zaleski]
Planes Mistaken For Stars, Prey
Denver (by way of Peoria) band Planes Mistaken For Stars always had a knack for tapping into its animal instincts. Planes frontman Gared O'Donnell wrote songs about drinking, fighting, and death, and Prey resurrects that energy without it feeling forced. "Fucking Tenderness" picks up where the band left off a decade ago, mixing rock 'n' roll swagger, stoner-metal grooves, and a hardcore spirit. [David Anthony]
Six years removed from their last studio full-length album—obviously not including the excellent compilation Passive Aggressive: Singles 2002-2010—Sweden's hazy, dream-pop outfit The Radio Dept. is back. "Swedish Guns," the most recent single dropped, is a billowing, drugged-out track of chill synth rhythms and vocals that paint the background. The Radio Dept.'s knack for subtle, sneaky melody, the kind that skitters by unnoticed right up until the track concludes, is as present as it's ever been. [Kevin Warwick]
For the last decade of The Weakerthans' existence, the band was barely active, releasing just one album and touring sporadically. That didn't keep the band from being fiercely loved, and even though its announcement that the band was going on hiatus felt inevitable, it still stung. Winter Wheat does a good job of filling that Weakerthans-shaped hole, as the band's frontman, John K. Samson, offers up a new batch of forlorn songs. It's a cold, sad affair—the type of thing that is sure to satisfy The Weakerthans' still-mourning fan base. [David Anthony]
Tanya Tagaq exploded into Canada's national consciousness with her staggering and devastating debut Animism, which took home the Polaris Music Prize in 2014. The Inuit throat singer's avant-garde take on an ancient art form mesmerized listeners, not only because of its hypnotic aggression but also its ability to strangle and consume them with fierce, relentless beauty. Retribution promises to take things multiple steps further, with songs that confront "rape of women, rape of the land, rape of children, despoiling of traditional lands without consent." It's incredibly powerful, often difficult, and completely spellbinding, as Tagaq tackles Canada's most painful issues with nearly unhinged rage. Steel yourself. [Matt Williams]
October 28
Having already released two records for Blackest Ever Black with bands Fingers and Tarcar, Carla Dal Forno offers up her debut solo LP with the label after a move from Melbourne to Berlin. And she is right at home in the city's long history of experimentalism and noise: You Know What It's Like is a collection of dark electronic musings whose minimalist grooves serve to emphasize their fleeting background details: waves of static, metallic scrapes, shutting doors. Vocally, Dal Forno's mezzo-soprano melodies are stark, calling to mind both the grace of A.C. Marias and the inscrutability of Nico. [Kelsey J. Waite]
Empire Of The Sun, Two Vines
If you weren't aware of Empire Of The Sun, with the ubiquitous Honda commercial revitalizing its 2008 song "Walking On A Dream," you are now. That song is included on the duo's third album, Two Vines, the rest of which sounds nothing like it. Two Vines is more of a whole-listen, a sharp contrast to preceding albums, which were going for glossy, chart-ready compositions. Master songwriters Lindsey Buckingham (Fleetwood Mac) and Wendy Melvoin (Prince) and David Bowie Blackstar collaborators have lent a hand on Two Vines, which has its overtly pop moments on the pouty, Bieber-esque "There's No Need" and playful "Ride." [Lily Moayeri]
Steve Hauschildt, Strands
Where All Is Fled found ex-Emeralds member Steve Hauschildt triumphantly returning to burbling, trance-inducing kosmische music, and creating one of 2015's dreamiest electronic albums in the process. He returns with Strands, a record Hauschildt says is "about cosmogony and creation/destruction myths," and whose title track is once again heavy on sparkling arpeggiations that simultaneously suggest propulsive motion and quiet reflection. [Sean O'Neal]
Page Hamilton and his grim-faced band of ear-splitting distortionists return to provide more thick slabs of angular hard rock with the band's first new release in six years. The group's last effort, Seeing Eye Dog, was a welcome return to form, and though none of the post-reunion lineups have quite matched the force of the original, it's gotten better with each subsequent album. Fingers crossed that continues. [Alex McCown-Levy]
Mannequin Pussy, Romantic
Despite its title, Mannequin Pussy's second album is even more savage than its first. Where the band's debut had twinges of garage rock running through it, on Romantic things are far more visceral. Marisa Dabice howls over distorted blasts of fuzz, sounding like she's fronting a hardcore band at various points throughout Romantic. For all this aggression, there are moments of reprieve though, too. "Emotional High" feels akin to Bully, as the band takes a simple chord progression, a repeating vocal melody, and turns them into a song that'd easily be a hit on '90s alt-rock radio. [David Anthony]
The retro-leaning A Very Kacey Christmas takes its cues from the vintage crooners who christened holiday music's golden era: Bing Crosby, the Andrew Sisters, and Nat King Cole. Accordingly, although the festive record features four originals, its standards are the highlights—to name a few, "Have Yourself A Merry Little Christmas," "Let It Snow," and "I Want A Hippopotamus For Christmas." [Annie Zaleski]
Nocturnal Habits is the closest the world may ever get to an Unwound reunion. Since the influential Olympia band's breakup in 2002 after the release of its crowning achievement, Leaves Turn Inside You, fans have hoped the band may make it back onstage one more time. On New Skin For Old Children Unwound vocalist-guitarist Justin Trosper and drummer Sara Lund are back together again. Add in Melvins' Dale Crover and a few other collaborators, and it's just as urgent and anxious as the rest of Unwound's discography. Though it's best to ignore the record's hideous cover art when listening. [David Anthony]
Since reforming in 2010, the legendary post-punk noiseniks of The Pop Goup have released a ton of material, including their first new album in 35 years, Citizen Zombie. For the follow-up, Honeymoon On Mars, the band has reconnected with Dennis "Blackbeard" Bovell, the dub musician who produced its influential debut, and promises it'll be "a stand against manufactured hate." You'd be foolish to expect anything less coming from Mark Stewart in 2016. [Matt Gerardi]
---
Purchasing via Amazon helps support The A.V. Club.