Here's what's up in the world of TV for Thursday, August 6. All times are Eastern.
Top pick
The Daily Show With Jon Stewart (Comedy Central, 11 p.m.): While The Daily Show existed before Jon Stewart and will continue on without him, The Daily Show With Jon Stewart is a cultural institution that can never be replicated. After 17 seasons of fake news that sometimes influenced real policy change, Stewart signs off in an hour-long farewell. There's no word on who's booked as the show's final guest, but expect the special to be at least as star-studded as Stephen Colbert's send-off. We dispatched Satirical Correspondent Dennis Perkins to weigh in on the finale. Meanwhile those who are tired of hearing about talk show shake-ups can take some comfort in the fact that after Colbert takes over the Late Show and Trevor Noah officially launches his Daily Show, we'll once again be at late night equilibrium.
Also noted
Wet Hot American Summer: First Day Of Camp (Netflix, 12 p.m.): "It's the day of the show, y'all!" Or at least the day of try-outs. In "Auditions," Susie and Claude search for a lead for their musical. Joshua Alston has his eight bars of "Day By Day" all ready to go.
G/O Media may get a commission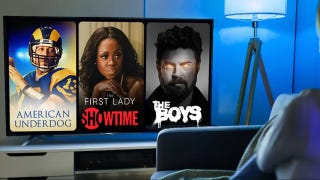 UNDER $1
99¢ Prime Video Channels
Under The Dome (CBS, 9 p.m.): A resistance forms against Christine while Hunter figures out a way to contact the (apparently not destroyed) outside world. The fact that Gwen Ihnat is filling in for Scott Von Doviak the week after he admitted he's actually starting to care about what happens Under The Dome is definitely just a coincidence. We would never put Scott into a brainwashing program designed to make him hate Under The Dome again. Nope. Never.
Sex & Drugs & Rock & Roll (FX, 10 p.m.): Will this be the week Michael Roffman finally gives Sex & Drugs & Rock & Roll a grade higher than a C+? Perhaps the discovery that the Heathens are a hit in Belgium will be enough to turn things around for Denis Leary.
Regular Coverage
Review (Comedy Central, 10 p.m.)

Rectify (Sundance, 10 p.m.)
Married (FX, 10:30 p.m.)
Comedy Bang! Bang! (IFC, 10:30 p.m.)
TV Club Classic
Futurama (10 a.m.): The crew decides how to spend their tax rebates in "Three Hundred Big Boys." But first Futurama falls back on an old sci-fi trope: The almost identical parallel universe. Zack Handlen-1 will be reviewing "The Farnsworth Parabox" while Zack Handlen-A naps.
Elsewhere in TV Club
Gwen Ihnat has a fantastic personal piece on how America's Next Top Model contestant Chantelle Winnie—who shares Gwen's skin pigment disorder vitiligo—changed the way she sees herself. Gwen writes:
Winnie pleaded on camera, "I want you to be able to see the beauty in every person who has a disability, a mark, a scar. How can I show you the beauty in differences?" It was like she was pleading with me. I choked up, something I never thought would happen to me while viewing ANTM. Watching her fearlessly strike a pose on the runway, for the first time I wondered if I should forget about fighting something that seems to be inevitable anyway, and just embrace it.
What else is on?
Regular Show (Cartoon Network, 7:30 p.m.): Benson is up for Park Manager of the Year at the Parkie Awards. Let's hope his competition doesn't include Smokey the Bear.
The Astronaut Wives Club (ABC, 8 p.m.): Still reeling from the tragedy of Apollo 1, Betty Grissom searches for answers about her husband's death. Joanna Garcia continues to show off her underrated acting chops.
Project Runway (Lifetime, 9 p.m.): You either die a reality TV juggernaut or you live long enough to see yourself become a "that's still on?" Season 14 of Project Runway begins tonight.
Dates (CW, 8:30 p.m.): It's the season finale of this online dating-focused British import. Enjoy it with a date or, if you're feeling hungry, some dates.
Super 8 (FXM, 8 p.m.): J.J. Abrams goes full-Spielberg with this charming tale of childhood creativity and alien invasions. Even those who dislike child actors would have a hard time hating this film's young cast, who stay just on the right side of precocious and annoying.
The Ipcress File (TCM, 10 p.m.): Michael Caine stars as a spy assigned to find a missing scientist. That's reason enough to revisit The Trip's dueling Caines scene:
Special Olympics World Games LA (ESPN, 8 p.m.): An hour-long round-up of this year's Special Olympics World Games, which involved 6,500 athletes from 165 countries. This broadcast features athlete interviews and competition showcases.

In case you missed it
Difficult People: Alexa Planje, one of our least difficult people, weighs in on the first two episodes of this acerbic new Julie Klausner/Billy Eichner Hulu comedy.