Here's what's up in the world of TV for Friday, September 5, and Saturday, September 6. All times are Eastern.
Russell Crowe is pretty chill about not being in that "Gladiator" sequel
Top pick
The Brittany Murphy Story (Lifetime, 8 p.m., Saturday): Hoping to do for Brittany Murphy what Sharknado did for shark tornados, Lifetime's latest original movie chronicles the life of the actress who died at only 32 years old. There might be some fun in seeing the movie (badly) recreate iconic scenes from Clueless, but it's hard not to feel uneasy about Lifetime's attempt to turn someone's death into must-tweet TV. So far the promotional material for the Brittany Murphy Story have revealed wooden acting, showbiz movie cliches, and really, really bad wigs. It remains to be seen whether the film will fall on the so-bad-it's-good or so-bad-it's-insulting side of the scale (we're guessing the latter), but either way this movie is a thing that will probably be somewhat popular this weekend so prepare accordingly.
Also noted
Jonah From Tonga (HBO, 10 p.m., Friday): In the season finale Jonah is released from juvenile detention and the world is released from having to watch (or having to avoid) anymore of Chris Lilley's racist brand of brownface comedy.
G/O Media may get a commission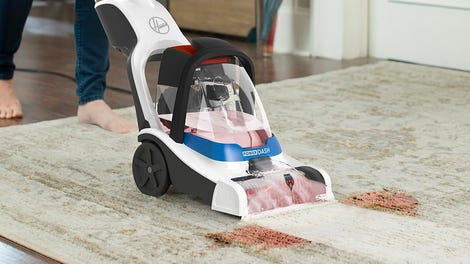 26% Off
Hoover PowerDash Pet Compact Carpet Cleaner
Stand Up To Cancer Special (multiple networks, 8 p.m., Friday): ABC, CBS, Fox, and NBC as well as several cable channels dedicate an hour of programing to this Kate Couric-hosted fundraiser for cancer research. As it did in 2010 and 2012, the Stand Up Initiative enlists musicians and actors to help raise money and awareness during this live event. The Who, Gwyneth Paltrow, Halle Berry, Will Ferrell, and Dave Matthews are a few of the celebrities slated to appear.
The Chair (Starz, 11 p.m., Saturday): Starz's new unscripted series follows two young directors creating different films from the same script. If the show sounds a bit like 2001's Project Greenlight that's because it was also created by Chris Moore (the Project Greenlight producer who was not Ben Affleck or Matt Damon). In his pre-air review, Myles McNutt found a lot to like around the fringes of the show's competition-driven narrative.
Regular coverage
The Knick (Cinemax, 10 p.m., Friday)
Doctor Who (BBC America, 9 p.m., Saturday)
Intruders (BBC America, 10 p.m., Saturday)
Outlander (Starz, 9 p.m., Saturday)
TV Club Classic
Babylon 5 (10 a.m., Friday): As he winds down his coverage of Babylon 5, Rowan Kaiser looks at episodes 19-21 of the show's fifth season as well as the TV movie, "River of Souls."
Blackadder (3 p.m., Friday): All too soon Kate Kulzick reaches the sad, sad ending of Blackadder's fourth season. She bids "Goodbyeee" to the show's melancholy take on WWI.
The Twilight Zone (1 p.m., Saturday): Not only is "The Masks" a classic episode of The Twilight Zone, it's also the only episode of the series directed by a woman. Zack Handlen puts on his "excited" mask to celebrate Ida Lupino.
Doctor Who (Classic) (3 p.m., Saturday): Christopher Bahn revisits the third part of the Fourth Doctor's "Key To Time" arc. In "The Stones Of Blood," the Doctor, Romana, and K-9 spend some time in Cornwall.
Elsewhere in TV Club
Libby Hill has a For Our Consideration that looks at the ways in which MTV's Catfish is seeping into pop culture and real life. As previously mentioned, Myles McNutt checks in on The Chair while Scott Von Doviak shares his pre-air thoughts on Boardwalk Empire's return. Then in a new AVQ&A our writers share the entertainment they inflicted on their accommodating parents.
What else is on?
Tumble Leaf (Amazon, 12 a.m., Friday): Amazon's animated series aimed at the preschool set gets its fall debut. Parents, get ready to spend more time with the show's half-adorable/half-terrifying lead, Fig the Fox.
Pond Stars (Nat Geo Wild, 10 p.m., Friday): This new series documents a company of pond builders. In the premiere they create a home for rescued turtles in Atlanta. Cowabunga, dude!

Cocaine Cowboys Reloaded (Showtime, 10 p.m., Friday): A documentary detailing Miami's violent drug wars of the 1980s.
Almighty Johnsons (SyFy, 11 p.m., Friday): Love, marriage, and babies abound on the last two episodes of the first season of this campy New Zealand export. It's nice to know that even Norse gods reincarnated as modern day humans still struggle with domestic concerns.
Beyond The Headlines: Brittany Murphy (Lifetime, 10 p.m., Saturday): After its soapy fictionalized account of her life, Lifetime is airing a "documentary" special about Brittany Murphy as well.
Iyanla: Fix My Life (OWN, 9 p.m., Saturday): Relationship expert Iyanla Vanzant helps a man who has fathered 34 children by 17 different women. Oh boy(s and girls).
WALL-E (ABC Family, 9 p.m., Friday): Leave it to Pixar to turn the story of a little robot and a song from Hello, Dolly! into a meditation on loneliness, love, and the human condition.
Finding Forrester (Oxygen, 9 p.m., Friday): The film that gave the world the immortal expression: "You're the man now, dog!"
Star Trek IV: The Voyage Home (SyFy, 11 p.m., Friday): Kirk, Spock, and the rest of the Enterprise Crew catapult their ship around the sun in order to time travel to the 1980s, steal a couple of humpback whales, and save the Earth. It's the most overtly comedic and one of the most enjoyable entries in the Star Trek film franchise.
NASCAR Racing: Nationwide Series in Richmond (ESPN2, 7:30 p.m., Friday): Go, go, go, go greased lightning you're burning up the quarter mile!
College Football: Michigan at Notre Dame (NBC, 8 p.m., Saturday): Notre Dame exercised an out in its contract with the University of Michigan, bringing an end to this popular college football rivalry. Saturday marks the teams' final scheduled meet-up so the stakes for bragging rights are especially high.
In case you missed it
Married: Dennis Perkins plays third wheel as Russ and Lina go on a date in their old neighborhood.