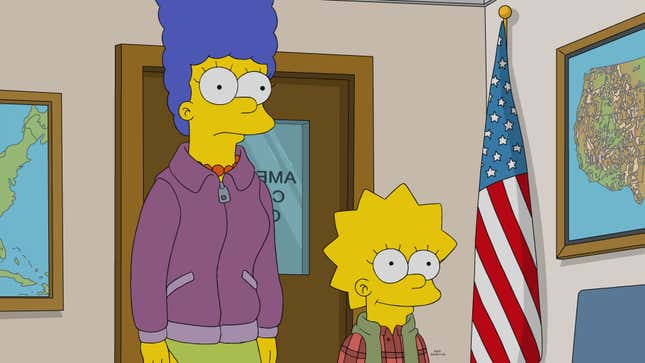 "How can you boo-ya this country's decline?"

Indeed, boo-ya-ing America's current state under "President Sonofa-" (Lisa's words) carries a high degree of difficulty, especially if you're going for laughs. There are the more obvious pitfalls, naturally. Caging toddlers, an openly white supremacist head of state who regards flouting the Constitution and the rule of law as just "pwning the libs"—these are not the building blocks of traditional TV family sitcom fare. Apart from the present and building national crisis, however, mocking the GOP-abetted rise of authoritarian nationalism in America has frayed the nation's comedy professionals to their last, twanging fibers, with those souls original or doggedly dutiful enough to dredge insightful (and yet still somehow funny) material out of this sludgy national shitshow in dwindling supply.
If Jesse Armstrong wanted Jeremy Strong to jump in a river, he would have put it in the script
Could The Simpsons at its peak have risen to the challenge that is, without exaggeration, one of the most daily ominous and disheartening periods in American history? Well, yeah, almost certainly. As fashionably dull as it is to sing the "not as good as it used to be" chorus, those first ten years or so were, are, and ever shall be deserving of their place in the American comedy pantheon. Mixing high and low comedy to craft monuments to American folly was The Simpsons' formula from the jump, with the family's weekly misadventures illuminating the national character in hilariously biting yet deeply human microcosm.

And, hey, we're not here to join in on that chorus, are we gang? Anyone? Well, I'm not, anyway—even if this review of "D'oh Canada" leans, inevitably, once more, into that thematic rut.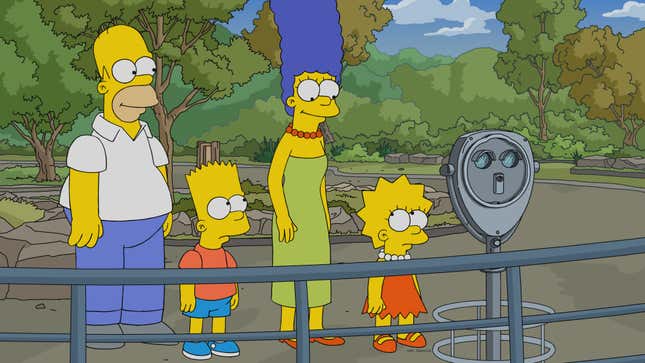 Naturally, our avatar in the Simpsons' journey to disillusionment with what's going on in her home country is Lisa. After being taken in by well-meaning Canadians as a political refugee from her homeland of "voter suppression," "utter disregard for the environment," and "President God-d-" (again, Lisa's words), Lisa is described by Marge as "the heart and soul of this family," by Springfield newsman Kent Brockman as "local smartypants," and by man-at-Moe's Lenny as "the moral center to this town." And they're not wrong, even if 20-some years of character drift and occasional blunt mischaracterization have, in some viewers' eyes, left Lisa more of "The Simpsons' stick in the mud," or "Springfield's one-note moral mouthpiece." And while a TV character (especially after 30 years of fighting the good fight) must be defined by her actions as represented onscreen—the good and the bad—it's still Lisa's role as the one sane, well-meaning person in the show's world of satirically short-sighted American hotheads to feelingly speak truth to power. Even if, as a little kid, she often makes her own mistaken appeals to blinkered reason, before pulling herself back from the brink of Springfieldian stereotype.

"D'oh Canada" wants to skewer its targets on the American side of the border by having Lisa's infatuation with all things Canadian (politeness, a hunky young Prime Minister, mounties with handsome horses, cape-wearing rescue beavers, free healthcare, schools that put on thought-provoking productions of Canadian literary legend Margaret Atwood's The Handmaid's Tale) focus the show's barbs more sharply and directly than usual. Biting the network hand that feeds it has always been merry sport for The Simpsons, and while none of the Fox News jokes here rise to the economical brilliance of the throwaway Fox slogan "Not racist, but #1 with racists," there's a definite in-house catharsis going on with Lisa's delighted revelation that, in Canada, "Fox News is just news about foxes!" (It's a lot more satisfying than when the show coddled Fox News overlord Rupert Murdoch for some "isn't the deliberately divisive propagandist Robert Murdoch a good sport?" joshing.)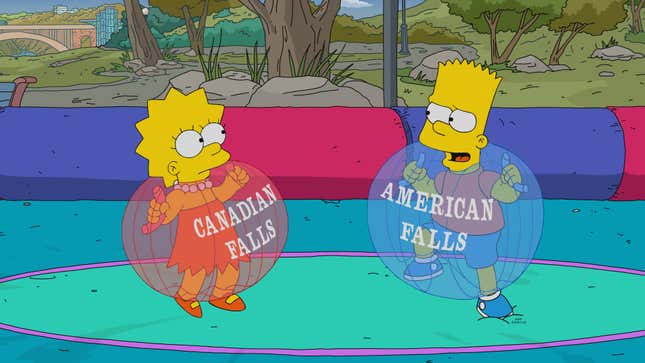 There are lines throughout "D'oh Canada" that partake of the same sort of meta-humor where the obviousness of the point being made is supposed to be leavened by the cheekiness of saying it in the first place. Confronted with a happy Canadian doctor's announcement that Lisa's proposed five-day hospital stay (she went over Niagara Falls due to some parental and operator's neglect in a falls-side kiddie inflatable ball gladiator pit), Homer blurts in horror that free health care would deprive corporations of "the tax breaks they so desperately need." Homer has been reactionary, to a greater or lesser degree, in his role as prototypical sitcom dad over the years, learning lessons in tolerance, justice, and humanity again and again, only to revert back to whatever narrow-minded state's required for the next go-around. Here he serves more as megaphone for the joke, however. Homer isn't shown as particularly gung-ho patriotic at Lisa's snap (medicated) decision to throw over American citizenship in favor of nightly trips to Hardees with nice new Canadian foster parents. The same goes for his outrage at the Canadian government offering Lisa asylum, his exclamation, "You can't separate us from our child, that's America's thing!" doing the job of riling up fans of the aforementioned toddler-caging, but only with a passing, momentary sting. That's of a piece with most of "D'oh Canada," where political points are made in asides in service of the convoluted plot, while the characters are left unmoored to any real emotional stakes or meaningful personal dilemmas.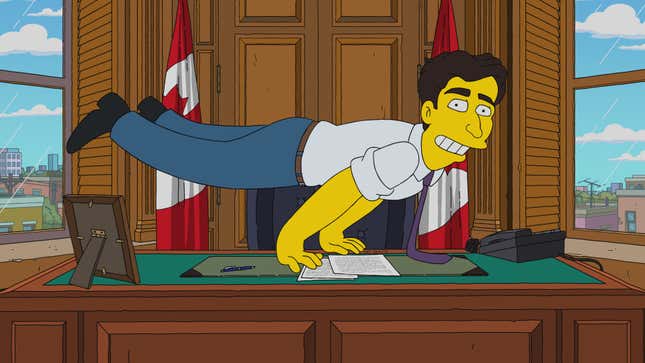 That Lisa could become smitten with a new country where things look (and to some extent, are) rosier than her wearying daily reality could be a resonant way to examine how entrenched ideologues wallpaper over inconvenient facts. On a video call with obligingly accommodating Justin Trudeau (voiced by Canadian journalist and noted Trudeau impressionist Lucas Meyers), Lisa initially assumes the boyishly likeable Prime Minister will have an easy answer for her questions about the troubling SNC-Lavalin scandal, only to see the shocked Trudeau stop in mid desk-handstand and scurry out of his office window like an abashed Canadian Spider-Man. Especially since the episode sees Lisa forced to confront those realities before coming to the conclusion, "America ain't perfect, but it's my job to make it better." That's Lisa, all right, even if her character arc in the episode is so rushed, inconsistent, and slapdash that it renders the rousingly Lisa-like sentiment disappointingly toothless.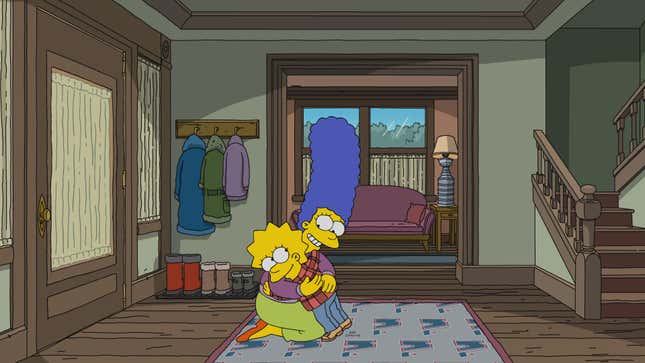 After Lisa warms to her Canadian home, complete with the infuriating adoption of the local accent like a study-abroad sophomore (or Madonna), Marge sets out to reclaim her daughter. Fair enough, except that Marge immediately follows up her warm reunion hug with Lisa by snapping, "Listen, you little traitor!" as soon as Lisa expresses her desire to stay. Again, it's something of a fool's errand to fight for the integrity of a character that's passed through 30 years' worth of dozens of different writers' hands, but who exactly is this Marge Simpson supposed to be? Even if you take her outburst as an expression more of familial betrayal than knee-jerk reactionary jingoism (and I'm not sure I do), it's still enough to cause emotional whiplash, to us if not to Lisa.

Not that Lisa has a better time of things, character-wise. Her decision to ditch family and country happens in a blink, as does her acquiescence to Marge's demand to return after learning some quick and depressing facts about Canada's own problems with institutionalized bigotry and environmental crimes. (That the show points out the country's history of looking down on its citizens from Newfoundland is also undermined by having a Ralph Wiggum lookalike sing the Newfoundland anthem while kicking around the battered-off head of a clubbed, stuffed baby seal.)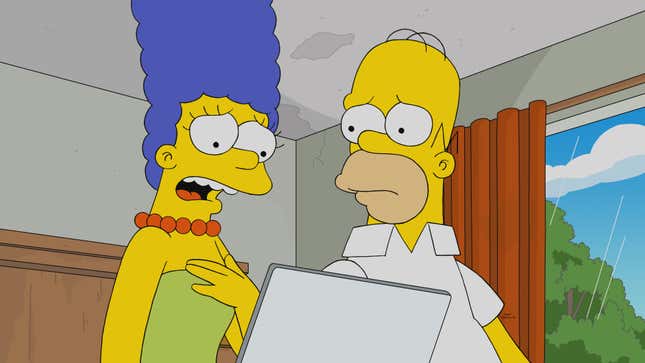 Then, after finding out that Trump's new America has turned the motto on the Statue of Liberty into that of a particularly draconian concert venue when it comes to reentry, Lisa snaps with insensitive speed back to her previous position, urging Homer (and, sure, Bart) to bail on America and come live in Canada forever. That it takes some ghostly visitations from the good people and things she still associates with her home country (Lincoln, Seabiscuit, Aretha Franklin, Dumbo, that computer that won on Jeopardy, Louis Armstrong, Judy Blume as herself) is just the final ping-pong bounce of a journey of faith that, with more care, could have done some real emotional and satirical lifting.

Stray observations
I would like to chalk up Lisa's admiration for Dumbo to her childlike kinship with a fellow outcast who has to learn to believe in himself rather than as some thinly veiled corporate synergy on behalf of their new corporate masters. I really would.
I'd also like to have faith that the episode could have been stronger if it hadn't spent so much time faffing around with the overlong setup for the family's trip to Niagara (and the perfunctory fully credits, couch gag, and stinger). Again, I really would.
Speaking of faffing, I'm all for a good old Simpsons, reality-busting, region-bashing musical number, but Homer's "New York, New York" paean to the underwhelming charms of upstate New York settles for low-hanging fruit (residents are Fox News-watching, hot-wings-gobbling, opioids-addicted, drunk fatties), without being particularly funny about it.
Awkwafina makes her second Simpsons appearance of the season, here playing Lisa's Canadian doctor.
Oh, and Canadians are polite to a fault and say "eh," a lot.
I did like the joke when the groggy Lisa, told she will be assigned a hockey fandom, pleads for any team but the Ottawa Senators. "I'm so sorry," apologizes her mountie guardian.
And the gag that the "Superior Court Of Justice" sits next to the "Superior Court Of Just Ice." Sometimes, it's the little things.
After being abandoned on some cracking, cross-border river ice by a pair of decidedly impolite Canadians ("For every Martin Short, there is no shortage of Shatners!," they taunt), Homer gets in his own sports team dig. Apparently the Detroit Lions' Ford Field is the most deserted place through which to sneak back into the country.
For those futilely playing Simpsons universe cartographer, according to Homer's calculations (14 hours at 8o mph), the Mt. Splashmore water park/toxic waste disposal site is 1,120 miles from the nearest Canadian border.
Throwaway cruelty comedy: Lisa hangs up on Grampa just as he moans, "But my liver . . .," and the family laughs and laughs at the newly unemployed and despondent Toys 'R' Us giraffe mascot attempting to hang himself from an abandoned storefront.