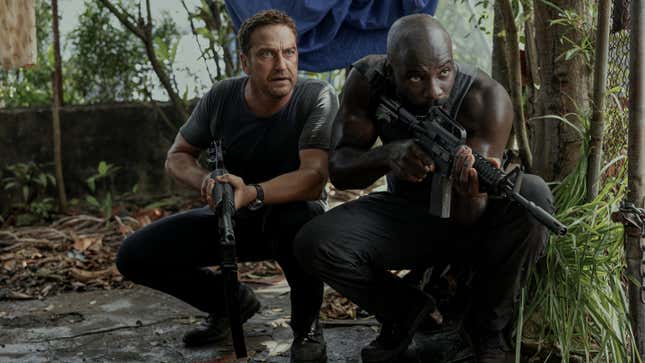 It appears Mike Colter will continue to carve out a niche as "guy you definitely want on your side when corruption strikes a form of mass transportation." Per The Hollywood Reporter, the Luke Cage star has signed on to return as ex-con Louis Gaspare in a sequel to Plane, a recent genre thriller that follows Gaspare teaming up with Captain Brodie Torrance (Gerard Butler) to save their passengers and crew after a crash landing on a dangerous island. Boldly introducing Gaspare to a new kind of structure to fight for one's life on, the sequel is reportedly titled Ship.
The A.V. Club's weekly film round up
Per THR, Ship follows Gaspare as he boards a cargo ship in East Asia with the intention to escape the Philippines. When he realizes he's sharing his journey with a nefarious human trafficking ring, he must join forces with the vessel's second mate to take down the ship's captain, protect its passengers, and free its captive trafficking victims.
Although no official decisions have been made, THR reports that discussions with potential writers and directors for the project are already underway. Sales company The Veterans will shop Ship around at the European Film Market in Berlin, with eyes locked squarely on a late 2023 shoot.
Speaking to Murtada Elfadl for The A.V. Club last month, Colter discussed getting into character as Gaspare, and emphasized how nailing a character that's "observing and listening all the time" involved a lot of subtle nuance.
"Those things are things that cameras can catch, but you don't have to play them. You just have to be there," Colter shared of his performance technique. "You have to be there in the moment with the circumstances and just respond. Everything means something. It's like a heightened sense of alert at all times with him because [Gaspare]'s almost like an animal. I think that reads and people feel that."