The Shins return with the deceptively sunny, psych-tinged Heartworms
Grade: B
Heartworms, The Shins' first record since 2012's Port Of Morrow, kicks off with the bouncy, sun-kissed jaunt "Name For You"—an ode to female empowerment inspired by James Mercer's three daughters. While it's a decidedly summery affair, it deals with serious ideas, admonishing those with antiquated notions who might try to stand in his daughters' way while cruising through the infectious melodies. This dynamic is the engine that powers Heartworms, with subject matter frequently much heavier than the psychedelia-tinged pop it's bathed in.
For the first part of the record, it feels like Mercer is easing into just how effective that dynamic can be, with an interesting but just a bit long track like "Painting A Hole" offering cryptic lyrics about escapism that are more compelling than their accompaniment. But it doesn't take long for him to really get in the groove. "Fantasy Island" is the album's first really laid-back moment and sounds appropriately tropical, turning a hazy lens on shameful childhood feelings. It's followed by Heartworms' highlight "Mildenhall," which Mercer has called "probably the most personal" song about his life. It's a stunning, airy tune driven by a delicate acoustic guitar hook that traces Mercer's love for music, from being handed a tape by another kid in class to rock shows to now. From there, it's a beautiful ride to the end, through the vibrant, rollicking title track, the lush, heartache wash of "So Now What" (the only song here not produced by Mercer), and "The Fear," which nails Heartworms' aesthetic best, turning existential dread into a string-swept dreamscape.
Purchase Heartworms here, which helps support The A.V. Club.
---
Semper Femina is Laura Marling at her best
Grade: A
G/O Media may get a commission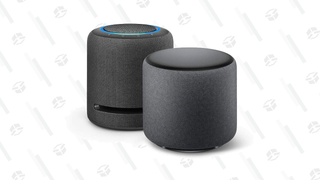 25% off - Prime Exclusive
Echo Studio + Echo Sub Bundle
It's easy to forget Laura Marling is only 27 years old. Since releasing her debut, Alas, I Cannot Swim, nearly 10 years ago, Marling has become a fixture of modern folk, far outliving the mid-'00s "nu-folk" scene with which she emerged. Her steady output has produced some of her generation's finest records, and her sixth, Semper Femina, is among her most affecting to date.
The album takes its title from a shortening of the Virgil line "Varium et mutabile semper femina," or "Woman is ever a fickle and changeable thing." Marling's own ungovernable spirit is a hallmark of her voice as a songwriter, and in the past it's often been shaded with a bit of loneliness. But on Semper Femina, it's a force that brings her closer to others—specifically the women in her life, not the least of whom is the one in the mirror. In these songs, Marling looks at womanhood and female relationships from various angles and distances, giving the gray areas of these roles and intimacies plenty of breathing room. The result is a record of great affection and fluidity.
Opener "Soothing" is one of Marling's most sensual songs ever, its two slippery bass lines slinking with anticipation. On standout "Wild Fire," nearly every line cuts to the bone: "Are you getting away with who you're trying to be?" The production by Blake Mills balances restraint and provocation as well as Marling's songs do themselves, with shimmering string arrangements living alongside serrated guitar tones and more experimental elements like the stuttering, Portishead-like beat of "Don't Pass Me By." Marling uses the full range of her voice as both singer and songwriter over the course of these nine tracks.
There's a freedom to Semper Femina, a resolve apparent even in its title. The record's final sounds are a shutting door, then birdsong—a reference to the controversial ending of Henrik Ibsen's A Doll's House, in which a woman walks out on her obligations as wife and mother to discover herself. On Semper Femina, Marling, an artist who has never been tethered to trend, embodies that kind of abandon.
Purchase Semper Femina here, which helps support The A.V. Club.
---
On Millport, Greg Graffin digs into the past
Grade: B-
"Millport," the title track from Greg Graffin's third solo outing, tells the story of a town defined by its past. It's a place where water wheels have run dry and shuttered storefronts line the streets. "Time is frozen," he sings over the rollicking acoustic country cut. "Like the hands of a clock that are broken."
It's a quiet, mild-mannered musical detour away from the thoughtful, sociopolitical punk Graffin's long championed with Bad Religion. But the change of pace suits him, and Millport finds the singer at home with his folkier musical id. With help from members of Social Distortion, Graffin spins the record into a rural testament to a place abandoned by time. The highbrow, philosophical lyrics that have always been his signature give way here to those more befitting of a storyteller, and Graffin uses warm '70s country rock ("Too Many Virtues"), bluegrass ("Echo On The Hill"), and even Southern hymnals ("Time Of Need") to give his small-town yarns some pastoral color. Credit also goes to Brett Gurewitz, Graffin's longtime creative foil, whose pristine production gives Millport the sheen of something cranked out of the Nashville songwriting factory.
There are occasional lulls where the record settles in too comfortably with its source material. Still, it's nice to see Graffin's instincts as a songwriter once again come into clearer focus through a more traditional vein. Millport might in large part be an homage or a genre project, but at least it's a sharp and sophisticated one.
Purchase Millport here, which helps support The A.V. Club.
---
Your Old Droog fires off some more excellent, earthy rap tracks
Grade: B
Three years since he first came out rasping, Your Old Droog is still best known for sounding a lot like Nas. And he does, it's true. The Brooklyn-born rapper goes in on every verse with a fleet-footed grace, wrapping noirish storytelling, smart-ass shit-talking, and wry asides in a flow at once nimble and earthy. He lacks Nas's propensity for starry-eyed philosophizing, ill-fitting grabs at radio-play, and malfunctioning Statement albums, and has developed a reputation, after firing off a few loose, goofy EPs, as something of an easier-going Nastradamus with better beat selection.
Packs doesn't mark a turning point from that perception, but it does make the clearest case yet for Droog as his own man. It's unambitious but full, 11 tracks (plus a few skits) that fly by in a blur of loose, live drums, blues licks, and moody David Axelrod fusion. Droog's obsession is mood, like a cold-weather Curren$y, curating luxurious settings with tasteful guests and keeping the conversation lively. Heems shows up on the whistling, low-key "Bangladesh" to go off for a very Heems 90 seconds, and Danny Brown erupts amid a pinball cacophony. Droog co-produced half the tracks on the record, and has a soft spot for vintage, Cinemascope ambience, like the preposterous harpsichord flourishes and pulsing acoustic guitars of "Just An Interlude."
But the star remains Droog himself, a funny and gregarious master of ceremonies, from the paranoid pathos of "G.K.A.C." through the post-Madvillain jazz goofiness of "Winston Red." The fixation on cigarettes, from the title and cover down, makes sense: Droog doesn't fuck with spacey acid-rock philosophizing or bottom-of-the-bottle self-pity. Now two LPs and four EPs deep, Droog projects are broadcasts from a smoke-filled, permanent-midnight club, his verses spit with the off-the-cuff ease of a dude feeling it that night. At this point, he's already got one thing Nas never had: consistency.
---
Tennis' 4th album is stuck somewhere between its comfort zone and its next step
Grade: C+
Though they had perhaps at one time been at risk of being branded Mates Of State 2.0, the fourth full-length from married duo of Patrick Riley and Alaina Moore is full of pleasantly poppy tunes that stay just on this side of overly precious. Yours Conditionally's standout songs have a little more soul behind Moore's vocals, and a little less sugary pop than 2015's Ritual In Repeat and especially 2011's debut, Cape Dory. At its best, like the midtempo groove "Ladies Don't Play Guitar," '80s synth and drums form a backbone against Moore's chilled-out vocals. Even with some outstanding singles, the album as a whole finds the group somewhere between its comfort zone and a confident next step, with many of the songs bleeding forgettably into one another. If the album's highs are any indication, the group will keep getting better, but only if it follows its more adventurous inclinations.
Purchase Yours Conditionally here, which helps support The A.V. Club.
---
Everybody Works is a reintroduction to Jay Som
Grade: B
Jay Som's origin story will always be part of its narrative, even as it becomes increasingly more common. When Melina Duterte put a handful of tracks on Bandcamp, and that very well could have been the end of it, another streaming curio in a vast sea of them. But things started moving, Turn Into was picked up by Polyvinyl Records, and Duterte's solo project was on its way. It's easy to see her as the West Coast's version of Alex G, as both songwriters work alone and record everything themselves, but Duterte's music forgoes myriad guitar effects for deeply layered, orchestral works.
Touting Everybody Works as her proper debut album, Duterte offers up songs that are free to bounce between styles. There's "Remain," a song that sounds like Tegan And Sara gone ambient, the pop-fueled indie rock of "The Bus Song" and "Take It," all the way down to the bite-sized bit of jazz on "One More Time, Please." And sure, that sounds like a recipe for an album that's scattered and messy, but Duterte makes it all feel part of the larger whole. Everybody Works is a record about small, personal moments, like riding the bus or balancing work and art—as the title track expertly does—and that's what makes it all cohere. It's simply effective. In other words: It works.
Purchase Everybody Works here, which helps support The A.V. Club.