When Billy Corgan isn't cavorting with supernatural entities and fighting the influence of youthful, globalist, social justice warriors, The Smashing Pumpkins' frontman finds time for his other great hobby: starting beefs with just about anyone he can think of. Unfortunately, he may have just engaged an opponent likely to give back as much as he can dish out. Buckle the fuck up, everybody, because The Smashing Pumpkins and Smash Mouth are now in a knock-out battle over the musical history of 2001 family comedy Shrek.
The first rumblings of this great clash began yesterday when Corgan, through his Instagram, told a fan that the Pumpkins' track "Untitled" had been considered for use in the animated movie. "We were offered the end credit song for Shrek 1," Corgan explained, "... but the offer was withdrawn and given to Smashmouth [sic] (who had hit with Monkees song)."

That Monkees song was, as all film historians know, Smash Mouth's torturous rendition of "I'm a Believer." In a just world, this would be an interesting bit of trivia to file away alongside other useless facts (and a drastically different Shrek to imagine). But Exclaim!'s Josiah Hughes, having reported the story, asked Smash Mouth for their thoughts about Corgan's revelation and the stakes were immediately raised.

And so this response means that we now, in this year of our lord 2018, stand witness to a beef between The Smashing Pumpkins and Smash Mouth over the goddamned Shrek soundtrack. While we may hope that Corgan will content himself with the Pumpkins' current reunion tour and gracing the world with more magazine photos of his cats, deep down we all know this won't be the case. Worse will come. It's only a matter of time.

G/O Media may get a commission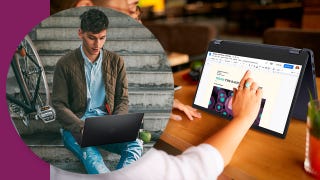 Ends August 15
Best Buy Anniversary Sale 2022
Ends August 15
Best Buy has a number of different promotions happening all for its Anniversary Sales Event. Laptops, tablets, TVs, you names it. Whether you're heading back to school or just trying to fill your home with some new tech, there is something here on sale that you've likely been waiting for.
Send Great Job, Internet tips to gji@theonion.com