We have an apology to make, dear readers. We've neglected our responsibility to keep you updated on all things William Patrick Corgan, and failed to properly recount the recent drama underlying the heavily implied, but not yet officially announced, Smashing Pumpkins reunion. For that, we are very sorry. Here, we will try to make amends.
The buzz around a reunion—started by a series of posts on Corgan's Instagram showing him in the studio with original Pumpkins guitarist James Iha and drummer Jimmy Chamberlin—went up several decibels with the appearance of a countdown clock on the Smashing Pumpkins website over the weekend, set to end tomorrow, February 14. Speculation is that the clock is counting down to the announcement of a new Smashing Pumpkins album or a full-scale reunion tour, which naturally led to the question: What about D'Arcy?
There's a long history of tension between bandleader Corgan and original bassist D'arcy Wretzky, who quit the band in 1999 shortly before its initial breakup. The tension started when Corgan re-recorded her bass parts for Siamese Dream, as Noisey details, and since her departure she has been replaced with a rotating lineup of bass players. Last year, Corgan and Wretzky started speaking again, which was a big deal, although on January 21 she said she had not been asked to participate in the reunion antics Billy and the boys were posting about online. "I only just found about yesterday that the band has decided to go with a different bass player," she said.
In a followup interview on Sunday, Wretsky said that Corgan rescinded his initial offer to her to participate in the reunion, saying, "well, that wasn't a real offer." According to Wretzky, she, Iha, and Chamberlin had all initially received the same contract offer; she believes that she was the only one to have her offer revoked, although Iha's participation in the new recording sessions has been minimal. She added that Corgan had texted her after the news of the reunion trickled down to the public, reassuring her that "there was never any decision to shut you out, or make you not welcome. It's more about getting on the same page with [the] tour first and then the necessity of the song came up."
G/O Media may get a commission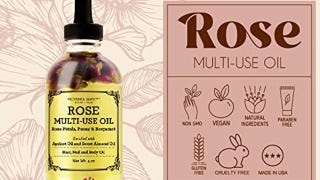 Provence Beauty Rose Multi-Use Oil
 That led the rest of the band to say through a spokesperson last night:
In reuniting The Smashing Pumpkins, the band's dedication remains to its fans and its music. To that, James Iha, Jimmy Chamberlin, and William Corgan haven't played a show with D'arcy Wretzky for over 18 years. But it's not for a lack of trying. For despite reports, Ms. Wretzky has repeatedly been invited out to play with the group, participate in demo sessions, or at the very least, meet face-to-face, and in each and every instance she always deferred. We wish her all the best, and look forward to reconnecting with you all very soon.
So, today, Wretzky followed up with Alternative Nation, sending them a series of screenshots of text messages she says received from Corgan supporting her statements from Sunday's interview. In them, he says he wants her to participate in the tour—but in a limited fashion, coming on stage for a couple of songs a la original drummer Steven Adler on the Guns N' Roses Not In This Lifetime tour. All caught up? Great. See you all on Thursday.