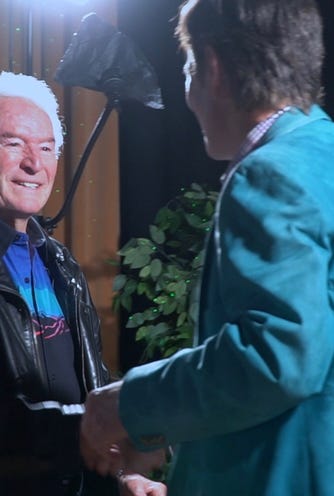 Slide 1 of 24
0. Frances Fisher: Clint Eastwood's Western Classic "Unforgiven"

0. The Outlaws: All-Star Villains! with Don Collier

0. Dawn Moore: The Lone Ranger Was My Father

0. The Rifleman's Johnny Crawford Needs Your Help

0. Morgan Woodward: Memories of the Good Bad Guy

0. William Wellman Jr.: 'Gunsmoke' or 'Have Gun'?

0. L.Q. J ones: 'Cheyenne', 'The Virginian'... and a Dog

0. Rupert Hitzig: Burt Lancaster's Last Western, 'Cattle Annie and Little Britches'

0. Susanne DePasse: 'Lonesome Dove'

0. Christopher Mitchum: 'Rio Lobo', John Wayne, Howard Hawks & Bigfoot

0. Don Murrray: From Hell to... Marilyn Monroe

0. Slim Pickens: From Rodeo Clown to Hard-Riding Star

0. Burton Gilliam: The Fart Scene Changed My Life!

0. Norman S. Powell: 'Dick Powell'sZane Grey Theatre'

0. Mariette Hartley: 'I Slept With Little Joe, Hoss and Pa on "Bonanza"!'

0. Robert Forster: 'The Stalking Moon'

0. Jacqueline Scott: 'The Virginian' and 'Bonanza'

0. Walter Hill: Secrets of John Ford Revealed!

0. Robert Forster: An Actor's Gamble

0. Robert Fuller: 'I Wanna Do a Western!'

0. Robert Fuller: How I Replaced Steve McQueen

0. Blood and White Lightning!

0. Dangerous Stunts! Hal Needham's Call to Action!
Slide 1 of 18
Daryle Ann Lindley

Self - Slim Pickens' Daughter
An interview show featuring producer Rob Word, who speaks with various actors, actresses, stuntmen, directors and others who worked on many western films and TV series over the years.