What's that about movies starring people of color being a risk, again? Black Panther went beyond a hit movie to a pop-cultural phenomenon this weekend—this writer's Saturday afternoon screening had lines out the door of the theater, through the lobby, and outside into the snow—surpassing the relatively conservative estimates of Variety's box-office prognosticators and disproving conventional Hollywood "wisdom" that dismisses films with majority nonwhite casts as niche concerns.
Although the final results are still being tallied, Disney is now estimating a massive $235 million opening weekend for the film (and that's just the domestic box office; early estimates predict at least another $169 million overseas). Black Panther started strong with $25.2 million Thursday night, the best February preview and second-best Marvel preview of all time, then continued strong throughout the weekend, coming in only half a million short ($60.1 million) of beating Star Wars: Episode VII—The Force Awakens' ($60.6 million) Sunday record. The film also handily bested Deadpool's Presidents' Day weekend record, a now relatively paltry $152 million. To put all these numbers into perspective, Black Panther is only the fifth movie to open with a more than $200 million weekend, ever, and the Presidents' Day holiday is sure to add another significant chunk to its four-day total. In short, expect more records to be shattered by the time the week is through.
The true scale of Black Panther's success isn't revealed until you look further down the box-office charts, though. The film made 10 times that of its closest competitor, Peter Rabbit, which came in at No. 2 with $23 million. Then, after bypassing modest weekends for No. 3 film Fifty Shades Freed ($19.4 million) and No. 4 Jumanji: Welcome To The Jungle ($10 million), we're already down into the single digits. (Well, seven digits, but that might as well be single digits as far as movie studios are concerned.) That's where you'll find the week's other wide releases, including Aardman Animation's Early Man, which came in at No. 7 with a primitive $4.2 million. Similarly, the latest attempt to sex up the Old Testament, Samson, was weak out of the gate, missing the top 10 with an eleventh place, $2.27 million opening weekend.
True, neither of those movies had the critical support—or Marvel marketing machine—behind them that Black Panther did. But even if they had, they should have known: Once Wakanda reveals itself to the outside world, all bets are off.
For more detailed numbers, visit Boxofficemojo.com.
G/O Media may get a commission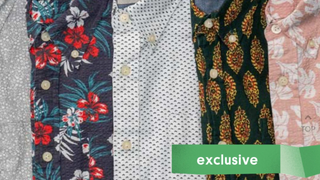 Grab three styles!
JACHS NY Summer Pack