"We have main engine start… ladies and gentlemen, we have rock 'n' roll."
Those words launched MTV—the world's first video music channel—on August 1, 1981 at 12:01 a.m. The image of man on the moon that was iconic for the baby boomers took on a new meaning for their children as the "moon man" became a symbol of the network, taking physical form in the MTV music award statue. It's hard to imagine a time without music television: Before MTV talk shows, Ed Sullivan, and the Midnight Special were the only places to see your favorite artists perform, but MTV promised music television in stereo 24 hours a day. Thankfully, someone set their VCR and recorded the first four hours of broadcasting from the new network and has uploaded them—original commercials and all—to the information superhighway in glorious, low-fi, standard definition.
Most folks know at this point that the first video played on the network was The Buggles' "Video Killed The Radio Star," but what's going to win that trivia contest at your local bar is knowing that Pat Benatar's "You Better Run" was queued up next. Other artists featured in that first hour included up-and-comers The Who and Rod Stewart, as well as artists that would become synonymous with MTV over the next decade (The Pretenders), classic rockers in live performances (Styx, REO Speedwagon, .38 Special), and others that would be long forgotten by mid-decade (Cliff Richard, Robin Lane & The Chartbusters.)
As not many artists were prepared for the music video revolution, anybody who had shot a promo video got put in heavy rotation simply for being in the right place at the right time—like cult power-pop act, Shoes. As the '80s progressed, artists such as Madonna, Prince, and Bruce Springsteen used music television to launch their careers into the stratosphere.
The first hour of "the newest component of your stereo system" also introduced the first team of VJs including Alan Hunter, Martha Quinn, J.J. Jackson, Nina Blackwood, and Mark Goodman taking on initial hosting duties encouraging viewers to order their MTV radio dial sticker so that viewers could listen to the station in full on stereo. The sets are pretty bare bones for a television network that would arguably start a revolution.
Today, the network barely resembles its former self, featuring teenage mothers and a gritty reboot of Teen Wolf that a generation was clamoring for in lieu of music videos. Viacom is launching MTV Classic that will feature… music television, as well as classic shows from their past three decades of broadcast history, hopefully including two of this writer's favorites, Remote Control and Austin Stories.
G/O Media may get a commission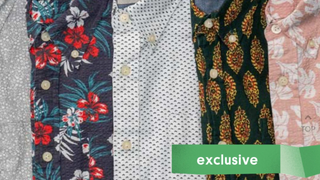 Grab three styles!
JACHS NY Summer Pack