In Podmass, The A.V. Club sifts through the ever-expanding world of podcasts and recommends the previous week's best episodes. Have your own favorite? Let us know in the comments or at podmass@avclub.com.
---
Even the most right-brain-dominant listeners can find it challenging to interpret some modern art. Fortunately, WNYC Studios and the Museum Of Modern Art teamed up to create a 10-part biweekly podcast that discusses contemporary art with an expert curator's eye. It's hosted by Broad City's Abbi Jacobson, who, along with being the child of two artists, is an accomplished illustrator herself. Many of the episodes feature celebrity guests: Hannibal Buress, Questlove, and RuPaul stop by to offer thoughts on prominent artistic movements, but it's the artists themselves, along with their work, that really stand out. The show is unafraid to tackle hostile and dismissive layperson questions about seemingly bizarre or simplistic works. In fact, it affirms them, arguing that personal sensory responses are just as valid as thoughtful critiques, even if reaction is negative. This episode on minimalism, for instance, acknowledges that the sparse works of Jo Baer and Donald Judd elicit everything from eye rolls to outrage over a perceived lack of talent. But the artists themselves often dislike the term "minimalist" or don't consider themselves part of the movement with which they're associated, instead unpacking the intentions of their work. The only thing more universal than art is art criticism.
---
G/O Media may get a commission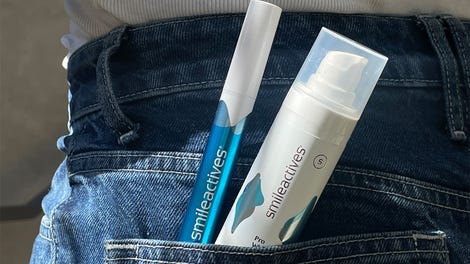 58% off
Whitening Powerhouse Pen & Gel Duo
To cap off the preceding hour and 40 minutes of roiling, consummate, hit-you-in-the-gut hilarity, host Scott Aukerman gives listeners this profound salutation: "Five hundred episodes is… uh… not nothing." Damn straight, it isn't. Already having enjoyed a storied history as the live Comedy Death-Ray stage and local radio show before the podcast's creation in 2010, Comedy Bang! Bang! has evolved to become an influential who's who of who's funny, an ever-growing network of daring and whip-smart comics who never stop racking their brains for new ways to make each other laugh. And by god, in this victory lap of an episode, they really do. For the big milestone, Aukerman keeps things all in the family with fan favorite guests Todd (Lauren Lapkus), Long Island-based audio intern Gino Lambardo (Jon Gabrus), future host Jason "Heynong Man" Mantzoukas, El Chupacabra (Nick Kroll), street urchin Thomas Scuzzbucket (Mary Holland), and, of course, Paul F. Tompkins. For comedy nerds who geek out about the craft of improv, this anniversary show in particular displays the different giddy, macabre, authentic, high-brow/low-brow bits of brilliant alchemy that make up CBB's magic. Is there a cooler couch in comedy?
---
Hold My Order, Terrible Dresser has the distinction of being the one and only podcast available that is dedicated to the CBS sitcom WKRP In Cincinnati. Each episode, hosts Michael Grasso and Rob MacDougall explore two episodes of the popular sitcom that ran from 1978 to 1982. While the podcast does dive deep into the world of Dr. Johnny Fever, Venus Flytrap, Les Nessman, and Bailey Quarters, Hold My Order will be of interest to anyone who digs pop culture or history, with each episode providing a historical sidebar relating to the wackiness that ensues for the staff of WKRP. This week, the guys look back at the pair of relatively serialized episodes "Straight From The Heart" and "Who's On First?" which feature WKRP salesman Herb Tarlek at the center of each plot. In "Heart," a cast of characters winds up in a 3-D porn theater circa 1981, which leads to MacDougall and Grasso discussing the "good old days" of theatrical adult cinema in New York's pre-Disney Store Time Square, as well as the red light district of their hometown of Boston.
---
This is neither the first true crime podcast nor the first one dedicated to Hollywood lore. Co-hosts Rachel Fisher and Desi Jedeikin (previously of comedy-and-pastry-centric Eating Pie) admit as much in the first few minutes of this debut episode. But that doesn't seem to be a matter of much concern to them. They reason that this one will be different, because this one is hosted by them. They're right, and not just in a technical way. Fisher and Jedeikin are writer-comedians with dark, coarse, irreverent senses of humor and some fascinating life experiences from which to draw, so they offer a fresh and compelling perspective on the topic of discussion. That the topic this week happens to be about a sociopath with an enormous wang and some awful decision-making skills is all the better. The life story of porn star John Holmes is a grimy one, strewn with reprobates and victims, but the co-hosts approach it in a way that's sex-positive and unwilling to wallow in the macabre. An impressive amount of the hour is spent marveling at the freakish immensity of the organ that both made and destroyed Holmes' life, making for some genuinely funny repartee.
---
Norm Macdonald is one of the funniest men alive, and the women and men he hosts on his sporadic, off-the-cuff podcast are usually slotted into the same category. That's certainly the case with David Letterman, who's only given a handful of interviews since stepping down from his late-night show a few years back. Macdonald was a regular guest on Letterman's program, and the duo's natural rapport gives way to a host of stories that highlight Letterman's early career, his 33 years of hosting, and his own personal insecurities. Letterman's thoughts on mental health are both funny and touching, as is his reveal that he never felt like a celebrity in the same vein as his predecessor, Johnny Carson, a figure that can't help but color nearly all of his stories. Macdonald is also in fine form, toying with Letterman as he does all guests with obscene, out-of-nowhere anecdotes and questions like, "Why is it, when you walk down the street, there's not half the people with nooses around their necks? What makes life insist?" All that's missing? The ManGrate. In terms of sponsors, at least, Macdonald is much more well-behaved these days.
---
At the crossroads of history, literature, trivia, and pop culture, this episode of Oh No! Lit Class takes a look at both Shakespeare's Hamlet and the wider context from which it emerges. Hosts RJ and Megan waste no time diving into the state of affairs in Elizabethan England at the time of Hamlet's writing, the old Norse tale of Amleth, an alternate dramatic version of Hamlet ("Ur-Hamlet") also written in the 16th century, as well as analysis of the play's various quarto and folio versions. Those familiar with the play and its history will be interested in some of the lesser-known factoids RJ and Megan unearth, while less familiar audiences can enjoy the way these hosts demystify some of the more complex plot elements, making the length and density of the masterpiece a lot less intimidating than it might otherwise be. Overall, listening to RJ and Megan discuss some of the often overlooked comedic elements of the infamous tragedy and the signature indecisiveness of the title character offers a refreshing perspective.
---
Last week, The Atlantic finally joined the podcast game with Radio Atlantic. Promising "conversations with leading journalists and thinkers to make sense of the history happening all around the world," each week the magazine's top editors are joined by leading voices to explore what's happening in the world, how things became the way they are, and where they're going next. The podcast is off to a strong start, exploring the Atlantic's own origins—the publication was founded nearly 160 years ago on the eve of the Civil War to advance the American idea—and asking the question, Has the American idea taken an unprecedented turn? Well-produced and straightforward, Radio Atlantic offers humor and intellect paired with engaging analysis, making it a must-listen for those trying to make sense of our unsettled democracy.
---
After several weeks of discussing heavy topics, the gang sought some levity by returning to its occasional practice of scouring Tumblr for creepypasta horror stories. As is the aim with all these episodes, the dodgy quality of the material, or "spooky spaghetti," makes for hilarious readings. One is a rehash of the trope about photographs stealing a piece of your soul. Two stories involve variations of people who transcend death to communicate with the living. There's a tale about using human remains as construction materials, another about a paranormal TV channel that can predict the future, and a Rashomon-esque tale involving a child's death. As usual, Henry takes things too far when he curates some tales of erotica featuring Slenderman's "huge bulge" and, in a different story, a skunk ape able to fold its penis into a U-shape while performing.
---
The Podcast For Laundry
Chris Duffy
A podcast about laundry should not be entertaining, ever. But leave it to Brett Davis (The Special Without Brett Davis) to find the funny in the mundane. An "abrasive and sad niche podcast," The Podcast For Laundry is an exploration of the world of laundry. It sounds ridiculous, because it is: Doing laundry is one of the many things people do while listening to podcasts, so to host a show about what someone might be doing while listening to it is already a great joke. But the concept shows an unexpected longevity in this third episode, with comedian Chris Duffy as a guest. The dryness and commitment to tone is strangely engaging and increasingly hilarious as they give laundry advice and discuss laundry-related current events. Duffy is a perfect guest who is actively supportive of Davis' creation, and their back-and-forth is endearing and complementary. Davis knows exactly what he's doing, toeing the line of self-awareness and total defense of the project as he restricts the conversation to laundry-talk only. There's a quiet desperation in how Davis is trying to convince the world that laundry is exciting ("or dare I say, beautiful") that is so absurd and amusing that it might actually work.
---
Very Bad Words comes to us from producer and host Matt Fidler, who reaches out to linguists, historians, and other experts to discuss our complex relationship with swearing and forbidden language. This week is brought to you by the word "cunt," as Matt is joined by co-host Katrin Redfern and the two reach out to women like Nadya Tolokonnikova of Pussy Riot, Dr. Camilla Power, Dr. Evelyn-Dean Olmsted, and others to discuss the history of this powerful word and how it's being re-appropriated by feminists. As informative as it is funny, Very Bad Words is for all the language lovers out there looking to deepen their knowledge of English's more taboo offerings.