Podmass comments and suggestions for future coverage can be directed to podmass@avclub.com. 

Quotes of the week
"My penis lies to me all the time."—Dalton Wilcox (Andy Daly), Comedy Bang! Bang!
"I can still cut you out of the movie… you haven't even made the Make A Wish kids laugh."—T.J. Miller quoting Michael Bay on set to him in Transformers: Age Of Extinction, Doug Loves Movies
"The crowd was stunned and they started booing. [Red Klotz] went into the locker room and they poured orange drink over his head. That was their champagne, orange pop."—Joe Posnanski on the glory of the Washington Generals only victory over the Harlem Globetrotters, Hang Up And Listen 

G/O Media may get a commission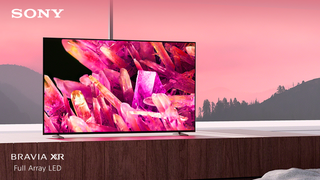 $400 off
Sony 55 Inch 4K Ultra HD TV X90K Series
"If you're walking down the sidewalk and a guy comes up to you and is like, 'Hey! Do you wanna hear a story about a child that got raped and fucked?' And you're like, 'Yeah, I'd love to.' And he's like, 'Okay, great. But let me tell you about the new iPhone…' That's what the news does every single night."—Duncan Trussell, Harmontown

"Stop signs are interpretive. Remember, when stop signs first came out, it was just an octagon. They didn't put the word "stop" on it. It was eight, because there were eight ways of looking at life. It was actually a very Zen-type sign."—Sinbad, Hollywood Handbook

"I took the whole $50,000. $50,000 won't fit in your pants pocket. I know, I tried it. So I got $10,000 here, $10,000 here, I've even got a sexy bulge in my underwear."—Former gambling addict Shannon Cason on an "innocent" embezzlement thought turned reality, The Moth

"The natural state of a movie, is not getting made."—Guillermo Del Toro, Nerdist
"If I were a cartoon, my eyes would be Xs."—Jimmy Pardo on having to listen to Matt Belknap and the Sklar Brothers discuss soccer, Never Not Funny

"Finally he just blurted out, 'Shoot that fucking tortoise and quit wasting our time.'"—Harry Greene, recalling a heated debate about the last Pinta Island tortoise, Radiolab
New (To Us)
Afternoon, Everybody!
Cheers has been a ubiquitous staple of syndicated sitcom television for so long that it's easy to forget how seminal a weekly show it was. In his fascinating, albeit self-congratulatory, history of Must See TV, Top Of The Rock, former senior and executive NBC Entertainment vice president Warren Littlefield speaks of the show with special reverence. He basically describes the 11-season run as the bar by which his subsequent projects, almost all smash-hits in a later iconic lineup, were set. Without the level of irony or absurdism inherent in, say, Scott Aukerman and Adam Scott's U Talking U2 To Me?, comedian Geoff Tate's hyper-specific podcast aims to dissect the series episode-by-episode with the help of rotating guests. At least that's how it's billed. Really, though, it's Tate's personal sort of Pop Culture Happy Hour mixed with You Made It Weird.
Opening each show with a "cheer" for some bit of pop culture that's making him particularly happy that week, Tate then delves into whatever strikes his guest's fancy. With roommate and comic Ryan Singer, that means music and an eventual chat about the show's pilot (which tanked in regard to ratings). With Tom Segura, things get a little weirder: "Have you ever seen a murdered body?" (The answer for Segura is "yes"). When the show makes its way around to Cheers, Tate reveals himself to be the real deal, venturing deep into behind-the-scenes trivia and quickly answering questions like which of Norm's opening quips to Woody is his least favorite: "Jack Frost nippin' at your nose?" "Yeah, now let's have Joe Beer nippin' at my liver." Only five episodes in, the show's running time already spills over from laid back to a little absurd. Tate, though, is witty and makes excellent connections. Once things get tightened up, it will be a solid listen for comedy and Cheers fans alike. [DJ]
Outlier
Revolutions
Mike Duncan has found a way to make fastidious history nerd work for him, which is in no way a sleight. His latest weekly podcast, Revolutions, focuses on the historical revolutions that have shaped the modern world. Revolutions are organized into modules that run for 12 weeks, with each new, 30-minute episode building on the previous one. It's clear these thoroughly researched lectures have been written, edited, and practiced beforehand, as this podcast doesn't have the slightest whiff of spontaneity about it. That said, Duncan manages to provide a ton of information, while still moving along at a decent clip and managing to toss in a sarcastic aside or make a Peanuts reference when trying to explain the trial of Charles I. Additionally, the website is filled with supplementary maps and other relevant information Duncan has provided, including a full bibliography of sources.  [AB]

The best
Book Fight! #65: J.D. Salinger, "Raise High The Roofbeam, Carpenters," "Seymour: An Introduction"
Book Fight hosts Tom McAllister and Mike Ingram are both rather surly this week as they discuss two lesser-known novelettes from J.D. Salinger, and it makes for a much more enjoyable outing. Somehow both the old and the young are too much for them to take these days, as the episode kicks off with a rant on the baffling online behavior of teenagers. While Salinger aficionados will get more from the literary criticism than those only familiar with Catcher In The Rye, the conversation is still enjoyable even when philosophizing about the nature of italics. Listeners who hang in there until the very end will be rewarded with two appropriately cynical recommendations and an apt comparison that notes the similarities between Salinger stalkers and people who won't leave Dave Chappelle alone for refusing $50 million. [AB]
Call Chelsea Peretti #57: Roach Infestations And Actual Murder
"I don't know how to integrate a serious documentary into the format of my show," Peretti admits halfway through the episode. Using "manic" to describe an episode of Call Chelsea Peretti—which features cockroach infestation stories as well as drolly serious documentarian Joshua Rofé plugging his new film on human nature and the prison industrial complex—would be to write it off. Could this episode actually be considered "important?" The discussion on the nature of persons in the prison system is handled with gravity and sensitivity; at its best, it shines a light onto our perceptions of what it means to be incarcerated; at worst, it's a great plug for Rofé's film. Peretti is in rare form, somehow feeding off of a dearth of good calls and the humorless themes of Rofé's documentary, delivering an uncountable amount of hilarious one-liners throughout. Peretti continues to take silly premises into bold new territories. [JW]
Comedy Bang! Bang! #300: Oh, Golly! You Devil: Jason Mantzoukas, Andy Daly
From past experience, fans had reason to assume the 300th episode of Comedy Bang! Bang! would boast a star-studded cavalcade of characters and guests. But few probably expected the dozen or so that showed up would all be played by one guy: the brilliant, ubiquitous Andy Daly. It starts simply enough—Scott Aukerman and Jason Mantzoukas (a callback machine in this episode) attempt to enjoy a bro down hoedown until cowboy poet Dalton Wilcox (Daly) drops by to flip everything (including our entire perception of reality) upside down. From there, Daly trots out an army of beloved characters (akin to episode 148 when most of his personas commit defenestration), all while Mantzoukas giddily tries to throw him off. But Daly puts on a master class in both improv and mental organization as nearly all his characters assemble to choose sides for what's apparently the most important battle in all eternity. [TK]
The Cracked Podcast #41: How Depressing Entertainment Became The Norm: Daniel O'Brien, Michael Swaim
The Cracked Podcast crew are on an amazing run of solid shows and this episode is no exception. Jack O'Brien is joined by repeat panelists and Cracked writers Michael Swaim and Daniel O'Brien to dissect and discuss the point where most television and movies shift into dark and bleak narratives, as exemplified by shows like The Wire and Breaking Bad. There's a lot of discussion of the Coen brothers oeuvre, specifically the transition from dark comedies to movies that are outright nihilistic. Swaim also talk about reaching a personal breaking point with shows like Game Of Thrones and The Leftovers, because the overarching narratives have become too bleak and soul crushing. [MS]
Doug Loves Movies: Brian Posehn, Matt Mira, Clare Kramer, Samm Levine
On the heels of a box-out defeat, a Leonard Maltin Game grudge match plays out between typical-champion Samm Levine and  Nerdist co-host Matt Mira at the San Diego House Of Blues, but the stakes of that game pale in comparison to the two comics' unofficial in-game Apathy Off (score spoiler: they both lose). With so much good stuff happening around it, though, it's hardly a distraction, and audience drunks nor an overzealous venue cleaning staff are able to ignore this solid and consistently funny 90 minutes episode. Comic-Con favorites Clare Kramer from Buffy and "fart part" of Deadpool writer Brian Posehn (who incidentally helped Doug Benson create The Leonard Maltin Game and will be appearing on Getting Doug With High) drop by to a boisterous house for a LMG rounds, ABCD's Nuts, and an inadvertent all-AIDS edition of Last Man Stanton. Actual movies get discussed this time around, too, including a debate about whether or not Never Say Never Again is a legitimate James Bond film and a bit about why Jersey Boys came out so lame. [DJ] 

Doug Loves Movies: T.J. Miller, Al Madrigal, Sean Cullen, Greg Proops
It looks like the triumphant T.J. Miller finally started returning Doug Benson's phone calls. He's been a little MIA from Doug Loves Movies as of late, albeit presumably for great reasons: In addition to landing a consistent gig on HBO's Silicon Valley, the comic runs around with Mark Wahlberg in Transformers: Age Of Extinction, a casting choice inexplicable even to him. The entire experience sounds like a whirlwind—Miller's hilarious and Twilight Zone-type anecdotes about his experience onset pins Michael Bay just as the creepy, all-white clothed egomaniac tabloid sites make him out to be. Miller joins Canadian favorite Sean Cullen, Greg Proops (Smartest Man In The World ), and first-time guest Al Madrigal (The Daily Show) to Benson's first go at Montreal's Just For Laughs festival, and it's a hell of a debut. Everyone is on their game, and Cullen's improvised theme songs deserve a Doing Lines With Mark-type recurring bit of their own. [DJ]
Final Level #14: Live From the Mayhem Festival With Ill Nino & Upon a Burning Body
A month ago, Ice-T dropped a terrifying hint at what is to come for his Final Level podcast. Happily, this is not a two hour interview with Mario Lopez; rather, it's a forty minute drop-in (no call-in segment this week) with Ice and Mick at a stop on the Body Count tour. Relating how a music festival is much like summer camp, Final Level welcomes members of the aforementioned metal bands to songcraft and current events. Though listeners and readers of podcasts may not be familiar with the type of band to perform at an event called Mayhem Fest, one cannot help but be intrigued by Ill Nino making their style sound like a combination of Paul Simon's Graceland paired with Megadeth. Some groan-worthy jokes aside, Ice and Mick run a lean and engaging episode, mining stories and insights from unlikely sources as per usual. [JW]
Hang Up And Listen: The Losingest Winner Edition
Hang Up and Listen produces one of its best episodes in months with a compassionate and celebratory look at a man who chose a life pursuing the noble defeat. Columnist Joe Posnanski joins HUAL to remember the late Washington Generals coach Red Klotz, whose team played the straight man and bumbling opponent for the Harlem Globetrotters. Posnanski talks about the boundless zeal and salesmanship of Klotz, who reportedly lost more than 14,000 games in his career. Like many of the program's best moments, it's a deeper look at a fascinating sports story that may only receive brief mentions on traditional sports media. A segment on the Iroquois Nationals lacrosse team is another example of the kind of smart, informative discussions that make HUAL so unique. Whatever impact the end of the LeBron James sweepstakes and World Cup had on 24-hour sports news, it's undoubtedly been a positive development for HUAL. [TC]

Harmontown #108: I Make A 5 Stars
It's a little bit of a bizarro episode of Harmontown with Duncan Trussell filling in for Jeff Davis. Whether or not that's a good thing to you depends a lot on how much you enjoy thinking about mankind's self-destructive and inevitable crawl towards the singularity. Trussell – potentially the most interesting psychonaut in the world – always draws the philosopher out of Harmon, and they're both exceptionally coherent here. They can turn any topic into a profound conversation with self-deprecating hilarity threaded throughout – whether it's the Uber rating system or computer-based humanoids or the way corporate America profits every time a child is raped. Neil Berkeley – director of the Harmontown movie – drops by along with Community and Rick And Morty writer Alex Rubens. With no Erin McGathy or Kumail Najiani, dungeon master Spencer Crittenden guides the motley crew on a much-debated side-quest, one that Trussell uses predominantly to continue disfiguring Nanjiani's character. [TK]
Hollywood Handbook #42: Sinbad
Who's to say why it's happening, but we do appear to be currently living in the Golden Age of Sinbad podcast appearances. The '90s mainstay comedian has been has been making up for lost time in the cultural eye (or ear) by hopping from show to show these last few weeks. And he seems to be have more fun each time out. Here, he grabs ahold of the giant Yes-And at the core of Hollywood Handbook and refuses to relinquish his white-knuckle grip until it accepts his complete and utter dominance. While he's an extremely creative guy with a remarkably quick wit, his manic comic sensibilities don't always line precisely with the whimsically caustic tone set by co-hosts Sean Clements and Hayes Davenport. One might argue that at times Sinbad pushes the absurdity too far, too fast. But really, who cares? They're all three clearly enjoying themselves, and that forgives a lot of faults. [DD]

How Was Your Week #177: Nathan Fielder "The Smaller The Cats"
Nathan Fielder is the undisputed champion of comic deadpan, and it makes his rare out of "character" appearances all the more fascinating. An otherwise requisite chat with Julie Klausner about house cats and This Hour Has 22 Minutes instead feels like a revelation tearing through Fielder's guarded gaze, precisely because Fielder shows no signs of a personal life on screen. Just ahead of his Dumb Starbucks stunt premiere, Fielder brings with him sweet, genuine, and humanizing perspectives on some of Nathan For You's breakout star subjects, from Ghost Realtor Sue Stanford to Simon, the security guard for whom substantial breasts are essential. The interview is a must for indoctrination into the cult of Nathan. Klausner's monologue is sadly surface level in comparison, though – she can only repeat the story of almost getting kicked out of a dog awards show so many times before the returns finish diminishing. [NJ]
Improv4Humans #144: LIVE From The Del Close Marathon 16 Pt. 1
Few episodes of Improv4Humans have started as strong as this week's episode, taped live at the 16th Del Close Marathon. Different from other live episodes, Matt Besser crams as many improvisers into the episode as humanly possible. By swapping performers out after a few bits, Besser brings on 13 guests in this frantically hilarious hour. Past live episodes have suffered from this format, unable to get a rhythm going, but "Pt. 1" has no issues maintaining the hilarity throughout. Few episodes have started as strongly as this one, where Chad Carter, Tim Martin, Seth Morris, Adam Frucci, and Besser dive right into the politically charged world of doggies in the window. Judging by their following scenes, this cast could have carried an entire hour, but Besser is quick to change the set-up. Seth Morris remains an integral figure for much of the episode, but no group quite manages to top that first puppy party. [MK]
The Moth: Love, Faith, And Money
In a studio interview following his live show, former gambling addict Shannon Cason explains to The Moth staff why telling his greatest shame to a room of strangers, one unknown even to members of his family, feels so empowering: he never has to worry about hiding the facts. Employers and friends will accept him or they won't, and it's out of his hands. A grocery store bank employee and an embezzler banned for life from the financial industry, Cason breaks down the pernicious logic that overcomes him one afternoon during a lunch trip to a casino. There's an audible weight lifted throughout, which is a running theme in this week's full radio hour episode about people in extraordinary circumstances confronting grim truths about the universe and themselves. Prinna Boudreau is called upon to comfort a mother who shares her experience of losing an infant child. In a fitting end to a bleak episode, dryly hilarious German scientist Francis Crick describes how his atheist mentor's strength facing his own death helps him let go of his religious faith and find truer faith in something more tangible, albeit more mysterious. [DJ]
Nerdist #550: Guillermo Del Toro Returns
The job of directing films is a rather nebulous one and it's not always clear where a director's duties start and stop. For anyone looking to learn more about the process, this conversation with Guillermo Del Toro doubles as a great crash course. Without ever becoming inaccessibly technical, Del Toro talks about everything from developing projects to working with actors, setting up special effects shots, improvising on set, and directing animation. Although he relays stories from his specific projects, even those unfamiliar with his filmography will likely enjoy this episode. Towards the end of the film-centric chat, the conversation unexpectedly switches to the story of Del Toro's father being kidnapped in Mexico, which highlights a more serious side of the effervescent director. Del Toro's first appearance on Nerdist was as part of a poorly recorded live panel show so it's great that he gets to have a proper interview with the trio of Nerdist hosts. [CS]
Never Not Funny #1425: The Sklar Brothers
It's always a treat to hear Jimmy Pardo get the opportunity to speak with big names like Sinbad or "Weird Al" Yankovic, but, at it's core, Never Not Funny is at its peak when Pardo is riffing and talking shop with the comedians of his own orbit. Twin stand-up team Jason and Randy Sklar—and hosts of Earwolf's Sklarbro Country podcast—are in the studio this week, and they bring with them a comfortable, casual energy and a lot of great stories. The anecdote about how they prodded a somewhat stoned Kevin Meaney into one of the biggest bomb performances of his career is good. But the story of their ill-fated fun-in with Dennis Miller early in their career is fantastic. It's always refreshing when comedians agree to name names and tell tales. Later, they share some genuinely interesting thoughts on what constitutes success in the comedy world. Quality episode. [DD]

99 Percent Invisible #124: "Longbox"
Not every reader will remember this, but long, long ago, CDs came in longboxes, these sort of Jujube boxes that record retailers liked because they fit in their already existing LP racks. Bands hated them, but couldn't figure out a way around them. R.E.M. found a way to make the boxes work for justice in 1991. The group used its Out Of Time case to encourage purchasers to petition congress about the "motor voter" bill, which would let people register to vote at the DMV. The campaign, launched in tandem with Rock The Vote, worked, and tens of thousands of the R.E.M. printed postcards poured into congress. The bill was initially vetoed by George H.W. Bush, but passed by Clinton, and today, 19 years after the National Voter Registration Act went into effect, over 150 million voter registrations have been filled out at the DMV. [ME]
Radiolab: Galapagos
For years, the Galapagos Islands had a reputation for being a kind of ecological wonderland. After all, its finches were one of the inspirations for Charles Darwin's theory of evolution. This episode of Radiolab uses the Galapagos as way to tackle mankind's place in, and duty to, nature. Radiolab's producer Tim Howard was expecting a Darwinian paradise, he was met more suddenly with human activity. The stories featured are devoted to wrestling with humans' place in nature, and its responsibility to conserve it. Conservation, as it turns out, can be pretty brutal—the first segment features fully justified audio of an invading goat population's demise. The episode continues with the locals' radical response (read: tortoise-napping) to ecologists' fishing regulations, and finishes strong with Lonesome George, the last tortoise of his kind, and the story of our inability to save his subspecies. "Galapagos" is a fantastic introduction to both the island's history and to the realities of modern conservatism. [MK]
Radiolab: For The Birds
"For The Birds" is a surprise follow-up to this week's heavy hitting episode focusing on the Galapagos Islands. While not structurally related to the Galapagos Islands, this short episode tells another story about our struggle to protect nature from ourselves. Where "Galapagos" put the raw, awesome powers of nature into the forefront, This short episode explores the theme in a much more human light. It focuses on the revival of a severely endangered type of crane. A last-ditch effort flock makes its new home in an elderly woman's backyard, who jeopardizes their recovery by refusing to take down her bird feeders. As simple as the situation seems, no obvious or easy solution presents itself.For a short episode, the Radiolab producers pull out a surprising number of twists and emotional turns. In just 15 minutes, they turn a Planet Earth-esque story into a compelling and impossibly complex human drama that ends on terms no more certain than where they began. [MK]
Stuff You Missed In History Class: Les Filles Du Roi
It might seem easy to think of the French exportation of eligible bachelorettes in the 1600's as debasing and cruel, but hosts Tracy V. Wilson and Holly Frey approach the subject this strange event with great skepticism and still resist dismissing it. When France was originally colonizing North America, British colonists outnumbered the French thirty-to-one. But perhaps more importantly, most of the French colonists were single fur trapping men living in the rough northern wilderness. France's plan to ship thousands of women was surprisingly progressive and offered many humane incentives, and despite Wilson and Frey's best efforts to dismantle it with their feminist lens, Wilson goes so far as to declare she'd have taken the offer in a heartbeat. It's an episode where some of the historical research is blurry and inconclusive, but it's the hosts' willingness to debate the morality of the tale that makes it of particular value. [DT]
Stuff You Missed In History Class: Battle Of Blair Mountain
Hosts Tracy V. Wilson and Holly Frey have unearthed a surprising amount of information on the coal miner uprising at Blair Mountain, the biggest armed battle on American soil since the Civil War. In the days when many US states still had strong anti-Unionization laws, West Virginia coal miners were suffering under extreme and exploitative working conditions. Miners faced daily possibility of death or maiming, and were not paid in salary but instead by the amount of coal they produced (a process also being micro-manipulated by mining companies in order to avoid any sort of payment). The fast escalation of fighting ended in over 1,000 indictments, including charges of murder and treason. Perhaps because the battle took place as recently as 1921, Wilson and Frey have extensive legal records to explore. But Wilson and Frey also manage to tie the story to modern protests to preserve the mountaintop removal and environmentalism in the mining industry, making it feel incredibly relevant. [DT]
Who Charted? #190: Slap Dat Cheese: Lennon Parham
This is episode is brief, clocking in at around 48 minutes. However, there's something to be said for a show that finishes a little early and leaves the listener wanting more rather than outstaying its welcome and dragging on with a bunch of idle chatter. Return guest Lennon Parham makes every minute count. She starts out with a few good anecdotes right out of the gate, including a great tale of a childhood playmate stealing and mutilating her Barbie doll. Howard Kremer also sets the tone for the show by starting out with an uplifting story of an Uber driver returning his wallet to him. [MS]
WTF #516: Leonard Maltin
Marc Maron has talked about old Hollywood before on his show, but film critic Leonard Maltin takes the conversation back to Hollywood in the 1920s, and it's a refreshing change of pace. Maltin's career trajectory is straightforward—he found his passion, got paid for it, then made a career of it—but there are enough happy accidents scattered throughout the narrative to keep it interesting. The substance of the episode, meanwhile, comes from the discussion of film criticism as an art form, along with analyses of what did and did not make various screen comedians—both famous and obscure—from the silent era successful, which is all downright fascinating, though probably only to those already interested in the subject. And while the two's boilerplate grumblings about the evolution of Hollywood films and audiences are liable to send some eyes rolling, but they remain good-natured enough to make it all forgivable. [CG]
The rest 
Bonnie And Maude #24: You Are Hair, Part 1
This recording of a live show from March features writers and critics discussing the symbolism of women's hair, in both pop culture and their own lives. All of the presenters have interesting ideas, but the show feels a bit off with out the visual aspect of the original. [AH]
Judge John Hodgman #170: Monte Belmonte Python
Australian Beth wants to keep a pet snake in her workshop. Boyfriend Ross thinks snakes are gross, and he objects. The highlight of the episode is Hodgman quoting Samuel L. Jackson from Snakes on a Plane, but the F bombs are censored, which makes the entire affair an optional listen. [DXF]
Nerdist #549: Guy Branum
On the plus side, this conversation between comedian Guy Branum and Chris Hardwick is very confessional right off the bat. However, the conversation is so solipsistic that it's hard to imagine the chat being interesting to anyone outside of Branum and Hardwick. [MS]
Nerdist #551: Eli Roth
Horror film writer/director/producer Eli Roth spends this episode recounting stories about Buster Keaton, gossiping about the worst actor behavior, and raving about Keanu Reeves. Roth is a confident and loquacious guest, but this episode lacks a focus to ground everything. [CS]
Professor Blastoff #164 World Travel: Adrian Todd Zuniga
Literary Death Match's Adrian Todd Zuniga returns to the Hatch for an episode dedicated to world travel but focused more on comedy and podcast touring. It just doesn't resonate, but Zuniga and Kyle Dunnigan shine with characteristically self-deprecating anecdotes about adolescent trips of their own. [NJ]
Sklarbro Country #209: Let's Fucking Go!: Jeff Richards: David Huntsberger
Randy and Jason Sklar sit down with their former Cheap Seats collaborator and Saturday Night Live alum Jeff Richards. Although it's clear that the Sklars are very tight with Richards, that bond doesn't result in a particularly memorable or compelling interview. [MS]
Sound Opinions #452: Rosanne Cash Live
A good but standard live edition of Sound Opinions from Philadelphia benefits from an eleventh hour introspective by Rosanne Cash on her family legacy and her late father's quirks before fellow sassy songwriter Jenny Lewis earns an adoring double Buy It review. [NJ]
Stuff You Should Know: How Trickle-Down Economics Works
 Also known as Voodoo Economics, SYSK hosts Josh Clark and Chuck Bryant do their best to dispel the belief that these economic policies made famous by Ronald Reagan are normal. And while they do not hold up well under scrutiny, their status as a relative scam makes it difficult to sustain a 45-minute episode on the topic. [DT]
Stuff You Should Know: The Skinny On Probiotics
The healthy bacteria known as probiotics seems to be something hosts Josh Clark and Chuck Bryant are eager to discuss. And the yogurt-heavy episode seems to be full of amusing asides (particularly Bryant's unfortunate traveler's diarrhea) but it seems to be because there's little to discuss. It's nearly 10 minutes in before they are broken into their two main bacteria strains. [DT]

This American Life #530: Mind Your Own Business
An excerpt from Studs Terkel's radio program that opens this week's show is, like most things Terkel-related, a must listen. The other stories, especially the first act about strict rules for professional cheerleaders, drag a bit and make for an episode that is less compelling than usual. [DF]
WTF #517: Denny Tedesco
Mr. Tedesco is an affable guy. He's also here to plug the only film to his credit—Maron must have been uninterested in his behind-the-scenes tales of various Comedy Central Thanxgiveaway shorts. The stories in this interviews aren't compelling but certainly make his documentary on The Wrecking Crew sound appealing. [JW]
You Made It Weird #217: Deepak Chopra
Regardless of your feelings about Deepak Chopra or his philosophies, this episode will likely be a disappointment. The new age guru offers no hint of the human being behind his stream of oblique platitudes. While he does technically make it "weird," it's not the kind of weird to which we've grown accustomed. [DD]