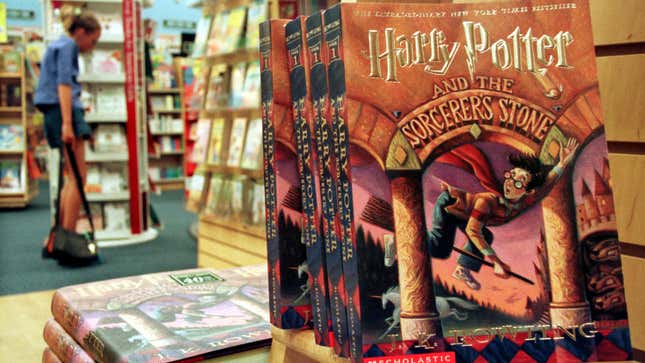 Warner Bros. Discovery spent last year erasing shows and movies from existence in a bid to somehow save money on taxes, but nobody should take that as some kind of indication that the company is completely creatively bankrupt and actively hates art. After all, according to Bloomberg, Warner Bros. Discovery is nearing a deal to make a "new online TV series based on Harry Potter"—as in adaptations of the books, not spin-off stories like Fantastic Beasts—for HBO Max. Nope, there's absolutely nothing creatively bankrupt about that!
HBO really doesn't want to talk about J.K. Rowling
Variety adds that these talks are in a "preliminary state," but Warner Bros. Discovery is planning to hold an event on April 12 to explain its plans for the future of HBO Max and Discovery+. Revealing the existence of a new Harry Potter adaptation would certainly be a Big Deal for something like that, especially if the company wants to assure investors that it has something in the works other than putting existing shows and movies in the garbage (this is also probably why that second Game Of Thrones prequel might happen).
The pitch for this new show would be that each season would cover one of the Harry Potter books, giving WBD years of content that nobody really has to think about or worry about. Why make a new show that you have to promote and develop and invest in when you can just do a thing that already worked once before? It's almost a surprise that Warner Bros. Discovery hasn't done this already.
The Variety story says that J.K. Rowling would "maintain a degree of creative involvement" with the new Harry Potter show, but "she would not serve as primary creator or showrunner." So that's the same sort of bullshit all of this Harry Potter stuff pulls, allowing her to continue making money off of it while everyone involved pretends to have their hands clean because she's not literally in charge or running things day-to-day. (She does apparently need the money.) It's gross and craven and insulting, which really does sum it up as the perfect Warner Bros. Discovery product.
None of this has been confirmed or acknowledged in any way by HBO Max or WBD, for the record, so it might not happen, but try to act surprised when it does.