Since its first season, Starz's fantasy drama American Gods has seen its share of cast and crew shake-ups, including a carousel of showrunners. After the unceremonious departures of original point men Bryan Fuller and Michael Green, who adapted Neil Gaiman's novel in 2017, and Jesse Alexander, who was essentially fired after ongoing script issues with the season two finale, Charles Eglee stepped in to helm the third season. However, it looks like the former Dexter and The Shield executive producer is already making some bold and, quite frankly, perplexing decisions ahead of the new season... like firing fan favorite Orlando Jones.
Jones took to Twitter Saturday morning to candidly inform the public of his surprising ouster.
"September 10, 2018, I was fired from American Gods," Jones says at the top of the video. Soon after, he clarified that he was actually fired in 2019. "There will be no more Mr. Nancy. Don't let these motherfuckers tell you they love Mr. Nancy. They don't." He's careful not to name names, but he goes on to share that the new "Connecticut-born, Yale-educated" showrunner—obviously Eglee—felt Mr. Nancy's "angry" persona was the "wrong message for Black America." He continues: "This white man sits in that decision-making chair and I'm sure he has many Black BFFs who are his advisors and made it clear to him that if he did not get rid of that angry god Mr. Nancy, he'd start a Denmark Vesey uprising in this country. I mean, what else could it be?"
Jones went on to thank Gaiman, Fuller, and Green before signing off. In subsequent tweets, he states that Fremantle, the production company behind the series, was a "nightmare" that treated employees like "2nd class [citizens]." He also made it clear that he had more to share on the matter. As of now, Fremantle, Eglee, nor Starz have commented.
G/O Media may get a commission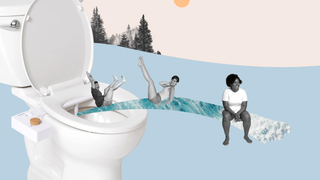 17% off
Tushy 3.0 Warm Water Spa Bidet Attachment
Update: Fremantle has now issued a statement; per Deadline, the studio contends that it decided not to pick up Jones' option because the show's next season covers material from the book in which Mr. Nancy does not appear:
The storylines of American Gods have continually shifted and evolved to reflect the complex mythology of the source material Mr. Jones' option was not picked up because Mr. Nancy, among other characters, is not featured in the portion of the book we are focusing on within Season 3. Several new characters, many of which have already been announced, will be introduced into Shadow Moon's world that will further contribute to the show's legacy as one of the most diverse series on television.