Relationships always look completely different from the outside than they do on the inside. What looks like true love to the two people in the relationship can look like mutually assured destruction to everyone else, and both sides will try in vain to change each other's minds. The title of this week's Power, spoken by a scorned Tasha, is a fair question and one of the show's most interesting thematic elements. After meeting and getting to know lots of people about whom you say "This isn't worth the trouble," what makes you suddenly meet someone and say "Actually, you might be worth the trouble?" Especially when said trouble is as deep and world-shattering as the trouble Ghost is in as Angela closes in on him and threatens his livelihood, his family, and his freedom.
Better than Tasha's question is her interpretation of Ghost's answer. Ghost uses language to describe his connection with Angela that makes the whole thing sound pedestrian and ordinary, the way a man describes such a thing to his angry wife when she asks a semi-rhetorical question like "Why her?" But Tasha latches onto it and makes it sound even more ridiculous than it actually is. Basically, she says, you're smacking crotches with some girl from high school and now you morons think you're in love. The relationship she's been in knots over for all this time is totally demystified. Tasha's so over the whole thing, especially upon finding out Angela's a fed, she demands that Ghost continue the relationship as long as it takes for him to unshit the bed. To an extent, Tasha demystifies Ghost as much as Ghost's affair. Underneath all the charm, confidence, and swagger, Ghost is a little boy wagging his tongue after the prettiest girl in homeroom. Snooze.
"Why Her?" is a generally triumphant week for Tasha, who has been in desperate need of a triumphant week since the show began. In addition to grabbing the reins in Ghost's affair with Angela, she consummates her hot-and-cold flirtation with Shawn in the hottest sex scene of the season. (Granted, Tasha's mama slaps her like she's trying to knock out a filling, but you can't win 'em all.) Tasha's come-up is symbolic of Power's season-two upshift. Courtney Kemp Agboh and her writing team has spent a good while building the world and stocking it with characters, and now all that effort is starting to really bear fruit. I have to bring up the Good Wife parallels again because Power is building a world elaborate and dynamic enough that the center of gravity can shift at will. That an episode can be focused on Tasha to this degree and still be effective is evidence of how much Power has come together.
And Tasha's not the only one at the top of her game. Now that Holly has been sufficiently entangled in Ghost and Tommy's mess, her character feels consequential and familiar in a way she never has before. She's also key to one of the niftiest storytelling devices Power has deployed yet. Holly and Angela officially team up to put the screws to Ghost, which means Holly has to collect some kind of evidence to prove Ghost's identity by connecting him to a crime. While Holly is fumbling on that front, Ghost renews his high-pressure offer for Holly to skip town and never see Tommy again. Ghost and Angela sit waiting for Holly to show up, and yet again, the two of them are competing directly without knowing exactly how literal their rivalry is. Director Sanford Brookstaver does a fine job of making what was realistically a clear-cut decision for Holly seem like a genuine conundrum.
G/O Media may get a commission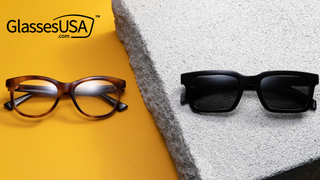 60% off frames
GlassesUSA.com Back to School Sales
There's not a chance Holly would skip town and leave Tommy in Angela's crosshairs well aware Ghost would probably toss him to the wolves were it absolutely necessary. Plus Tommy picks the exact worst moment to be a big ol' sweet softie and give Holly his grandmother's ring to wear as a symbol of some kind of increase in formality. Holly knows she's probably not going to be able to pull Tommy out of the bear trap he's stepped into, but she has to try. She mocks Angela about trying to find out if Ghost is one of the good guys or the bad guys so she can continue to have sex with him up against floor-to-ceiling windows. But Holly is trying to do the same thing, figure out if Tommy is one of the good guys, except that she could give a shit about respecting the law. She wants to know if Tommy is one of the guys who will leave everything behind to keep her safe and happy.
Unsurprisingly, Tommy is not that kind of good guy. In the brutal final scene, Holly wisely handcuffs Tommy to the bed before she breaks the news to him that she's been cooperating with Angela's investigation and can save them both if Tommy is willing to flip on Ghost. He erupts so venomously it's a miracle he doesn't snap right through the handcuffs and choke her out. Holly strolls out in a shot that evokes Nancy Sinatra's "These Boots Were Made For Walkin" without actually playing the song, and presto change-o, Power's most irritating character is one of its best.
"Why Her?" works so well because there are valid, interesting uses for all its characters. Holly is firing on all cylinders, Greg's presumptuous skulking around Angela has a purpose, and Shawn and Tasha are moving past their schoolyard ritual and following their desires. There's very little fat on the episode, though it does meander a little around Ghost and Tasha's marital strife and its effect on the kids. In principle I like that Power wants to hit those kinds of grace notes, but there was so much else going on this week that I wouldn't have minded swapping in some other elements in place of Tarik's sudden violent streak.

But there's not much to quibble about with "Why Her?" It's the first episode of Power to go from good to great, and not in a way that feels random or lucky. This show is just getting really strong.
Stray observations:
This makes two weeks without Kanan, who is missing without much explanation. This episode absorbs his absence better than the last one, but I'm beginning to wonder if it's a narrative choice or the producers adapting to 50 Cent's schedule as best they can. Kanan is built like a traditional Big Bad, which would usually dictate his death at the end of the season, but I'd sooner they keep him around rather than squeeze the rest of his story into too few episodes.

Tommy's solution to get the Serbs onboard sounded sensible last week, but that was before they started going all Patrick Bateman on folks. Tommy's right, it won't be long before the Serbs put all the pieces together, and when that happens, God help them all.
Truth business is notably absent this week, with the exception of a gossip session between Ghost and Kantos. I didn't totally miss it, to be honest. When folks are getting chainsawed, Stern's preening usurpation seems much less important.
That said, I'm interested to see where this divorce stuff goes.
Dre seems to have a future on the show beyond Kanan, based on his conversation with Ruiz.