Nora Ephron, a journalist and writer who parlayed a reputation as a sharp, self-deprecating wit into a successful career as a Hollywood filmmaker, has died of cancer at the age of 71. Ephron, whose sisters Amy, Delia, and Hallie are also writers, was the daughter of the married screenwriting team of Henry and Phoebe Ephron, whose credits included Desk Set, Captain Newman, M.D., and the movie version of the Broadway musical Carousel.
Ephron's career began in 1963, when she was hired as a reporter for the New York Post on the basis of some writing she'd done for a parody newspaper she and other young New York writers put out during the city's newspaper strike. In an essay about the Post during her time there, Ephron wrote that it was "a terrible paper" and that its (pre-Murdoch) owner-publisher, Dorothy Schiff, had shifted its focus "from hard-hitting, investigative, and left-wing to frothy, gossipy, and woman-oriented", while making it clear that she had a great time playing at being Hildy Johnson in His Girl Friday.
After leaving the Post, she developed a reputation as a star of the New Journalism with her sarcasm-inged articles on such Mad Men-era phenomena as Helen Gurley Brown's Cosmopolitan, Bill Blass, Women's Wear Daily, and the emerging cult of The Fountainhead. She later wrote that, though at the time she envied those reporters from the New York Times Arts & Leisure Section who were permitted to spend days observing their subjects, she learned to turn her lack of access to her advantage "because I was forced to report around the subject," resulting in a fresher perspective. Her first collection, Wallflower At The Orgy, collects those pieces, as well as a more sincerely admiring interview with Mike Nichols and a report from the set of Nichols' film version of Catch-22. In the director of The Graduate, she seemed to find a kindred spirit, and perhaps a career role model.
In the 1970s, Ephron published two more books, Crazy Salad: Some Things About Women, a collection of her columns from Esquire—including her takes on Deep Throat, the Pillsbury Bake-Off, Rose Mary Woods, the development of the feminine hygiene spray, and "A Few Words About Breasts"—and Scribble, Scribble, a collection of media criticism. In 1976, she divorced the writer Dan Greenburg and quickly  married the journalist Carl Bernstein, then at the height of his celebrity after the bestselling success of All The President's Men, the book he wrote with Bob Woodward about their investigative reporting on Watergate. That marriage crashed and burned in four years, destroyed by Bernstein's philandering. In 1983, she plowed that experience into her first novel, Heartburn, a thinly veiled account of her marriage.
The same year that her novel made the bestseller list, Ephron (who had earlier ventured into television by writing a 1978 TV movie, Perfect Gentlemen) had her first screen credit, as co-writer of the script of Nichols' Silkwood. Three years later, Nichols directed her own adaptation of Heartburn, with Meryl Streep and Jack Nicholson in the lead roles, but the film was not well received. She had her biggest success as a screenwriter with When Harry Met Sally…, directed in 1989 by Rob Reiner, and also wrote Susan Seidelman's Cookie (1989) and the 1990 Steve Martin-Rick Moranis vehicle My Blue Heaven, a gangster comedy partially inspired by the story of Henry Hill, which her third husband, Nicholas Pileggi, wrote about in both his nonfiction book Wiseguy and the screenplay for the movie version, GoodFellas. (She and Pileggi married in 1987 and were together until her death. She paid him tribute with her contribution to Not Quite What I Was Planning, Smith Magazine's first anthology of "six-word memoirs": "Secret to life: marry an Italian.")
G/O Media may get a commission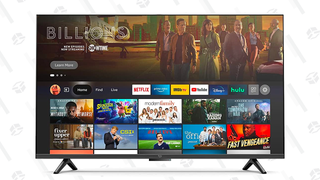 22% off
Amazon Fire TV - 50" Omni Series 4K - Early Access Deal
Ephron made her debut as a director of her own scripts with the 1992 This Is My Life, based on Meg Wolitzer's novel This Is Your Life, and had a huge hit with her second film, Sleepless In Seattle; she also wrote and directed Mixed Nuts, Michael, You've Got Mail, Hanging Up, Bewitched, and her final and perhaps her best film, Julie & Julia, featuring Streep's Oscar-nominated turn as Julia Child. Ephron's filmmaking was pitched squarely at the broadest screen at the multiplex, and some regretted the loss of the acidic, idiosyncratic tone of her earlier writing, but there's no doubt that her movies made her far richer and more famous; by the time Crazy Salad was reissued in paperback, it had a cartoon of Ephron shouldering a movie camera on the cover.
In 2006, she brought her career full circle by finally published another essay collection, the wry and mordant I Feel Bad About My Neck: And Other Thoughts About Being A Woman, and followed that up with last year's I Remember Nothing. In her late essays, she unloaded all the real zingers she'd been storing up for the last 30 years, applying the same needle to the dissatisfactions and aggravations of her well-compensated, comfortable old age that she had to those of her scrappy youth, with undiminished wit and verve. Both provided reminders of why her voice will be missed.