BuzzFeed News has published a long, harrowing read from veteran music journalist Jim DeRogatis, who's uncovered a new crop of allegations against R. Kelly. DeRogatis has covered the saga of Kelly's alleged sexual relationships with minors, which has more chapters than even the R&B artist's magnum opus "Trapped In The Closet." Now the Sound Opinions co-host reports that the singer is allegedly holding several women against their will in his homes (located in Chicago and suburban Atlanta). DeRogatis has spoken to the parents of two of these women, both of whom met Kelly while they were in their teens, who now say that they aren't allowed to see or speak to their daughters. They describe their daughters, who are aspiring singers, as being in thrall to Kelly, and have accused him of keeping them in a cult.
The parents' and alleged victims' identities have been verified by BuzzFeed News, though the subjects asked that their full names not be published out of fear of retaliation. One of the young women, J., has made intermittent attempts to contact her family, for which they believe she was punished by R. Kelly (real name Robert Kelly), whom they and other parents allege is physically and emotionally abusing their daughters. According to DeRogatis, there are at least four women living in Kelly's recording studio in Trump Tower, or his rented home outside of Atlanta. They range in age from 18 to 26, and are all reportedly in a relationship with Kelly, who purportedly controls their every move—he refers to them as "babies" and they call him "Daddy." In some cases, the women have altered their appearances to his liking, but they've all cut off contact with their families.
The families have gone to the police, who have done welfare checks, but no arrests have been made because the women were/are all past the age of consent (in both Illinois and Georgia) and they deny Kelly's doing them any harm. DeRogatis has reached out to the alleged victims on their Kelly-issued cell phones—which they can only use with his permission—but hasn't been able to speak to any of them. With no other cooperating witnesses, the journalist sought out women who had previously been in similar relationships with Kelly: Cheryl Mack, Kitti Jones, and Asante McGee. In extensive interviews, these three women described Kelly as "a master of mind control" and "a puppet master." Kelly allegedly even made them ask for permission to eat or go to the bathroom. As McGee put it, "R. Kelly is the sweetest person you will ever want to meet. But Robert is the devil."
Kelly has never been convicted of any of the dozens of accusations, which make up his history of "predation," but he has settled numerous civil suits. Just how many, Chicago lawyer Susan E. Loggans can't say, but they apparently include one recently brought by a 17-year-old singer. One of Kelly's other lawyers, Linda Mensch, responded to these "on-the-record allegations that Kelly physically and mentally abuses women," by touting Kelly's community outreach, as it were.

We can only wonder why folks would persist in defaming a great artist who loves his fans, works 24/7, and takes care of all of the people in his life. He works hard to become the best person and artist he can be. It is interesting that stories and tales debunked many years ago turn up when his goal is to stop the violence; put down the guns; and embrace peace and love. I suppose that is the price of fame. Like all of us, Mr. Kelly deserves a personal life. Please respect that.
G/O Media may get a commission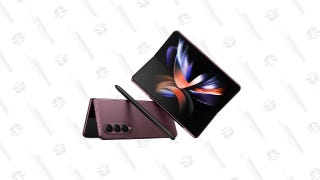 Save Up to $300
Galaxy Z Fold4
If you can stomach it, the full article is available on BuzzFeed News, and includes excerpts from calls made between Kelly and one of his "protégées."