The Host:Well, sports fans, it appears we have stumbled onto another Saturday Night Live first. Today's episode marks the very first time a professional athlete yucked it up alongside the Not Ready For Primetime Players. The guinea pig in question? One Fran Tarkenton, Hall Of Famer, host of That's Incredible! and founder of Tarkenton Software. Tarkenton here illustrates his amazing range as a sketch actor, nervously playing everything from a professional football player awkwardly delivering a monologue on a late-night comedy show to a professional football player awkwardly trying to score with a one-night stand to a professional football player awkwardly appearing on a talk-show hosted by Garret Morris.
The cast and crew go out of their way to make hosting the show as dummy-proof as possible but it's still an awfully bumpy ride. In a cute recurring bit John Belushi here plays Tarkenton's comedy "coach" as a parody of first Vince Lombardi and later Don Shula while Li'l Billy Murray delivers tongue-in-cheek play-by-play commentary on Tarkenton's unsteady shift from quarterback to late-night laugh-getter.
The Good: There was little in this episode that was hilarious or awful and much that was mildly amusing but ultimately forgettable, from the SNL–as–football-team running gag to a skit where secret service agents not-so-furtively give young charge Amy Carter the answers to her test. During Weekend Update Jane Curtin icily reads a letter complaining that "Weekend Update" has lost its heat and its sex appeal since Chevy Chase left. Curtin then defiantly tears open her shirt in a manner that's angry and psychotic rather than sexy. It's shocking and a little jarring and feels more than a little desperate. A mere two years into its endless run Saturday Night Live already seemed terror-stricken that it was no longer the hot new thing. I don't know whether to find it encouraging or worrisome that it was willing to resort to such drastic measures to shake things up.
G/O Media may get a commission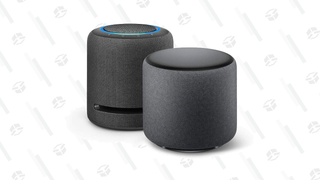 25% off - Prime Exclusive
Echo Studio + Echo Sub Bundle
It sure as shit wasn't particularly sexy, in part because Curtin is an almost preternaturally detached performer, a sentient icebox. The show is still capable of shock and awesomeness however. Case in point: a talk show where Tarkenton surprises host Garrett Morris by informing him that there aren't more black quarterbacks because "(black athletes) can dance in the end zone, they've got the bones in their feet. But when it comes to leadership, one black quarterback on the forty yard line ends up in the parking lot with a bucket of chicken."
The show's most queasily fascinating moment happens by accident. Sportscasters Bill Murray and Garrett Morris are interviewing Tarkenton by remote but due to technical snafus he can't hear a word they're saying. Awkwardness ensues. Somewhere Michaels was diligently cultivating an ulcer offstage. I imagine him getting down on his knees and vowing "As God as my witness nothing spontaneous or unexpected will happen on this show ever again!"
On the plus side all the commercial parodies scored, including Aykroyd's motormouthed pitch for the Rovco Swiss Army Gun and Tarkenton shilling for Sugar-Coated Anabolic Steroids (undoubtedly the breakfast of champions for Jose Canseco). Oh, and a skit where the backstage horror at a French home restaurant spills out into the open totally made me chuckle. A little bit.
The Bad:So far this year we've been spoiled by an endless parade of quirky, iconic and substantive musical guests like The Band, Frank Zappa, Paul Simon, George Harrison and many, many more. That winning streak ends with Leo fucking Sayer, he of the giant white man Afro and blue-eyed soullessness. His first song is the straight-up MOR suckfest "When I Need You". He returns to unleash his ungodly falsetto on "You Make Me Feel Like Dancing". The lyrics say take me to the dance floor but his spastic, vaguely seizure-like white-boy contortions suggest he shouldn't be allowed within a hundred feet of a disco.
Today's episode also introduced another deathless staple: the New York skit about the innate hilariosity of New Yorkers talking like New Yorkers and doing their New York thing New York style. In this case it's Gilda Radner and Jane Curtin as Rhonda Weiss and her friend Barbra engaging in some coffee talk, you know, no big whoop. It's not bad so much as almost-amusing but it would lead to countless skits through the years predicated on nothing but an endless fascination with the quirks and idiosyncrasies of New York. Filmmaker Gary Weis returns with a mildly interesting slice of New York life inside a pet store.
Final Verdict: Today's episode felt a little lukewarm to me, though looking over the transcripts at http://snltranscripts.jt.org I realized there was a fair amount I actually liked about it. SNL is still pretty funny but it doesn't feel dangerous or vital in the same way it did during its first season. Chris Rock has a good line about SNL being a "restaurant with a good location" more than anything else: people will eat there more out of convenience and habit than a burning hunger for its food. Grade: C+ Stray Observations– –What did you guys think of the bra-flashing moment? Brave? Foolish? Hot? Creepy? Oddly disconcerting? Discuss
–Tarkenton sets the bar awfully low for athlete-hosts, don't he? –Ha, ha his name is Fran! You know, like a girl –Next week's line-up: Steve Martin, Special Guest Lily Tomlin and The Kinks. I have perhaps unreasonably high hopes for this one. –Because the internet desperately needs more creepy comments on the physical attractiveness of famous people by ink-stained wretches who hide their grotesque, Elephant Man-like appearance from a cruel world: Jane Curtin is pretty without being particularly sexy or cute, Radner is cute but not particularly sexy or conventionally pretty and Newman is sexy without being particularly pretty or cute. There's a strange sort of symmetry there. The guys on the other hand: hommina, hommina. Lookers all. I kind of hate myself for that stray observation