Ninety percent of the time, This Is Us is a sentimental, beautifully acted show about family and the way our childhoods shape us into the people we become as adults. And then every once in a while it becomes something more akin to The Walking Dead or Game Of Thrones in its obsession over the impending death of family patriarch Jack Pearson (Milo Ventimiglia). The most recent episode ended with a dramatic cliffhanger that saw a faulty Crock-Pot start a massive fire in the Pearson family home, with fourth-fifths of the Pearsons inside (including Jack). The full circumstances of Jack's death will be revealed in the show's post-Super Bowl episode, the promo for which looks more like Backdraft than an NBC family drama.
While plenty of shows go for broke in that coveted time slot—Grey's Anatomy gave us a bomb, New Girl gave us Prince—it's not the most natural fit for This Is Us. Despite its status as TV's biggest tearjerker, This Is Us is often at its best when it pulls back on the melodrama and mysteries and instead offers quieter slice of life stories about families in general and the Pearson family in particular. Yet the show can't seem to help going over-the-top whenever it comes to anything involving Jack's death, including making it a two-part extravaganza.

Perhaps the source of This Is Us' identity issues all trace back to its pilot. When the series premiered, it was sold as a story about four people who happened to share the same birthday—a set of twins, a man looking for his biological father, and a soon-to-be dad awaiting the birth of triplets. But a last-minute twist turned that premise upside down. The tale of Jack and his very pregnant wife, Rebecca (Mandy Moore), was actually taking place in 1980; they're the parents of present-day twins Kate (Chrissy Metz) and Kevin (Justin Hartley), as well as Randall (Sterling K. Brown), whom they adopted after one of their triplets died during childbirth on the very same day newborn Randall was left at a fire station.

It's a really fantastic twist, particularly because of how elegantly the pilot executes it. But it also got the show off on a strange foot. Moving forward, would This Is Us be a straight family drama that just happened to feature multiple timelines? Or would it be a show that delivered new, more surprising twists each week?
The series eventually settled more on the former than the latter, except in one crucial area: the mystery of what happened to Jack Pearson. That question is central not just to This Is Us' storytelling but to its marketing as well. When asked about the show at the Golden Globes, Sterling K. Brown enthusiastically promised Ryan Seacrest, "Before the season is over we will see how Jack Pearson dies," which made for a slightly odd bit of red carpet banter. (Much better red carpet banter: Brown talking about delivering his own baby during an unplanned home birth, which is also something that happened on this season of This Is Us.) Personally, I'm far more interested in discussing the show's strong performances, compelling relationships, and well-crafted montages than I am in dealing with the rather craven mystery of Jack's demise. But it's not an element of the series that can be ignored either, which is why I added a "Jack Death Watch" section to my reviews.
G/O Media may get a commission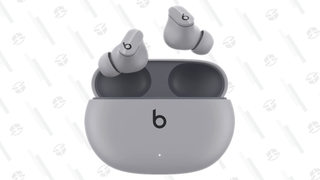 The mystery of Jack's death has hurt This Is Us' larger goal of telling emotionally rich, character-driven stories. I can't count the number of times Kate's fiancé, Toby (Chris Sullivan), has referenced conversations about Jack's death he and Kate have supposedly had offscreen—conversations This Is Us can't show us because they'd reveal too much about how Jack died. To maintain its central mystery, This Is Us actively undercuts its own character- and relationship-building, even though there's no in-world reason for Toby to be so vague when talking to other members of the Pearson clan.
In other words, holding back the details of Jack's death and then finally depicting it in such an attention-grabbing manner feels more like a marketing decision than a creative one. And though I have no idea if creator Dan Fogelman always imagined the mystery of Jack's death would be a key element of the series, I do know that the initial cut of the pilot included a moment in which Randall casually mentioned that Jack had passed away a few years ago. That line was cut before the show officially premiered, and the question of whether or not Jack was alive in the present day became its own mystery, one that wasn't answered until the show's fifth episode. The mystery of how Jack died has now fueled the series for the past 26 episodes, and on Super Bowl Sunday it will finally be answered in what looks like an incredibly over-the-top way.

Which isn't to say it won't be successful. More than anyone, I'm rooting for This Is Us to turn what looks like a sensationalized episode into something that genuinely deepens the show's world. And there's a good chance that a show famous for twists still has one left up its sleeve when it comes to the big reveal, which I suspect (or at least hope) won't be as gruesome as watching Jack burn to death. But whatever happens, it will be a major turning point for the series. Without the mystery of Jack's death to fall back on, This Is Us will have to decide what kind of show it wants to be moving forward—one that needs a puzzle box at its center or one that knows it's strong enough without it.