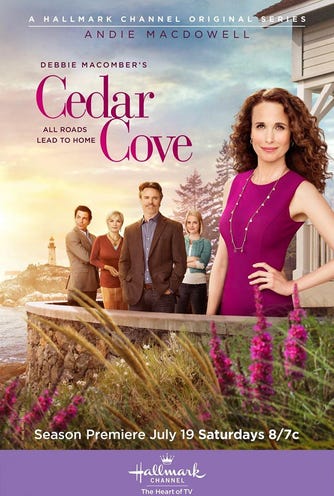 Andie MacDowell (Olivia Lockhart)Dylan Neal (Jack Griffith)Sarah Smyth (Justine Lockhart)Teryl Rothery (Grace Sherman)Timothy Webber (Moon)Brennan Elliott (Warren Saget)Bruce Boxleitner (Bob Beldon)Sebastian Spence (Cliff Harting)Barbara Niven (Peggy Beldon)Elyse Levesque (Maryellen Sherman)Jesse Hutch (Luke Bailey)Tom Stevens (Eric Griffith)Cindy Busby (Rebecca Jennings)Cameron Bancroft (Will Jeffers)Rebecca Marshall (Alex Baldwin)Corey Sevier (Seth Gunderson)Paula Shaw (Charlotte Jeffers)Julia Benson (Jeri Drake)
Cedar Cove is a quaint, picturesque town on an island in Puget Sound in Washington state. Its residents are old fashioned in their values, neighbors on the most part trying to help neighbors, and people not locking their doors in their trust of their neighbors. The moral center and compass of the town is Olivia Lockhart, the bicycle riding, scarf wearing municipal court judge who grew up in the town. Regardless of her being the focus for many in town, Olivia's life has not been issue-free, she long ago having gone through a divorce from her physician ex-husband, the dissolution of their marriage largely due to the accidental drowning death of their son, Jordan, when he was thirteen, that incident from which they as a couple could not recover. Also affected was Jordan's twin sister, Justine, now a young woman, who has been struggling to find her place in life ever since. Much like the town is being pulled in different directions, such as by cutthroat developer Warren Saget, Olivia is often pulled in different directions, personally and professionally, which one day make take her away from Cedar Cove. In the former category is her search for love. Through it all, she acts as supporter and supportee to her friends and family, including librarian Grace Sherman, her best friend since they were children.
Here's what's up in the world of TV for Friday, July 18, and Saturday, July 19. All times are Eastern.
More than perhaps any other cable network, Hallmark Channel knows its brand. Buoyed by the respected Hallmark Hall…