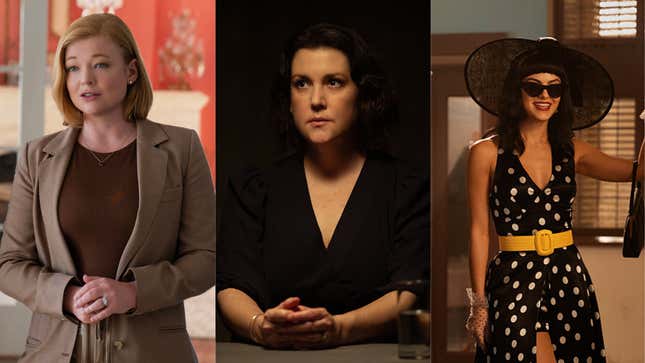 Welcome to What's On, our weekly picks of must-watch shows. Here's what you need to watch from Sunday, March 26, to Thursday, March 30. All times are Eastern. [Note: The weekend edition of What's On drops on Fridays.]

Never Have I Ever's Poorna Jagannathan and Richa Moorjani on working with Mindy Kaling
---
The biggies
Succession (HBO, Sunday, 9 p.m.)
It's taken more than a year, but Succession is coming back. HBO's beloved award-winning drama will end with season four, but if we know Succession at all, the last episodes will close out the Roy family saga with a bang. This batch will follow up on Logan's decision to cut his children off from Waystar Royco and team up with Lukas Mattson. New alliances will be forged, marriages will probably be in danger, and the Gerri and Roman hive will definitely be alive and well. The A.V. Club will recap the show weekly.
---
Yellowjackets (Showtime, Sunday, 9 p.m.)
Yellowjackets returns for more gory, exciting young adult cannibalism (and, you know, the friendships that survive it) in season two. Ashley Lyle and Bart Nickerson's thriller follows a group of high school students in the '90s who are stuck in the Canadian wilderness after a plane crash. In the present day, the survivors struggle to keep the secrets of their past buried while dealing with new ones. The ensemble boasts Melanie Lynskey, Christina Ricci, Tawny Cypress, Juliette Lewis, Jasmin Savoy Brown, Liv Hewson, and Sophie Nelisse. And new additions this season include Lauren Ambrose as adult Van and Simone Kessell as adult (and alleged cult leader) Lottie. The A.V. Club's recaps publish on Fridays, when eps drop on the Showtime app (here's the first one!), and you should read our deep dive into all the crazy theories about the series.
---
Riverdale (The CW, Wednesday, 9 p.m.)

The wildest show on television—no, not Succession or Yellowjackets—is wading through Prestige TV discourse for its final season. The CW's Riverdale returns to close out its run with season seven, which follows the central characters after they travel back in time to the '50s. Archie, Betty, Veronica, Jughead, Cheryl, and the rest fought an incoming comet in the last season by combining their superpowers. (Yes, they have abilities now.) Oh, and they're teens again, so expect new couples, fights, friendships, and the like. Here's a bit from The A.V. Club's review:
It's like watching the first season again, except the players are all old pros with easy, lived-in chemistries, and the writers are steering the ship with total confidence rather than figuring out what the show will be.
---
Hidden gems
Great Expectations (FX on Hulu, Sunday, 12:01 a.m.)
Steven Knight's take on Charles Dickens' 1861 Great Expectations sees Oscar-winner Olivia Colman transform into Miss Havisham. The series follows the coming-of-age story of an optimistic orphan Pip (Fionn Whitehead), until the eccentric Miss Havisham shows him a dark world of possibilities. Ashley Thomas, Hayley Squires, Matt Berry, and Johnny Harris co-star. Here's an excerpt from The A.V. Club's review:
Suicide, BDSM, drug addiction, and violence adorn Knight's "re-imagining," giving Great Expectations a Peaky Blinders update.
---
Rabbit Hole (Paramount+, Sunday, 3:01 a.m.)
Kiefer Sutherland is certainly not Jack Bauer a hero in distress in Rabbit Hole. The new thriller finds Sutherland playing espionage agent John Weir, who gets caught up in a massive conspiracy theory related to privacy and surveillance when he's falsely accused of a couple of murders. John attempts to figure out the truth with the help of his team, his mentor, and a potential new love interest. But who can he really trust? Rabbit Hole co-stars Charles Dance, Meta Golding, Ishan Dave, Rob Yang, and Enid Graham. Here's a bit from The A.V. Club's review:
In each episode, co-creators John Requa and Glenn Ficarra pull out a barrage of plot twists from their magical hat that effectively undoes what they've previously established. It's all ludicrous, but against all odds, Rabbit Hole turns it into a somewhat compelling series.
---
The Big Door Prize (Apple TV+, Wednesday, 12:01 a.m.)

Based on M.O. Walsh's book of the same name, The Big Door Prize follows the residents of a small town who are faced with an unprecedented situation: A machine appears in the grocery store that is able to predict the destinies of those who observe it, revealing their full potential. Chris O'Dowd leads the show as a teacher and family man named Dusty, whose predictable path in life so far shakes up after the machine forces him to question his happiness. Josh Segarra, Gabrielle Dennis, Damon Gupton, and Ally Maki round out the ensemble. Look out for The A.V. Club's review this week.
---
More good stuff
Eva Longoria: Searching For Mexico (CNN, Sunday, 10 p.m.)
In the six-part series Searching For Mexico, actor and director Eva Longoria journeys through Mexican cuisine, digging into cutting-edge gastronomic fare, Mayan influences in Yucatan eats, Latin America's chocolate trade, and more deliciousness.
---
Mae Martin: Sap (Netflix, Tuesday, 3:01 a.m.)
A League Of Their Own and Broad City's Abbi Jacobson directs comedian Mae Martin's upcoming standup special, Sap, which marks their second act on Netflix after 2019's Comedians Of The World. Filmed in Vancouver as part of Martin's recent tour, they discuss past relationships, the gender spectrum, and, naturally, an encounter with a mythical moose.
---
Unstable (Netflix, Thursday, 3:01 a.m.)
Netflix's Unstable doesn't care that you're tired of narcissistic tech bro CEOs. The comedy stars Rob Lowe as the eccentric Ellis Dragon, who starts a bio-research facility to help him from spiraling after the death of his wife. He'll now have to find a way to bond with his son, Jackson (played by Lowe's real-life son, Owen) once he starts working for Ellis. Sian Clifford, Fred Armisen, and Emma Ferreira join the Lowes as co-stars.
---
Can't miss recaps
The Bachelor (ABC, Monday, 8 p.m., season 27 finale)

Perry Mason (HBO, Monday, 9 p.m.)
The Real Housewives Of New Jersey (Bravo, Tuesday, 8 p.m.)
Ted Lasso (Apple TV+, Wednesday, 3:01 a.m.)
The Mandalorian (Disney+, Wednesday, 3:01 a.m.)
Top Chef (Bravo, Thursday, 9 p.m.)
Party Down (Starz, Friday, 9 p.m., season three finale)
RuPaul's Drag Race (VH1, Friday, 8 p.m.)
Saturday Night Live (NBC, Saturday, 11:30 p.m.)
---
Arriving now
American Dad (TBS, Monday, 10 p.m., season 18 premiere)
---
Ending soon
Love Island UK (Hulu, Sunday, 12:01 a.m., season nine finale)
Godfather Of Harlem (MGM+, Sunday, 9 p.m., season three finale)
All American: Homecoming (The CW, Monday, 9 p.m., season two finale)
The Watchful Eye (Freeform, Monday, 10 p.m., season one finale)
Star Wars: The Bad Batch (Disney+, Wednesday, 3:01 a.m., season two finale)
South Park (Comedy Central, Wednesday, 10 p.m., season 26 finale)
Alaska Daily (ABC, Thursday, 10 p.m., season one finale)