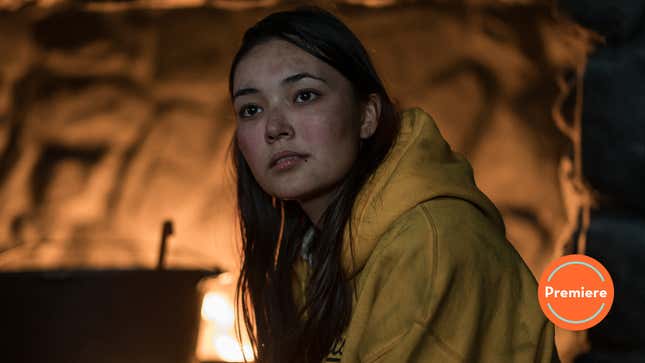 Showtime's Yellowjackets ended its excellent first season with the literal bang of a broken-down door, but season two opens with a whisper. An establishing shot coasts over the lake by which our stranded girls soccer team has made a not-so-happy home, moving onto trees now caked with snow. It's pitch black out, but Natalie (Sophie Thatcher) and Travis (Kevin Alves) are up, preparing to head out to hunt. Before they leave, Lottie (Courtney Eaton)—also awake, and seated at the window—provides them with an ashy blessing: As they leave, she sketches that enduring symbol in the condensation on the cabin window. If it weren't for the porno magazines Natalie and Travis stuff their jackets with for warmth, an uninitiated viewer would be hard pressed to believe this is 1996 onscreen. Welcome to the wilderness.

Young Mazino talks "Beef," needle drops, and karaoke
Picking up two months from the events of season-one finale "Sic Transit Gloria Mundi," the '90s half of Yellowjackets' split timeline finds any remaining airs of "how did we end up like this?" among the survivors dissipated, just like the game Natalie and Travis keep pushing further into uncharted territory to find. There is no more frolicking in the lake, cheering each other on at target practice, or sleeping off shrooms and berry hooch in stained homecoming dresses under the stars. Winter is no longer on the horizon; it's here.
That means, of course, that everyone has to lean harder on their own creature comforts, however spare those may be. Coach Ben (Steven Kreuger) eagerly organizes hand-drawn maps Natalie has been crafting on the backs of old textbook print-outs. Lottie is diving into her spirituality. Taissa (Jasmin Savoy Brown) and Van (Liv Hewson)—the latter consistently the cheeriest, most down-to-earth member of the bunch—play hand soccer and, at night, tie their wrists together with rope so that Taissa won't sleepwalk out into the frigid night with her still-mysterious "bad one" on autopilot. (Adult Taissa, living single and without her son Sammy since her wife Simone found their dog Biscuit's head on a basement altar, may be the only adult counterpart truly faring worse than her teen self.) Shauna (Sophie Nélisse), too, has resorted to brain games like M*A*S*H to stay entertained. But in a move that draws sympathy and disgust from her compatriots in equal measure, she prefers to play them out in the meat shed with the frozen, preserved dead body of her once best friend, Jackie (Ella Purnell), who Shauna hallucinates lengthy heart-to-hearts with. When Jackie's ear breaks off of her corpse, Shauna slips it into her pocket. It's an all-but-subconscious decision that ultimately finds Shauna, close to term in her pregnancy with Jackie's boyfriend Jeff's baby, instigating the series' long-teased cannibalism. Cue Madonna's "What It Feels Like For A Girl."
As much as Lottie needs her, as Natalie deems it, "Wicca bullshit" to find some semblance of sense in their predicament, she's not the only one looking to find the light. Travis, still desperately trying to track down a missing Javi (Luciano Leroux), dutifully lets Lottie anoint him before they head out for an early morning hunt, as Natalie looks on in both jealousy and frustration. Nat's all but certain that, after two months in the cold, Javi can't be out there alive. But Lottie continues to encourage Travis' search, telling him that she knows Javi is. Like the gold necklace the series premiere's "pit girl" wears, the Travis-Jackie-Natalie love triangle of season one's back half was clearly just a red herring. What happens between Travis, Natalie, and Lottie stands to ultimately be far more influential years down the line.
Speaking of years down the line: When we last saw grown-up Natalie (Juliette Lewis) in season one, she was being tossed into a van by a collective of unidentified, purple-suited people ostensibly working for Lottie, and wearing talismans with that vaguely malevolent symbol: the same one scratched into the cabin floor and the same one that appeared to form the candle formation Travis died hanging above. Season one's finale only hinted at adult Lottie's existence, where season two presents her real and in the flesh (and played by Simone Kessell), standing by a lake much like the one where the late Laura Lee (Jane Widdop) first baptized her. After a few decades, Lottie has found a new coalition of lost souls to lead in a healthy mix of self-help, new-age spirituality, and practices like burying a naked older man alive while wearing animal masks. "Right now, there is a version of you that knows exactly who you really are and what you really want" Lottie preaches. "A primal, elemental self." She's not exactly crazy; but she's not exactly free, either.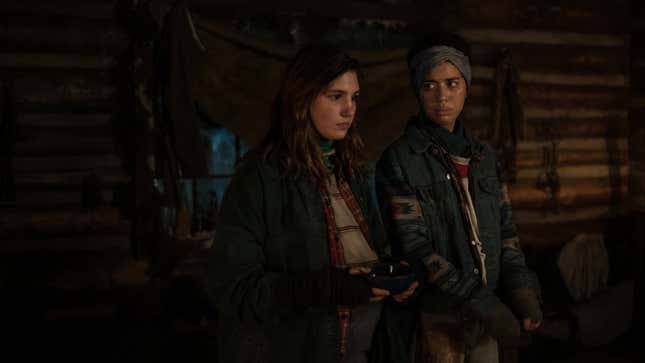 All of this, of course, is news to Natalie when she wakes up strapped in leather handcuffs to a bed on Lottie's cult compound, facing a new and eerily well-cast youthful foe in a purple-suited Lottie emissary who looks quite a lot like a youthful Lewis herself. Although Nat tries to escape like a bat at the hell when given a chance, Lottie stops her—or more accurately, Nat stops herself. According to Lottie, she has a message for Natalie directly from Travis. As Lewis' performance in the scene dexterously captures, that's not something Nat's willing to just let go of, even if it means signing on for another season of Wicca bullshit.
Lottie's cult is also news to a devastated Misty (Christina Ricci), who refuses to believe Nat would just abandon a bestie like that. When she uses her powers of creepy persuasion to sneak into Natalie's old motel room, the splinters on the door give away a struggle, and Misty is officially back on her trail.
For Misty, that means taking a quick break from helping Shauna (Melanie Lynskey) and Jeff (Warren Kole, pitch-perfect as always) cover up the murder of her mysterious, faux art-student ex-lover Adam (Peter Gadiot). Shauna's daughter Callie (Sarah Desjardins) knows her mom is covering up his death, but doesn't seem quite yet attuned to exactly what Shauna Shipman is capable of (although Callie's end-of-episode discovery of Adam's charred drivers license in her family barbecue pit might turn the tables on that).
Scene re-setting (although admittedly the necessary kind) does bog down the premiere at times. Establishing two new time jumps while also chronicling Lottie's stay in a mental institution after her rescue isn't light work, and the Lottie re-introduction especially still feels disjointed from the two central timelines. But especially in the wilderness, where both the physical horror and emotional toll of survival are already leveling up, Yellowjackets doesn't miss a step in planting the audience right back in that claustrophobic yet all-too-expansive world. Just like the teammates at its center, Yellowjackets is already demonstrating that this is a story built to survive—and in its own fucked-up, traumatized, woo-woo way, thrive.
Stray observations
Over the course of season one, Jeff became a sleeper favorite character of mine: At the intersection between doofy and sardonic, that man definitely holds some cache. But never have I appreciated him more than in this episode, jamming out to Papa Roach in a parked car after having weird circumstances sex with his long-time wife. Honorable mention: when he busts out the joke "How do you get an art major off your porch? You pay for the pizza." Safely stowing that one away for my next Bushwick happy hour.
Simone Kessell was born to wear yellow.
Adult Taissa and Lydia Tár are absolutely spiritually aligned. Whether they would get along well or absolutely rip each other to shreds I'm not so sure about.
In the wilderness, how are everybody's teeth still kind of good? Not one of these girls is missing a retainer, let alone handling a cavity situation?
The introduction of previously-unseen survivor Crystal is a little confusing (we really never saw these girls before?) but certainly bodes well for the show's dedication to darkly ironic creep-out comedy. It makes so much sense that an out-to-lunch theater devotee who often just forgets she's singing out loud would survive for months in the wilderness. So method!
Do my ears deceive me, or did we receive a first (voice) introduction to Elijah Wood's new character—described as a fellow citizen detective who ultimately befriends Misty—via the online username "PutTheSickInForensics?" If so: love.
I say this in full awareness that our 1996 survivors are primed to begin engaging in cannibalism and full on wilderness worship: Is there a single character on this series right now in more danger than Taissa's new dog Steve? With all the love and respect in the world towards my sleepwalking, dirt-eating queen: get Steve away from her and her altar!
I kind of love Callie's nothing boyfriend solely for being nothing. I get older, but high school stays the same.