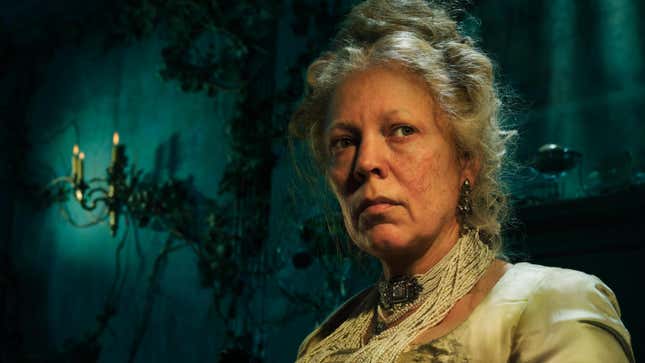 Moments into FX's gritty retelling of Great Expectations, which premieres March 26 on Hulu, the show makes its intentions known: This ain't your daddy's Dickens. It's a point the show makes ad nauseam. In 1861, Dickens introduced us to our protagonist Pip Gargery through a goofy explanation of his name. This year's Expectations, creator Steven Knight's second stab at Dickens, begins with Pip (Fionn Whitehead) hanging himself. Let the pearl-clutching commence, for this is Masterpiece Theater: Dark.

Movies that Matter: The Battle of Algiers - The False Documentary
Suicide, BDSM, drug addiction, and violence adorn Knight's "re-imagining," giving Great Expectations a Peaky Blinders update. Knight, who created Blinders and gave the world Hot Scrooge in 2019's Christmas Carol, pens an entertaining and pulpy adaptation of a book some would rather eat a savory pie filled with cement than read. It also comes across as a desperate attempt at being a "gritty reboot," transforming Pip Gargery and Miss Havisham into an opium addict and quip-ready heroine, respectively.
After our star takes the plunge, we flash back to young Pip (Tom Sweet), who, like many characters in Great Expectations, is an orphan. Raised by his abusive sister Sara (Hayley Squires) and her empathetic blacksmith husband Joe (Owen McDonnell), Pip resides in the grimy marshes outside of London as he dreams of a better life. And grimy they are. Directors Brady Hood and Samira Radsi never miss a plop as Pip trudges through the muck and mire that make the squalor of Oliver! look like the Savoy.
Every night, Pip watches ships as they cross the marshes, carrying prisoners to Australia. On Christmas Eve, an escapee crosses Pip's path. Pip, one of the few genuinely good-hearted characters here, treats the man kindly, forever changing the boy's expectations—and those expectations pay off quickly. As luck would have it, Pip's uncle Pumblechuck (the perfectly cast Matt Berry), a go-between for the haves and haves not, informs the family the ghostly, reclusive spinster Miss Havisham (Olivia Colman) requires a playmate for her daughter Estella (played by Chloe Lea as a child and Shalom Brune-Franklin as a teen). Naturally, they're more than happy for Pip to take the job.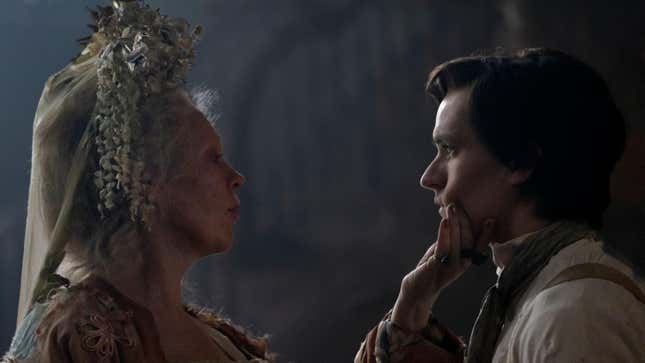 A quick BDSM scene, complete with whips and chains, foregrounds Pip's time with Havisham, turning the feminist subtext of Dickens into text. Under Havisham's tutelage, Pip's life becomes even more constricted. Havisham and Estella treat him as their boy toy, with responsibilities including hide and seek, dance lessons, and forcing him to lose his virginity to a sex-positive member of his parish. The women in Pip's life subjugate him in ways women are subjugated throughout the rest of the story.

These adaptations live and die by casting. Rest assured, Colman creates a larger-than-life Havisham made of porcelain, spitting orders as a cruel mistress one second and quivering as a jilted lover the next. She's ethereal as the decaying bride who turns her scorned heart into a guiding light of sadism, reveling in Pip's treatment as she takes her inner torment out on him. Where Havisham ends up, though, will have English majors and newcomers alike rolling their eyes as she delivers a late-stage one-liner that felt written for Michael Caine's Alfred Pennyworth. Havisham finally gets her due, viewers can hear the series scream—unfortunately, the ending thuds with insincerity.
Still, the garish style does turn Great Expectations into some beautifully produced dumb fun, cutting the story down to its essentials and squeezing it into six hour-long episodes. However, that expediency comes at a price. A mid-show time jump brings us up to speed with Pip at 18, yadda-yadda-ing whatever connection he has with Estella. He determines he loves her anyway as he's whisked to London by the über-badass lawyer Mr. Jaggers (Ashley Thomas). Jaggers pushes the show deeper into Guy Ritchie territory as a gun-toting, body-dumping deus ex machina straight out of Sherlock Holmes. Jaggers' arrival kicks the Dickensian plotting into full gear when, in the back half, all the heretofore unmentioned histories and motivations connect. Yet ah-has of discovery become grumbles of contrivance at the speed with which it all comes to a head.
The show's ending betrays its darkness. Knight loves imagining how gross the 19th century was, yet constructs a world where all's well that ends well without a hint of reality. He shellacs the 160-year-old story with plaque scraped from Havisham's teeth while never revealing new truths. The result is a conflicted and strained yet stylish and breezy interpretation of Dickens that, to paraphrase Pip, is "good enough."
---
Great Expectations premieres March 26 on Hulu.