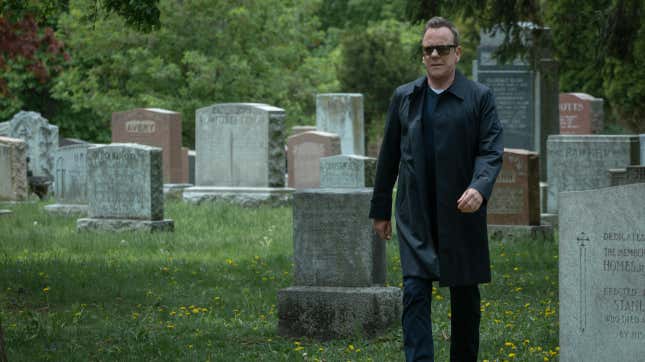 The relatively mild premiere episode of Paramount+'s new spy drama Rabbit Hole doesn't do justice to the wild storylines about to unfold. The show, which kicks off March 26, opens with espionage agent John Weir (Kiefer Sutherland) in a church. While in the confessional, he says, "Maybe he [god] can tell me what the fuck is going on." As a matter of fact, no one can explain what goes down in this timely but bizarre TV series, where it often feels like co-creators John Requa and Glenn Ficarra (Crazy Stupid Love) are making it up as they go. In each episode, they pull out a barrage of plot twists from their magical hat that effectively undoes what they've previously established. It's all ludicrous, but against all odds, Rabbit Hole turns it into a somewhat compelling series.
Poorna Jagannathan and Richa Moorjani on "Never Have I Ever," Mindy Kaling, and more
Rabbit Hole feels like a CBS drama. (Think Person Of Interest or MacGyver, dialed up several notches.) The show takes advantage of its streaming platform to tell a jumbled but fast-paced narrative in its almost 50-minute outings (the first four episodes were provided for review), even though it takes a while to get going. Shocking cliffhangers and jaw-dropping reveals throw the show into a dizzying loop. Or down a rabbit hole, if you will. But it becomes a fun endeavor once the series' gimmick is embraced for what it is: a vivid exploration of the surveillance age told through tropes and subtle hilarity.
Sutherland's foray into this genre includes serious dramas such as Fox's long-running 24 and the ABC-turned-Netflix political series Designated Survivor. Rabbit Hole allows the actor to portray a smug, more charming, and less vexed version of Jack Bauer and Tom Kirkman. Sutherland is clearly enjoying playing a cockier, more flirtatious protagonist who throws out one-liners every so often, and his performance keeps Rabbit Hole's kookiness bearable. Don't worry; he still brings depth to John Weir (who suffers from anxiety and panic attacks) but without the constant crease lines.
John's profession includes manipulating stock markets and other forms of corporate sabotage (think infiltrating focus groups, creating fake news stories, etc.) with the help of his recruits—in case you were wondering what an espionage agent does. When he's accused of murders he didn't commit, John teams up with misfits like former mentor Ben (Charles Dance), one-night hookup Hailey (Meta Golding), and Edward (Rob Yang), who works in the Treasury Department, to restore his reputation. The back-and-forth between Sutherland and Dance is particularly amusing because of their tense relationship, which is illuminated further by flashbacks.
John's crew is up against an anonymous big bad called Crowley, and RH examines how data mining and excessive internet use have corroded every inch of our lives. Much like Peacock's The Capture, this series unpacks the side effects of using AI and exploiting tech as John's life is turned upside down thanks to hacking and manufactured footage.
RH isn't as much a cautionary tale as it is a crime caper made for entertainment. It looks slick and expensive, with quality production design, cinematography, and direction. But the show can also get corny, like a wrongful arrest scene where John gets everyone on the street to chant "We see you" at the cops. Or when he's kidnapping someone and says, "Patty Hearst had to be easier than this." Cue the eye roll.
There are missteps in pacing because, after a slow start, Rabbit Hole suddenly shifts gears. The writing for characters beyond the four leads is downright tragic, especially for the FBI's Jo Madi (Enid Graham). The financial crimes agent persistently follows John everywhere, hoping to arrest him by ... chatting him up? Making clear she's gunning for him? Oversharing her personal life? She does all of these things, sometimes while belittling her wife and teen daughter in the process. It's a confusing arc that, at least in the first four episodes, doesn't improve.
Although Rabbit Hole arrives the same weekend as the return of Succession and Yellowjackets, it isn't a prestige drama. It's also not a thoughtful spy series like the recent Slow Horses. And that's okay. It's more of an "enjoy as you go" thrill ride. The four main performances are terrific. Dance and Yang get to play fast and loose with comedy, and Sutherland and Golding share an exciting chemistry. The show thrives on pulling the rug out from under us and delivering its twists with panache. Rabbit Hole doesn't take itself seriously—so the audience doesn't have to either.
---
Rabbit Hole premieres March 26 on Paramount+.