Wyatt Cenac might be one of the newest members of "The Best Fucking News Team Ever" on The Daily Show, but he has quickly become one of the show's most reliable correspondents, creating a persona that's nerdy, arrogant, and defensive all at once. In his dual position as writer and correspondent, he's also been able to create silly characters such as a Muppet-ized version of former Republican National Committee chairman Michael Steele that's too busy rhyming and establishing street cred to talk about policy. Cenac joined the team in 2008 after years of working the stand-up circuit and a stint on the long-running Fox animated hit King Of The Hill, and in his new Comedy Central stand-up special, he goes back to those roots. In Wyatt Cenac: Comedy Person, which debuts Saturday, May 14, Cenac touches on current events, but mostly talks about things that he finds amusing or annoying, like going to Medieval Times for a friend's birthday or reading some really descriptive comments on YouTube cat videos. Cenac spoke to The A.V. Club about the special, what it was like around the TDS offices after Osama Bin Laden was killed, and what he thinks Donald Trump's life is really like.
The A.V. Club: Your publicist said you were out in Western Canada doing a remote piece yesterday. What's the piece about?
Wyatt Cenac: We're still shooting it, but basically, yeah, I was in Alberta in a town called Fort McMurray, which is an oil-mining town. So we were out there. And I got to drive a Zamboni.
AVC: Did you ever think in your life you'd be driving a Zamboni?
WC: No. But I'd always wanted to. I grew up in Dallas, and two of the malls in Dallas had ice rinks in them. So that was always kind of the cool thing when they pulled the Zamboni out. And I, as a kid, always thought, "Ah, that'd be awesome to drive one of those." I had no interest in hockey, but I would take a job as a Zamboni driver.
G/O Media may get a commission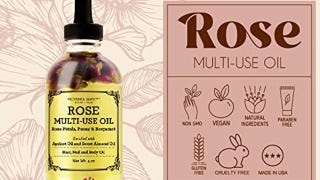 Provence Beauty Rose Multi-Use Oil
AVC: Is it as awesome as you expected?
WC: Not really. It's kind of like just a giant riding lawn mower. I think, in my head, that I also equated the Zamboni with like, pipe-organ music. And I just sort of figured that once you got on the Zamboni, there would be like "Baby Elephant Walk." And that doesn't happen. Little disappointing.
AVC: In your stand-up special, you mention that you've never been to a Tea Party rally, which was surprising, given how many of those rallies are covered on The Daily Show.
WC: I've been in one or two small Tea Party event things. I went to a Tea Party "buycott," where they went to a Whole Foods and were like, buying stuff. But it was like, 15 Tea Party members. It wasn't a huge sort of rally, with the Don't Tread On Me flags and what you see on television. I think it's one of those things, we rarely go there. It's such a weird thing for us to go into those worlds unless we have a specific story. It's not necessarily worth us just going in and being like, "Let's just catch people, hopefully saying something ridiculous." That could be funny, but it just seems like maybe we'd just be mocking people. I think the mandate has been, if we're going to do something like that, we really have to have a take, so that we're going in there to actually do a story.
AVC: What sets that standard where you want to send someone out to cover a rally?
WC: It gets set, sort of, in the process of pitching stories. We have a whole field department, where we have researchers and producers who are working with us as correspondents, and we pitch stories to Jon [Stewart]. And with every story, it really is about having a take. If we were talking about, for instance, how most of the people at Tea Party rallies are sort of lower-to-middle-class-income people talking about trying to protect the rich, then we'd have other things in the story. Then perhaps we would go there just to sort of point that out. "Now let's go meet these rich people who are at one of these rallies," and it's like, "Yeah, you've gotta protect your yacht." And they're like, "No, I don't have a yacht. I'm unemployed," and it's like, "Why are you protecting tax cuts for the rich?" "Because one day I might be rich." So it really has to have some context rather than… I think it's very easy to just go there and walk around with a microphone. At Tea Party rallies, you see them do it, at anti-war protests where they just have an agenda of, "I just want to make somebody look stupid." I think that's fine, but I feel like we try to have some context with it, too.
AVC: How does being a writer inform being a correspondent, and vice versa? Do you write your own material?
WC: It's a mix. Sometimes I write stuff for myself, sometimes it's just writing headlines for Jon Stewart, sometimes it's writing things for other correspondents. It's nice because I think doing both jobs, one informs the other, and you get to know the limits of each job, as far as what feasibly can and can't be done. So it's helpful in that way. Especially when it comes to writing for the other correspondents, it definitely gives me an appreciation for what each of them do as individuals, and wanting to write things so that they have opportunity to do what they do best. Not to say that the other writers don't do that, but when you write something and you have the opportunity to put it in your own voice, it does give you an appreciation for that. I think the desire is to make sure that others, when they have a chat or something like that, we capture their voice as best as possible and give them their moments as much as possible.
That all said, though, in the rewrite process that happens between rehearsal and the show, the correspondents—if it's a chat for Jason [Jones], or a chat for Sam [Bee] or Aasif [Mandvi], they're in the rewrite with Jon and Tim Carvell, the head writer, and the executive producers Rory [Albanese] and Steve [Bodow]. So they're in that room and they're kind of pitching out stuff. So they still do have input. And in the field department, it is very much like the correspondents are working directly with the field producers, and together, correspondent and field producer are often writing those jokes, and writing those things together, and are in the edit together.
AVC: When you took the job, did you know what the writing process at the show was? Did you know that Jon Stewart rewrote a lot of what the writers wrote to match his voice?
WC: No, but I assumed that's what it was. I mean, I feel like any show runner, it's their show. And at the end of the day, whether it's The Daily Show, or whether it's King Of The Hill, or whether it's any show on TV, the show runner, their name is the one that's attached to it, whether it's actually in the opening credits or it's just in those credits that roll by as the action already starts. And I think in that way, they feel like they have a responsibility to themselves. They've earned this right to make the show, to make it the way they want it to be. So I never expected anything different. I think that's just how TV works. It's very rare that you would find a show runner who would be like, "All right, you guys do whatever you want to do and I'll just sign off on it."
AVC: Coming from the stand-up world, was that a tough adjustment?
WC: I think it was an adjustment just from the standpoint that you're spending all day writing jokes for somebody else, and you kind of have to put your own stand-up career on hold a little bit. It kind of happens on weekends and after work, and it becomes this sort of extracurricular thing. Not to say that it wouldn't be that if you were working at a Foot Locker, or whatever you were doing to make ends meet. But if you were at a Foot Locker, you're at least having life experiences that will hopefully inform your stand-up. Or you might think of a joke and you might have moments where you're thinking about things and you can jot something down. That happens here, but most of the time, once I'm here, I'm thinking of how to make the news funny. It's kind of tough sometimes. It is a shift in gears to be like "Okay, well, that was cool. Now let's try to figure out what's funny about that arrogant baby I saw in the subway."
AVC: When something huge happens, like Osama Bin Laden's death, is there a sense of giddiness around the office that there's something big and juicy to write around?
WC: I think a lot of it is trying to process the wealth of information. And we have a listserv that is the Daily Show writers and the Daily Show segment producers, and between all of those people, we're always sort of emailing things out over the weekend, where it's like "Oh, saw this person on… This Week With Christiane Amanpour, [he] said a stupid thing…," and maybe pitching what that stupid thing could lead into, whether it's a chat or something for a headline. So when that news first broke, I think probably that night, within an hour, there were I would say 30 to 40 emails that had already started going around, of people just kind of jotting down notes, where it was like, "On MSNBC, this person said this." Or, "At such and such time on Fox News, we saw a kid in stars and stripes bodysuit climbing tree outside the White House," which was real. But I think then by the time morning comes, it becomes this thing of like, "There are so many different ways that we could attack this. Let's present all those in as clean a way as possible."
AVC: It's interesting that nobody really pointed out in the news that all those people gathered around the White House look like all college kids just looking to bail from whatever they were doing and just get drunk and have a good time.
WC: Yeah. It was very weird. Because there was a certain aspect of it where you weren't sure if they would have done the exact same thing if the Nationals had just won the World Series. The moment that the beach ball came out, it kind of seems like, hmmm. I don't know now what is going on. There is some sort of cathartic moment happening. I don't want to get too into it, but I feel like, when beach ball shows up, he's usually not the most thoughtful person, beach ball. He's just in it for the good times.
AVC: The tone you guys took on the Monday after it happened was much more celebratory than expected.  Was there any kind of trepidation about celebrating somebody dying?
WC: I don't know. That's a tough one to speak to. Because I think that was really, and I think Jon kind of said it on the show itself, from Jon. I wasn't in much on that writing process, but I feel like a lot of that was Jon, and that was kind of what he was feeling and trying to sort of look at it as somebody who had been there when the towers fell and did a show that I think a lot of people talk about, that first show that he did after 9/11. I think that, for him, there was a lot going on. I wasn't involved too much because I was actually getting ready to head up to Fort McMurray. So it was one of those things where I think for me, I was like, "Well that's a relief. I don't have to deal with that one. I just have to deal with taking six flights in three days."
AVC: In your stand-up special, one of the things that you're very adamant about is the fact that you love TV.  How do you think people are missing out when they claim they don't watch TV?
WC: Well I feel like with TV, it's one of those things where I feel like that's bullshit. You watch it. To say that you totally avoid it, that just seems like you're just taking a stand to take a stand. That's a very closed-minded way to look at the world. In that same way, I don't have Twitter. I don't do Twitter. But I still look at it. I still look at what people write on Twitter, and I'll still see that. But for me personally, that's just not something that I've felt like I wanted to engage in as a user. But I don't think that it's terrible. I think that it is definitely helpful for comic friends of mine who are promoting shows that they're doing. I see the benefit of that; that, to me, makes a lot of sense. But I guess I don't feel like I want to be that person that's gonna say as an absolute, "I don't do Twitter at all." Because it's like, no, that's bullshit. I've read stupid stuff that people have said on Twitter, and I still do. I probably will do that later today. The people who are like, "I don't watch TV," there's a certain hypocrisy in it when like if all of a sudden, you start talking about Mad Men, then it's like "Oh, wait, you're a liar." It just seems too hard to… There is good stuff on TV. And Twitter, there's good stuff in Twitter. It was helpful in sparking revolution in the Middle East. I believe there was somebody who was out hiking who used Twitter to help themselves get found. So there is a benefit to it.
AVC: And it's also good fodder for shows like The Daily Show.
WC: From a self-serving point of view, yeah, it's definitely helpful when Newt Gingrich puts out some stupid Tweet about how he thinks Sonia Sotomayor is a racist activist judge. That definitely helps us, when he sort of takes whatever diarrhea of the mouth and just uses his thumbs to spread it around the Internet.
AVC: Don't you wish Donald Trump had a Twitter account? [Note: He does have one. —ed.]
WC: He has a YouTube channel, and I recently started watching that. Because he just does these videos from his office, and it's always weird, because there's at least one Trump book in the background, and it just kind of looks like the video of a sad man just talking to people, and just kind of like, "Keep it together Donald… aw… they'll come back to you…" It's just really weird.
AVC: His office was shown on The Apprentice the other day. It's weirdly small. He seems like a guy who would have a whole floor of his building as an office.

AV: I feel like, in his mind, he probably has a whole floor. But he strikes me as a guy who just goes around saying he's rich, but when it's time to see him go home, you never see where he goes. He's just like, "Donald's gonna get out of here." Then, all of a sudden, a band starts playing and your attention gets diverted, and he kind of leaves through the fire escape and then sets up shop in an alley with some cardboard boxes and is, "It's a good night for the Donald." I don't know. I just think he's a hobo that is pretending to be a rich guy. Because you never go home with him. You never even really see him get in the helicopter. The helicopter's in the background, and it says Trump, but you're never really sure. There could just be like, you know, a projection screen or something, you know, he's figured out how to put it up on a screen and he has a projector. When has anybody ever seen his wife in person? How do we know she's just not a hologram?
AVC: Ivanka's probably an elaborate hologram too.
WC: Yeah. I like to think that maybe Ivanka was real, and then when they split up… or… Ivanka was his wife or Ivanka's the daughter?
AVC: Ivanka's the daughter. Ivana's the first wife.
WC: Right. Ivana's the first wife. I like to think that Ivana took all the money, because Donald was like, "I don't need a prenup. If we get divorced, she'll die." Then she didn't, and she took all of his money. Since then, he's just been this sad man doing a really complicated comb-over, living out of a YMCA. And just when he goes to the Y, he puts on a fake mustache, and changes his voice a little bit. And people are like, "You look just like Donald Trump!" Although maybe he doesn't, because he's just letting the comb-over kind of fall like a Hulk Hogan hangdog kind of thing with a shiner on top. And they're like, "You kind of look like Donald Trump, but you also kind of look like Terry Funk." He just kind of does that, and then it's like "Oh, Donald's gotta go on TV now," and then he dresses up and puts it all together, and then kind of sneaks out. Then when you see him show up, he just times it where a limo happens to drive past, and he's just standing there, and he's like, "Haha, I'm here," and they're like, "Did he just get out of that limo? I don't know. It looks like he did."
AVC: As a comedian, do you think, "Things just can't get any sillier?"
WC: I'm pretty cynical. I would be more shocked and surprised by rational behavior than what happens on a regular basis. Whenever anything happens, it's just kind of like, "Yeah, that's the world." This may have not been the way I thought it was going to go, but I knew it was going to go weird. I always kind of expected that. It just may not happen exactly how I predicted it. But it was going to go weird.
AVC: So when all those people showed up for the Rally To Restore Sanity, what was your reaction there? Were you surprised at all?
WC: I was a little shocked that that many people showed up. I kind of expected like, "Oh yeah, maybe 40,000 people will show up." I didn't expect it to be the size that it was. Then I think my thought was, "Well I hope we don't screw this up." I'm sure that there are some people who are going to want more out of this. There are some people who are going to be like, this is exactly what they wanted. There are some people who are going to be like, this went on too long. But if the majority of them walked away and had a good time, and maybe made a new friend, then I guess we won. I guess we succeeded in what we set out to do. I think, to me, that was kind of the biggest thing. If people walk away from this and they had a good time, then mission accomplished. If they didn't, then, oops. I didn't fully know what to expect. I think for me, too, it was one of those weird things where it's like working at a Dave & Buster's. There are a lot of people who go to a Dave & Buster's after work, and they're playing pool, or bowling, or whatever, video games, and they will inevitably say to a server or the bartender, "This must be the best job ever!" And it's like, "It's a fun job, but I don't actually get to play the video games or shoot pool. I'm the person making sure you're getting your drinks." So I think in that way, the rally was a lot of that for me. It was like, "I'm just a bar back here. It's fun. It's kind of interesting. But if you don't mind, I've gotta go clean some vomit out of the bathrooms now."
AVC: So you guys aren't going and knocking back some drinks after the rally, going "We did this!" It wasn't that kind of pumped-up type of feeling?
WC: No. No, no. I think there was relief, because we had just spent the last week in DC—and for some people, two weeks—setting up everything, just from doing shows there for a week. So I think there was a certain exhaustion of having those shows done and wanting to get home. And then kind of like, "Oh, wait, we gotta stick around and do this rally." I do want a drink, but just because I'm exhausted.
AVC: So it's kind of like you can't enjoy your own wedding. You're just happy it's over and everybody had a good time.
WC: Pretty much, yeah. Yeah, I think it was more relief, and also just a desire to get home and get on my couch and watch all the crappy TV shows I DVR'ed.