Permanent Records is an ongoing closer look at the records that matter most.
On Thursday, October 12, 1995, Tupac Shakur was in the Clinton Correctional Facility in Dannemora, New York. By the evening of Friday the 13th, he was recording in Can-Am Studios in Los Angeles. In between, Suge Knight had ponied up $1.4 million for bail and—not coincidentally—inked Shakur to a three-album deal with Death Row Records. If he thought he'd bought Shakur's services for a couple of years, he was wrong; by the following February, two of those three albums were already in stores.
Now 20 years old, All Eyez On Me was the first double-album of new music in the history of hip-hop, recorded in a furious haze of Budweiser and bud, one-take verses and 12 hour days. "Before Tupac came, everyone at Death Row only got a verse or two or one song done per day," Death Row artist Kurupt told Jeff Weiss in 2009. "We'd just be partying, smoking, chilling. Pac came in with a military mindset. He taught us that it wasn't a game; it was about making as much music as you can."
Shakur had always approached recording sessions with a certain single-mindedness, but this time around he had several reasons for working quickly. He had been convicted of sexual abuse in the first degree for offensive touching without consent, and was only eligible for bail because his appeal was making its slow way through the courts; he was broke, which is why he had needed to make a deal with Knight; and he was anxious to reach the end of his contract with Death Row and start his own label, Makaveli Records. Furthermore, his time in Clinton Correctional—marked by white guards who called him "that rich nigger" as well as two prisoner-on-prisoner murders—had left him feeling shaken and bitter. "Thug Life to me is dead," he told Vibe magazine in April 1995. "If it's real, then let somebody else represent it, because I'm tired of it… This Thug Life stuff, it was just ignorance."
This new worldview lasted right up until he arrived at Can-Am Studios. By most accounts, he had recorded the first verse of "Ambitionz Az A Ridah" within about 45 minutes of walking in the door.
Producer Dat Nigga Daz copped the drums from a novelty dance in honor of Pee-wee Herman, overlaying a menacing piano riff and Hitchcock strings. Shakur's voice is urgent, raw. "Ambitionz Az A Ridah" is an ominous return to making music: a windows-down, volume-up, itchy-trigger-finger banger. As the MC told Chuck Phillips of the L.A. Times, "You're going to feel the entire 11 months of what I went through [in prison] on this album. I'm venting my anger."

G/O Media may get a commission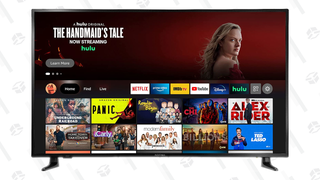 38% Off
Insignia 50" 4K UHD Smart TV
Considering the violence and paranoia of his last year of life, it's easy to forget that this anger was a somewhat recent development. On his first three solo albums, he portrayed Thug Life as the natural state of the urban black male: what happens when you're broke and disenfranchised but still have your pride. In his music he had always found time for social commentary, and even songs that inspired. This time around, there was no "Brenda's Got A Baby," no "Keep Ya Head Up" or "Dear Mama." He only unbends on All Eyez On Me to address his friends (living, dead, or merely gone straight) or to have a bit of sonic sex. The closest he comes to social commentary is "Wonda Why They Call U Bitch." In this song, Shakur is concerned about a female friend and chastises her for having too much sex. It's a bit of misogynist fluff masquerading as a call for women to respect themselves, catchy but quickly dismissed, except that the vocals were provided by Faith Evans. Lurking behind the decision to hire Notorious B.I.G.'s wife was an all-consuming rage.
The night before the verdict of the sexual assault trial was to be announced, Shakur had been robbed and shot five times at the Quad Recording Studios in New York, where Notorious B.I.G. and Sean "Puffy" Combs were recording. This, combined with the fact that the robbers took everything except the expensive Rolex on his wrist, led him to the conclusion that it was a hit, not a robbery, perpetrated by Combs, B.I.G., and Bad Boy Records. The most infamous music feud in modern history had begun, along with Shakur's long slide into paranoia. It didn't help that while Shakur was in prison, Biggie Smalls had released the song "Who Shot Ya?" which was proof, as far as Pac was concerned, that Bad Boy Records really had been behind the robbery. For his part, Biggie claimed that he had recorded it months before the Quad Studio shooting; furthermore, the song references the victim's daughter, and Shakur didn't have a daughter. If it is a diss song, it's unusually opaque.
Recently, more evidence has come to light exonerating Biggie and Combs. In 2011, a man named Dexter Isaac claimed to have been the attacker, and said that James "Jimmy Henchman" Rosemond had hired him. At the time, Rosemond was most famous in music circles for managing rapper The Game, and Rosemond vehemently denied the claims—until he was sentenced to life in prison for running a multimillion dollar drug trafficking operation, at which time he admitted to hiring Isaac and ordering the attack. Neither man has implicated either Biggie or Combs.
This hasn't totally quashed conspiracy theories, because any of these men might very well be lying. And even if "Who Shot Ya?" wasn't about Shakur, the date of its release—shortly after he went to jail—was almost certainly timed to take advantage of the headlines. But if Bad Boy thought the feud was good business, Shakur was taking it very personally.
Most accounts agree that Shakur hired Evans for the album primarily so that he could sleep with her, although there is quite a bit of quibbling over whether he succeeded in this conjugal revenge. He certainly claimed he did, loudly and to anyone who was listening, and he further escalated the feud with "Hit 'Em Up," released as the B-side to All Eyez On Me single "How Do U Want It." The song begins with Tupac saying, "I fucked your bitch you fat motherfucker." It's not subtle, but Shakur's appeal is his transparency: You always knew exactly how he felt.
To call this period an East Coast-West Coast hip-hop rivalry is a bit disingenuous, since it mostly concerned a handful of men at two record labels, many of whom were feuding with other musicians in other locations at the same time. This narrative was partially a creation of the media (the most breathless coverage coming from MTV, Chuck Phillips at the L.A. Times, and newly founded hip hop magazines like Vibe and The Source), and partially a dangerous marketing game drummed up by Knight and Combs (who really did seem to hate one another, but who had a habit of flashing their feelings whenever cameras were around). Other top artists in L.A. and New York, like Ice Cube and Nas, mostly stayed clear. Nas was even feuding with Biggie at the time and had written a diss track directed at the self-titled King Of New York called "The Message." An increasingly paranoid Shakur thought the song was about him.

For his part, Shakur was born in New York, raised in Manhattan and Baltimore, and only moved to Marin County, just north of San Francisco, when he was 17. He had been recording in both California and New York and didn't strongly associate with any particular locale, except America's inner city ghettos, until he signed with Death Row. The entire narrative of East vs. West might have had more trouble gaining traction except that the first single off All Eyez On Me was the Dr. Dre collaboration "California Love." Featuring funk pioneer Roger Troutman on his trademark talkbox, Dre had originally intended the song for a solo album called The Chronic II: A New World Odor (Poppa's Got A Brand New Funk). In a pattern that has become familiar, Dre announced but never released the new album, leaving room for Tupac to make the song his own. "California Love" is a classic of '90s hip hop, certain to be among the first songs mentioned in any conversation about the genre of rap called G-Funk.
"California Love" became the No. 1 single in the country, and All Eyez On Me the No. 1 album. Five more singles followed—the last two after Shakur had been shot again, this time fatally—and taken together they do a fair job showcasing the range of his concerns in the last few months of his life. On "2 Of Amerikaz Most Wanted," with Snoop Dogg, listeners hear Shakur at his most competitive, wanting faster cars, a fatter wallet, and more dangerous guns, all while throwing the very best parties. On "How Do U Want It," featuring K-Ci & JoJo, Shakur raps about the insatiable sex drive that had landed him in jail ("Love the way you activate your hips and push your ass out / Got a nigga wantin' it so bad I'm 'bout to pass out"). He flashes his sense of humor in "All About U," which is about an ex he keeps seeing in other rapper's music videos. Finally, after he was shot in Las Vegas in what remains an unsolved murder, the singles "Life Goes On" about dead friends, and "I Ain't Mad At Cha," about Gs who went straight, were released. No other Shakur record sold so well or spawned so many hits.
After 20 years, Shakur's songs have mostly lost their capacity to shock. But strip away the controversy, and you lose none of the immediate thrill. Shakur was raw then and his songs are raw now; listening feels like touching a bundle of exposed nerves.

Even an artist as accessible as Shakur is ultimately unknowable to his audience, but the song that seems to best captures the rapper in all of his contradictions is "Picture Me Rollin'," with its impressionist imagery and stream-of-conscious logic. Picture Shakur driving through a bad neighborhood in a nice car, surrounded by friends but somehow alone, trying to relax his anxious mind, threatening, threatened, just trying to have a good time.