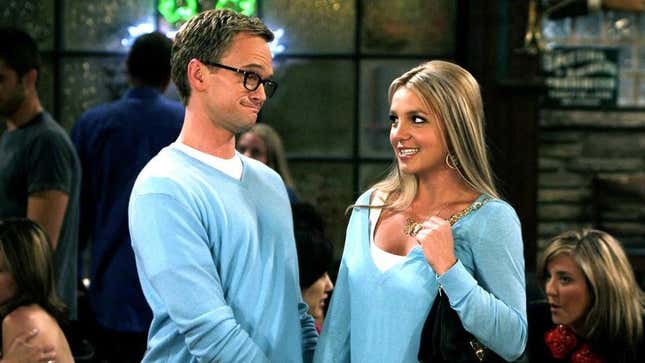 At the beginning of 2008, Britney Spears was at rock bottom. Years of invasive, non-stop tabloid coverage had culminated with an extremely public mental health crisis, and on February 1 of that year, she was placed involuntarily into a conservatorship. In the midst of all of this, Spears apparently really, really wanted to appear on How I Met Your Mother. Her casting was announced on March 10, and by the 24th, she was playing Abby the receptionist on the CBS sitcom.

Please don't send the cops to Britney Spears' house
As it turns out, HIMYM also really could have used someone like Britney Spears to appear on their show. The series wasn't down quite as bad as the pop star was at the time, but the show was coming out of three-month hiatus thanks to the writers' strike. The consequences of the strike have been wide-ranging and well-documented—Jesse Pinkman got to live, for example, while Pushing Daisies, well, pushed daisies—but HIMYM faced continued threats from reality TV, a format that thrived during the strike. "I remember being really stressed out in the first couple of years of How I Met Your Mother because we were losing to a reality show all of a sudden," series co-creator Craig Thomas told NG Radio in 2018. When a real-life reality star fell into their laps, it doesn't seem like anyone had to think too hard.
But there were reservations, and not just stemming from Spears' public personal life. Spears has never been much of an actress. Her 2002 film Crossroads is an infamous flop, and since the Mickey Mouse Club, she has only had a handful of roles where she wasn't playing a version of herself. Her first appearance in HIMYM, in the episode "Ten Sessions," is when Ted Mosby (Josh Radnor) first meets Stella Zinman (Sarah Chalke), the woman who will eventually leave him at the altar.
"I immediately imagined Britney playing Stella and had a minor panic attack, because it's such a big role and needed a proven, experienced actress like Sarah Chalke," series co-creator Carter Bays told E! News in 2014, recalling Spears' desire to appear in that episode. "But to her credit, Britney liked the character of Abby and wanted to play that part. So we said sure!"
In the episode, Abby is a bit of an afterthought. The character is Stella's receptionist who crushes on Ted as he attempts to woo Stella, and she's introduced with little fanfare. There is no live studio audience on How I Met Your Mother to stop the action and applaud for a Very Special Guest Star, and if you somehow didn't know that Abby was Britney Spears, there may not be anything to clue you in that she is a special character. Spears plays the part with a strange affect, delivering her lines as if she's trying to keep her teeth from falling out of her mouth at the same time. She doesn't exactly seem like a real person, but she does fit into the well-worn trope of bizarre-one-off-character-in-a-New-York-City-set-sitcom.
If the appearance had flopped, it's hard to believe that it would have mattered much to the show. Sitcoms bring in special celebrity guests all the time, rarely because they're talented actors. But Britney Spears the brand really needed the appearance to work. At a time when, fairly or not, Spears' reputation was the lowest it ever had been, she had to prove that she could show up, hit her marks, and be professional. And Spears acquitted herself well enough to appear in a second episode in the series.
The five episodes that run between Spears' two appearances—on March 24 and May 12, 2008—contain some of the series' most beloved work: the beginning of Barney Stinson (Neil Patrick Harris) and Robin Scherbatsky's (Cobie Smulders) romance, and the introduction of Will Forte's Randy, the goat. There is also "The Bracket," an episode in which Abby is a dynamic, off-screen force, and which indulges in the series' worst impulse.
There are few characters in contemporary TV who have aged worse faster than Barney Stinson. As plenty of articles have pointed out since the series ended, at best, Barney's actions are often incredibly misogynistic. At worst, they're rape by deception. In "The Bracket," one of the women who Barney has wronged (later revealed to be Abby) is on a revenge mission, sabotaging several of his attempts to bed more. At one point in the episode, Barney shows the gang a scrapbook full of photos he's taken mid-coitus, photos at least most of the women don't know exist. Later, Barney says he's pretty sure he once "sold a woman." As per usual, the gang laughs him off as "disgusting," and the episode was received generally warmly—a contemporary review from The A.V. Club gave the episode a B and mainly complained that there "wasn't enough Ted."
The casually misogynistic culture that laughed off the behavior of Barneys in the '00s is the same that laughed at Spears as her life fell apart. In "Everything Must Go," Spears' second and final on-camera appearance on the show, Abby and Barney briefly date (well, he pretends to) in a mutual effort to upset Ted. They sleep together, Barney feigns proposing, Abby thinks it's real, and Barney gives her Ted's address to get rid of her. Ultimately, Abby just becomes another disposable woman to Barney, and we never see her again.
In real life, these episodes are a crucial turning point in Spears' comeback tour. Six months later, she landed her first number-one song in almost a decade with "Womanizer," and it's hard to imagine she'd have landed her Glee guest role or her judging gig on The X Factor had she not proven herself game on a show like HIMYM. The show benefitted too; Bays said in 2014: "By golly, she put our show on the map. It can't be overstated. Britney Spears rescued us from ever being on the bubble again." But watching these episodes back, it can't help but feel like Spears ultimately lost more than she won.
As we learned during Spears' more recent conservatorship battle, these years of her life sure sounded like a living hell. Even when her role was first announced in 2008, it was reported that Britney's father and conservator Jamie Spears gave his 26-year-old daughter "permission" to appear on the show. It's undeniable that Britney's "breakdown" was some kind of mental health crisis, but, consciously or not, it was a moment when the icon rebelled against the expectations of her and a moment where she, destructively, exercised some control of her life. Maybe Spears was actually a fan of the show and maybe she really did want to do a guest role, but it certainly wasn't her decision alone. "Ten Sessions," an otherwise standard episode of television, may well have been the first in a long line of instances where Spears' control was stripped from her.
Maybe Abby wasn't the role Spears was born to play, but it might have been the perfect part for her at the moment. No, the manipulation of Abby is not some meta-commentary on the real-life manipulation of Spears. It's barely even a coincidence. It was just a moment where the only role anyone could imagine Britney Spears playing was a woman who ultimately gets punished when she acts out of turn. And to hear the men involved tell it, it's a role she really, really wanted to play.