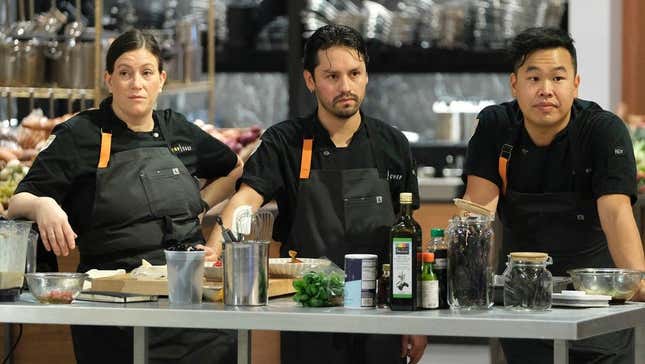 "You never, ever cook Indian food for Padma, and here we are," Amar proclaims during this week's episode of Top Chef: World All-Stars. And he's right: Cooking the native cuisine of series' host, Padma Lakshmi, with all of her expertise and experience, is quite the risky move, but we've got only seven chefs left in the global competition. It's time to—pardon the pun—spice things up.
Nyesha Arrington talks "Next Level Chef," Sushi, and her go-to comfort meal
But before the toques can tackle South Asian specialties, this week's Quickfire Challenge has them diving into a British delicacy: kippers. ("I can smell the challenge before I see it," Sara jokes.) A staple breakfast item during the Victorian and Edwardian era, kippers—"a whole herring that's been split down the middle, gutted, and then heavily salted and smoked to preserve it," explains guest judge Tom Brown, the chef-owner of London's Cornerstone, a Michelin-starred restaurant—fell out of favor in the twentieth century. The chefs have 30 minutes to create something new and inventive featuring preserved fish. While the time for immunity is over, the winner of the Quickfire will receive an individual advantage for the Elimination Challenge.
Though Sara is down for the "big, huge flavor" that the smoked seafood provides, and Victoire knows her way around preserved pesci ("In Africa, all of the people don't have a fridge, so in our country we smoke always the fish"), other chefs are wading in unknown waters. "Smoked, cured, salted, I never worked with this stuff before," Amar worries. (Later, when he's asked about his dish, he exclaims: "I don't know what I'm doing yet. I'll let you know two minutes before!" Buddha, boldly, goes against Italian tradition with his carbonara-inspired plate. "I'm doing something unorthodox. I'm pairing it with cheese," he says. "I know I'm breaking a couple of rules with Italians. Golden rule for them is that seafood and cheese don't go together."

Despite Amar's initial uncertainty, the judges love the "balance of flavors" found in his smoked haddock salad with cucumber, smoked scallop, and roasted pepper emulsion. They're also fans of Buddha's onion carbonara with kippers and smoked haddock. "Hard sell, cheese and fish," Padma initially said upon serving, but "you swayed me," she tells the competitor. She also praised the brightness of Ali's taramasalata puree with dried scallops and Scandinavian fish, but in the end, it was Ali's "papi" Amar who took the win. "This is the first Quickfire Challenge that I've won between the two seasons," Amar gushes. "To win this one is freaking amazing."

For the Elimination Challenge, "I would like to take you guys on a little field trip," Padma tells the group. ("If we're eating with Padma, all signs point to Indian," Buddha rightly guesses.) They end up at Flora Indica, a fine-dining Indian restaurant in South Kensington where chef-author Asma Khan has a pop-up kitchen. "Oh my god!" Victoire exclaims upon seeing the British chef, who she had previously met while making pasta in Italy. "This is a big surprise. Asma is a great woman, a great chef. She's doing a great job for Indian women in the kitchen," Victoire says. "It's an honor to be here with her."

There, they each enjoy a thali, a traditional Indian spread served on a round platter, consisting of several different dishes—a grain, a dal, a chutney, vegetables, and so on—and "six essential flavor profiles," Padma explains, including salty, sweet, bitter, sour, pungent, and hot. "Here, everything is contradictory. It's like an orchestra, each instrument is playing a piece but together it becomes a full experience," Asma instructs. The chefs have two-and-a-half hours—Amar, three full hours, per his advantage—to come up with their own thali, traditional or otherwise, though all have to hit those six flavors. "Freaking intense," Gabri moans at the amount of work necessary. "Ugh, please help us!"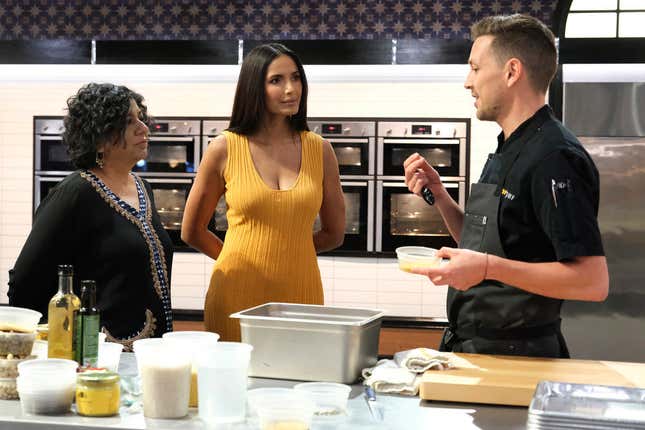 Again, Amar, who gets to start cooking first, is out of his comfort zone. "I decided to do traditional Indian food but I've never cooked Indian food before so I want to take my time to try and taste everything." Thankfully, the Dominican chef discovers a new culinary love, jaggery, and kicks off his platter of shrimp-crab curry, stone fruit chutney, green-mango raita, and tandoori sweetbreads, the latter of which he cooks to honor Floyd Cardoz, the late, great Indian chef who tragically died at the start of the COVID pandemic.

Victoire is also worried about taking on Indian flavors: "This is the hardest challenge. It's like, 'Padma, come to my home and cook my Congolese food.'" It also doesn't help that she's not the most spice-tolerant, with Padma having to remind her later: "Don't be afraid of flavor. Remember, even if you don't like heat, all of us do, and you're cooking for us." And poor Gabri can't catch a break with the pressure cooker. "I burnt my frijoles!" he cries and, after swapping out his black beans, ends up scorching his back-up batch of lentils. "I'm rushing with almost everything," he says. "I decided to just pan-sear my scallops...I didn't strain my tamarind chutney. The focus right now is just putting some food on the thali plates."

That tamarind chutney and the "conflict of spice" in his thali lands Gabri in the bottom three, as does Buddha's water-logged basmati rice and Victoire's hesitancy with seasoning. ("If you're not comfortable with spice, then you don't connect with it," says guest judge Sriram Aylur, chef of the Michelin-starred Quilon. "She made it difficult to get the balance of it all.") Sadly, Victoire doesn't make it into the top six and is eliminated.

In happier news, Amar's thali is "spot on," says the panel, with Asma proclaiming: "The fact that he never cooked Indian food before, if I ate this, I would never say that." Ali's transcendent chutney is dubbed "the most Indian chutney I've had" by Asma, with Padma adding that it brought her right back to her school canteen. ("That's a huge compliment!") And Sara's "beautiful and personal" Southern-inspired spread of dirty rice, spiced cauliflower, buttermilk raita and tamarind dal "did a good job of bringing some of her flavors in," per Tom Colicchio.

It's a very good week to be Amar because, out of those three standouts, he comes out on top yet again. "It's a dish that I will remember for a long time," Asma tells him. "I'm Dominican for Christ's sake! We eat plantains and beans, and here I am cooking Indian food for Padma and winning, it's crazy," he cheers. "I'm at a point now in this competition where I feel like I belong here, I have what it takes to get to the top, and I'm having fun."

Stray observation
Top Chef can at times feel like a very pressure-filled bubble, but every now and then, it bursts to let in a bit of real life. This episode, there was the matter of the passing of Queen Elizabeth II. (Season 20 kicked off filming in August 2022, with the royal's death occurring a month in, on September 8.) Obviously, with filming being done in London this go-round, the public mourning and official processions affected filming. "We were supposed to have you in a different location to cook and serve in. However, with the Queen's passing and all of the funeral processions going on, we're going to be in the Top Chef kitchen," Padma announced to the group ahead of the Elimination Challenge, which ended up being served in the set's gussied-up stew room. "You've come at a very interesting time in this country," Asma added, before producers ran a moving mini-montage dedicated to Her Majesty.