A.V. Club writers Genevieve Koski and Steven Hyden have decided to explore the Billboard charts every month in search of the good, the bad, and the ugly of contemporary pop music in all its forms. This month, they take a look at the Hot 100 chart for July 2, 2011.
"Give Me Everything," Pitbull featuring Ne-Yo, AfroJack & Nayer (No. 2)
Genevieve: As far as ads for Kodak go, this song is catchier than most; but as a pop song, it's pretty unremarkable, featuring that same synth line that characterizes half of the songs currently soundtracking dance clubs (such as, oh, let's say the Pitbull-guesting Jennifer Lopez track "On The Floor"), and a chorus that was apparently dug out of Black Eyed Peas' refuse bin. "Give Me Everything" is clearly going for "anthem" status, and while it hits all the marks—"seize the day/night" lyrics, soaring chorus, handclaps, blatant product placement—it rings pretty hollow.
Steven: An infamous Village Voice headline from five years ago declared "Pitbull: Better Than Nas," which surely must rank as the "Dewey Defeats Truman" of hip-hop journalism. But it goes to show that Pitbull has had a pretty long career in the rap game, and that he's come back nicely from the reggaeton bubble-burst of the mid-'00s. That likely has more to do with his ability to market himself across multiple platforms than his actual music, as "Give Me Everything" is a summer club jam straight out of central casting. But even if he's not better than Nas—and he most definitely is not—Pitbull is certainly more prominent on the pop charts at the moment. 
Genevieve's grade: C-
Steven's grade: C
Katy Perry, "Last Friday Night (T.G.I.F.)" (No. 4)
Steven: As I've tearfully confessed to you on more than one occasion, GK, Katy Perry's "Firework" wore me down after hearing that unbeatably huge chorus set the soundtrack for scores of sports and reality-show montages. With that in mind, I'm already assuming that the '80s-biting "Last Friday Night (T.G.I.F.)" will eventually grow on me, and that I'll stop caring about the creepy disconnect that exists in every Katy Perry song—that she's an ambitious careerist in her mid-20s pretending to be a not-particularly-bright high schooler—and just give in. Like death and taxes, Katy Perry's music has an inherent inevitability in our culture that makes surrender less painful than ultimately futile resistance. "Last Friday Night" might be a cotton-candy souffle, but doesn't cotton candy taste pretty good in the summer?
G/O Media may get a commission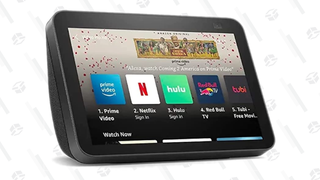 Genevieve: Inevitability is right: The last time there wasn't a Katy Perry song in the top 10 of the Billboard Hot 100 was 13 months ago. Since "California Gurls" debuted at No. 2 on May 29, 2010, the singles from Teenage Dream have continued to top the singles chart like so much whipped cream and candy sprinkles. So yes, resistance is futile, especially when you consider the duo behind three of Perry's last four singles, Dr. Luke and Max Martin, also produced "Last Friday Night." (The aforementioned "Firework" was masterminded by Stargate, no stranger to the top 10 itself.) But sure things are boring, and I continue to be bored by Perry and especially "Last Friday Night," which sounds like the exact center point between "California Gurls" and "Teenage Dream." (As freakin' weird as "E.T." was, at least it ventured outside Perry's bubblehead default setting.) By including the lyrics "epic fail," "Last Friday Night" is practically daring the haters to rip it apart, but there's nothing particularly epic or failing about this song; it just is, as predictable and inevitable as the tides.
Steven's grade: B-
Genevieve's grade: C
"Lighters," Bad Meets Evil featuring Bruno Mars (No. 16)
Genevieve: "Lighters" clearly shares some musical DNA with another one of Bruno Mars' featured singles, B.o.B.'s "Nothin' On You"; but its themes are a little heftier than observing that beautiful girls are beautiful, and fittingly, Mars' chorus is a little more robust. Not much more, but when combined with the backing strings and piano, it's almost worthy of its titular demand to see "a sky full of lighters." It never quite gels with the hard-hitting, look-at-me-now-bitches verses of Royce Da 5'9" and Eminem—who's really been embracing those anthemic, ballad-y, Grammy-baiting hooks lately—but the separate elements are each uplifting in their own way, and Royce seems to bring out the best in Em, who spits harder than he did on the entirety of Recovery.
Steven: You want Eminem to spit harder? All Em does these days is grind his teeth into sawdust on the verses, and then hand the mic off to a pop singer for an embarrassingly melodramatic chorus. Not only has Eminem lost his sense of humor, he's embraced the sort of maudlin power balladry that his music appeared to stand against when he came on the scene as a sick and twisted smartass in the late '90s. Along with "Love The Way You Lie" and the truly abominable Dr. Dre collaboration "I Need A Doctor" (both featuring Skylar Gray), "Lighters" typifies this trend, and it's just as bad as what came before. This is the absolute worst in pop music right now. 
Genevieve's grade: B-
Steven's grade: F
Big Sean featuring Chris Brown, "My Last" (No. 34)
Steven: Having Chris Brown on your record has gone from being a liability to practically being a requirement if you want airplay on urban radio. The calculation behind inviting Brown to appear on "My Last"—the lead single from Big Sean's mega-hyped debut album, Finally Famous—is no less effective for being so palpable. The song has already shot up to No. 4 on the R&B charts, which is already heavy on Brown-assisted tracks. Taken on its own merits, "My Last" is a decent, workman-like effort from the Kanye West protégé, whose actual music thus far hasn't lived up to the boast of his album title. Clearly there's only "famous" person on this track, and it's the guy in the supporting cast.
Genevieve: As with "Last Friday Night," we have a case of a sure-thing radio single—that bouncy piano and live-it-up lyrics practically scream "summer jam"—being utterly boring. But unlike Katy Perry, Big Sean is an up-and-coming artist who needs a big radio hit to capitalize on the buzz he built via mix-tapes and guest appearances on Kanye West tracks, and if that means dumbed-down lyrics and a hook from R&B's most consistent asshole, well, it wouldn't be the first time a promising newcomer has sacrificed himself on the altar of commercial appeal. If you can get past the squandered potential and resist the urge to punch Brown right in his stupid smirking face, "My Last" is fun enough summer radio fare, but it's not going to make anyone sit up and say "Whoa, who's this guy?"
Steven's grade: C
Genevieve's grade: C+
The Band Perry, "You Lie" (No. 42)
Steven: The Band Perry is classified as a country group, but it really belongs with similarly bluegrass-influenced pop acts like Mumford & Sons and The Avett Brothers. You can hear echoes of the Nashville machine in the splashy chorus and the forcibly folksy turns of phrase—"You lie like a penny in the parking lot of a grocery store"—but Kimberly Perry takes her revivalism as seriously as her rock-oriented counterparts. (Notice how she takes "You Lie" to the church during the brief gospel breakdown in the song's back half.) Proof that the trend for "authentic" music seems to be cutting across genre and demographic lines, The Band Perry's "You Lie" has just enough genuine soul to seem like more than old-timey posturing.
Genevieve: Thank God you put those quotation marks around "authentic," Steven, because "You Lie" is first single from The Band Perry that none of its members had a hand in writing. Not that that precludes it from being good, because it is a good song, even taking into account the folksy similes and weird pronunciation of "ornery." Kimberly Perry's vocals do most of the heavy lifting here: Her phrasing is confident, expressive, and slightly winking in a way that reminds me of Natalie Maines. I wish the fiddle and mandolin on "You Lie" constituted more than instrumental window-dressing, but as far as fodder for the Nashville Machine goes, this song is heartier than most.
Steven's grade: B
Genevieve's grade: A-
Kenny Chesney featuring Grace Potter, "You And Tequila" (No. 50)
Genevieve: Grace Potter is usually good for a solid rave-up, Kenny Chesney has a long-established affinity for songs about getting wasted (albeit in a mellow, beachy sort of way), and the song's title name-checks one of the more rowdy-making libations, so it's disappointing to discover that "You And Tequila" is actually a melancholy tune equating vice with destructive love. (For a superior recent example of this sort of country-music metaphor, please see Miranda Lambert's "Me And Your Cigarettes.") Chesney and Potter's harmonies go down sweet as agave nectar, but the song never delivers on the promise it spends its entire running time building toward, languishing in a bleary-eyed, sleepy state without any real catharsis—more in the spirit of a nice merlot binge than a night spent doing tequila shooters.
Steven: Actually, I was relieved that "You And Tequila" wasn't a rowdy, feel-good party song. The title had me dreading another one of Kenny Chesney's Jimmy Buffett tributes, where he sings about good ol' boys fantasizin' about sippin' Coronas in the sand while pretty senoritas fan them with palm fronds and Confederate flags. "You And Tequila" is just a sad-bastard pop-country song, and while it's nothing special, at least it's not the usual cookie-cutter emptiness that Chesney usually traffics in. And Potter really is a good duet partner; "You And Tequila" gets her an upgrade to Poor Man's Sheryl Crow status. 
Genevieve's grade: C+
Steven's grade: C
Coldplay, "Every Teardrop Is A Waterfall" (No. 52)
Steven: As a thoroughly modern man who doesn't apologize for his soft-hearted sensitivity, I'm a long-time Coldplay defender. As far as radio-friendly pop-rock goes, Coldplay has been a steady presence for a decade, with some legitimately enduring singles—"Yellow," "Clocks," "The Scientist"—in its catalog. But I do wish that Chris Martin would make it easier to stand up for him. As our own Sean O'Neal recently noted, "Every Teardrop Is A Waterfall" seems like the product of "an extremely sarcastic committee tasked with producing the ultimate Coldplay song title." Then there are the rip-off accusations, which aren't exactly new for Coldplay. Is it wrong that none of this stuff bothers me? It's not Coldplay's job to be cool or even original; this band is supposed to create heart-swelling anthems that sets chins aquiver. The rousing "Teardrop" does just that.
Genevieve: As the non-Coldplay fan in this duo, I'll step up and take the bold stance that "Every Teardrop Is A Waterfall" is pretty okay! Pretty darn okay, even! Most Coldplay songs evoke little but shoulder-shrugging from me, but this time I'm shrugging in time with the beat, so that's something, right? The opening synths, squiggly guitar line, and chant-along lyrics are nothing we haven't heard before, but this particular permutation of those elements resonates in a particularly anthemic way, though the supremely silly title strips the song of some of its intended bravado. Still, I'm looking forward to this one playing in the background as I leave this year's Lollapalooza early during Coldplay's headlining set.
Steven's grade: A-
Genevieve's grade: B+
David Guetta featuring Flo Rida & Nicki Minaj, "Where Them Girls At" (No. 54)
Genevieve: "Where Them Girls At" is the grammatically challenged first single off French DJ-producer David Guetta's upcoming album Nothing But The Beat, a description that applies handily to most Guetta tracks, including this one: This song is all about the beat. The droning, repetitive, exhausting Euro beat, which is even more oppressive when combined with Flo Rida's turgid Auto-Tuned vocals. Thank God for Nicki Minaj, whose nonsensical contribution—I don't know why you started your verse like that either, Nicki—adds some much-needed personality to this tedious track. Yes, it's Minaj at her Minaj-iest, whiplashing between accents and silly vocal affectations, but what better place for that sort of brilliant hyper-stupidity than a David Guetta song?
Steven: You've got to hand it to David Guetta. Dance music is inherently sexual. "Where Them Girls At" is a song title that hints at animalistic lust. Nicki Minaj is so attractive, she actually makes people (no matter their stated sexual preference) wag their tongues and shoot out their eyeballs like horny talking animals in Looney Tunes cartoons. In spite of all that, Guetta has succeeded in making "Where Them Girls At" as sexy as an inflatable woman on a hotel waterbed. Clearly this man is a visionary, preparing us for a future dystopia where sex is outlawed and media consists only of text messages and Ringtones. I figure we have until October.
Genevieve's grade: C+
Steven's grade: D
Beyoncé, "Best Thing I Never Had" (No. 71)
Steven: The consensus on Beyoncé's previous single "Run The World (Girls)" was that it was a noble experiment that failed. "Best Thing I Never Had" could be accused of hewing a little too close to convention; the Babyface-penned track is one big self-empowerment softball that Beyoncé easily smacks out of the park. But even if "Best Thing I Never Had" hardly ranks among the most thrilling Beyoncé singles, at least she's back on the tuneful path. And for those of us that like to see Beyoncé kick a little ass—I know that's doubly true for you, GK—the line where she tells the guy that it "sucks to be you right now" is pretty priceless.
Genevieve: I don't know if Bey is necessarily kicking ass in this song—as kiss-offs it's no "Irreplaceable," and "sucks to be you right now" is no "to the left, to the left"—but no one sells "I'm so over you" quite like she can, and "Best Thing I Never Had" is a solid retread of that particular trope. There's nothing understated about Beyoncé's vocals on this one: She starts at about 9.5 and builds from there, perhaps overcompensating for the fact that she hasn't actually had a break-up to get over in years. Then again, what's the point of a subtle break-up anthem? This is the sound of a pro giving her fans what they want, and while it's not exactly inspired, it certainly gets the job done.
Steven's grade: B
Genevieve's grade: B+
"Today Is Your Day," Shania Twain (No. 66)
Genevieve: "Today Is Your Day" is Shania Twain's first single in six years, during which time she split with former husband/longtime producer "Mutt" Lange, who had a strong hand in establishing Twain's sound during her late-'90s heyday. Gone is Lange's more-is-more stadium sensibility; in its place is an understated, sweetly sung ditty that sounds like a Successories Poster on Xanax. Look, I'm all for Twain blazing her own path and going out and being the best she can be (especially after a reportedly ugly divorce from Lange), but this sort of motivation is a lot less inspiring for listeners—and much less fun—than shouting "Man, I feel like a woman!"
Steven: Shania Twain has more money than God, and she can spend the rest of her life counting it inside her vast Swiss compound. If she's going to put out new music, I'm not sure why she decided on "Today Is Your Day." I can understand the inspirational sentiment of the lyric, but "Today Is Your Day" only shows how bloodless her music is without "Mutt" Lange. Not that she was making masterpieces before now, but at least she had spunk and not just stale platitudes.
Genevieve's grade: C-
Steven's grade: D