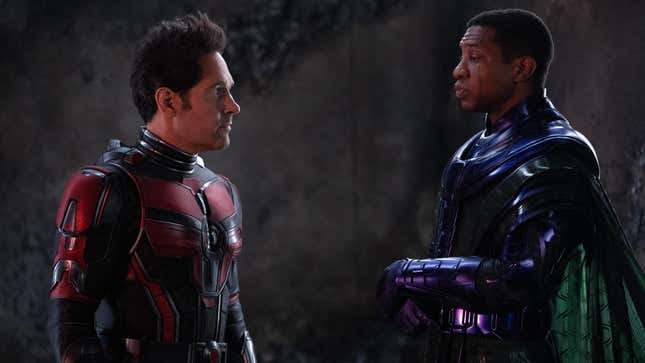 For better and for worse, the Marvel Cinematic Universe has opted to introduce its new "big bad" to cinemagoers within its goofiest series of films, those of Ant-Man and the Wasp. Following the conclusion of the Infinity Saga (and Phase Three) with Avengers: Endgame, the greater MCU has been biding its time in Phase Four, largely ushering in a hoard of new characters and wandering down CGI-laden rabbit holes rather than concentrating on a cohesive narrative arc. With the arrival of Ant-Man And The Wasp: Quantumania, however, the mega-franchise pivots to focus on its new antagonist, Jonathan Majors' Kang the Conqueror. In some multiverse iteration, it will be Kang who presumably faces off against the Avengers in the Phase Six duology, Avengers: The Kang Dynasty and Avengers: Secret Wars. Kang, who appeared briefly in the finale of Loki, is a deathly serious, multiverse-jumping war lord who spends his time obliterating entire dimensions and pontificating on temporal philosophy. It therefore makes total sense (read: it makes no sense at all) that Kang would get his grand entrance in a film alongside aliens that look like broccoli and recurring butthole jokes.
From its opening montage (set to the Welcome Back, Kotter theme song) in which Scott Lang/Ant-Man (Paul Rudd) reads from his memoir (Look Out For The Little Guy) and receives an award at Baskin-Robbins, the film, like its two predecessors, is jokey. And that doesn't really change when the whole Lang/Pym/Van Dyne clan is sucked by a mysterious force into the Quantum Realm that's incidentally just a wackier version of the Star Wars universe. (Although, given the infinite multiverses, the real Star Wars does probably exist somewhere within the MCU.)
Our insectile family is split in half during their quantum journey with Team 1, comprised of Ant-Man and his daughter Cassie (now played by Kathryn Newton), landing in a more sloppily created version of Strange World while Team 2, made up of Hank Pym (Michael Douglas), Janet van Dyne (Michelle Pfeiffer), and the Wasp (Evangeline Lilly), crashes on Tatooine in the desert. Team 1 meets a Mos Eisley Cantina Band-esque hoard of alien freedom fighters including William Jackson Harper (from NBC's The Good Place) and his glowing forehead, a chatty blob of Jell-O, and a more muscular version of the Pixar lamp. Team 2 is met by Tusken Raiders sand nomads and taken to the Quantum Realm equivalent of a Delta Sky Club lounge where they find Janet's old bestie Krylar (a fun celebrity cameo we won't spoil). It's here we learn that Janet and Kang were stranded together in the quantum abyss, trying to escape for many years in Kang's ship before Janet realized Kang loved genocide and destroyed his power source. Now Kang has sucked Team Ant-Man back into the Quantum Realm in order to finally escape from his purgatory. Of course Lando Calrissian Krylar quickly betrays our heroes, who are hauled off to Coruscant a massive city to face off against Kang and his Stormtroopers henchmen while he tries to launch his Death Star giant, spheric, universe-destroying battleship.

G/O Media may get a commission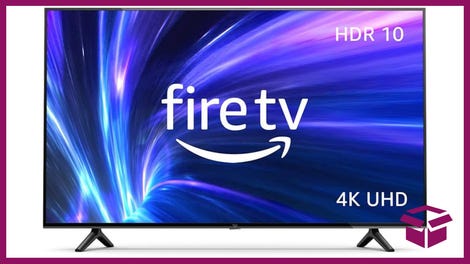 42% Off
Amazon Fire TV 50" 4K Smart TV
For its entire run time, Quantumania, which, like its predecessors was directed by Peyton Reed, but was penned by Rick and Morty writer and Marvel newbie Jeff Loveness, seems dead set on being both a slapstick comedy and a dramatic space epic. Kang, bolstered by an ominous, award-worthy performance from Majors, is set up to be a Darth Vader Thanos-level horror. But Kang's scenes are surrounded by those featuring Douglas doofily proclaiming his love for ants and a Humpty Dumpty villain that rivals Jar Jar Binks in ludicrousness. The film is so preposterously disjointed in tone that viewers will struggle to decide if its wild swings are lunacy or genius (or perhaps a combination of both).
Compared to slogs like Thor: Love and Thunder and most of the MCU television shows, however, Quantumania is certainly entertaining from start to finish, and it's the first film since Endgame with real stakes. Its Star Wars-esque world-building also gives it freshness as it swaps tired superhero tropes for those of sci-fi epics. Of course, Quantumania does suffer from some of the MCU's recent systemic problems such as an abundance of sloppy green screen work, way too many characters (Lilly has maybe 15 lines in the whole film), and an over-reliance on television show connections. Choosing to hold crucial details for the two post-credit scenes leads to Kang using veiled pronouns and vague language in order to save a (still somewhat confusing) surprise for the audience.
Quantumania's tone is sure to be polarizing, but if you can surrender yourself to its bonkers A Bug's Life-meets-Return of the Jedi antics, the two hours (already short for a Marvel film) will fly by. Now we just need Pym to invent some lightsabers for their next trip to a galaxy far far away the multiverse.
(Ant-Man and the Wasp: Quantumania opens nationwide February 17)