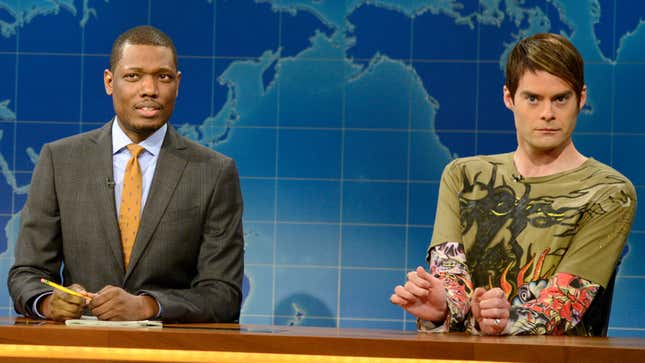 It's been nearly half a decade since Bill Hader last visited the Weekend Update desk as Stefon, Saturday Night Live's connoisseur of New York's hottest clubs. But despite previously asserting he would never return to the role, the Barry star now seems to have changed his tune a bit, telling The Independent he "probably would play him" if the opportunity arose.
The A.V. Club's best shows of 2022 No. 4
Fitted out in an Ed Hardy style under-layer and a Justin Bieber-meets-club-kid haircut, Stefon swiftly became an audience favorite and one of Hader's most revered characters, in large part because of Hader's commitment to the soft-spoken, exuberantly strange bit. But last year, Hader told The Guardian that he had turned down a tentative offer to revisit Stefon—an openly gay character— due to the political climate.
"I was like, 'I don't think that's really a good thing to do now,'" he said at the time. "I mean, we had an openly racist, homophobic and misogynistic president, and half the country voted for him – twice! So [those attitudes] are really prevalent." For Hader, recognizing that Stefon could be construed as an amalgamation of hurtful tropes about gay men was a tough but necessary pill to swallow, sharing: "I really love Stefon and it never occurred to me that he would be seen as a stereotype, and that really hurt."
Although Hader had a pretty strong stance on a potential Stefonaissance back then, he's since walked it back a bit.
"Honestly, I don't know why I said that," Hader tells The Independent of his comments to The Guardian. "I probably would play him. I think just being asked the question at that point in time kind of made me anxious."
The anxiety, clearly from a well-meaning place, conflicts with the response Hader has received from the gay community on Stefon. "I've never had any gay man come up to me and be offended that I [played Stefon]," he shares, emphasizing that more often than not the feedback he receives from fans focuses on how much they love the role.
The same can't be said, however, for Vinny Vedecci, the brash Italian talk-show host who became another of Hader's most consistent characters. Although Hader says he wouldn't return to the role of Vinny today, he also opines that online outrage culture has led to "blurred" boundaries between blatant punch-down comedy and thoughtfully created character work.
"I sympathize with and understand the sensitivity," Hader says. "But as someone who creates things, I think you want to be able to create things in a genuine way and in an honest way. And what's happened, especially on social media, is that there are people who aren't funny, or content that is just offensive."