One week a month, Watch This offers movie recommendations inspired by new releases or premieres. This week: With the Academy Awards a few days away, we look back at some of the unlikeliest Oscar nominees, picking a different major category every day.
Dick Tracy (1990)
Deadpool's Oscar campaign was a joke until it wasn't. When the R-rated X-Men spinoff rode into the Golden Globes, Writers Guild, and Producers Guild nominations, suddenly it seemed a shoo-in that the Academy would have to weigh a Pulitzer-winning August Wilson play against a movie where Ryan Reynolds jokes about fondling Wolverine's balls. Ultimately, Deadpool got shut out, and while making Suicide Squad an Oscar nominee for Best Makeup and Hairstyling—something that carries its own sweet sting—absolves the Academy from ignoring the genre completely, Deadpool's snub is part of its long tradition of overlooking comic-book films, outside of throwing them an annual bone for their technical achievements.
In fact, the Academy has only allowed superhero movies out of the effects ghetto a handful of times. Most famously, it awarded a posthumous Best Supporting Actor to Heath Ledger for The Dark Knight, a win that continues to be debated by fans and skeptics alike who—quite understandably—have lingering doubt Oscar voters would have been swayed to set aside their genre prejudices had Ledger still been alive. But Ledger did have at least one precedent: Al Pacino had already broken that genre ceiling some 18 years prior, picking up a Supporting Actor nomination for 1990's Dick Tracy. With seven nods and three total wins, Dick Tracy remains the Oscars' favorite comic-book movie—even if today, it's mostly remembered (if at all) for its relatively disappointing box office, or for giving us the awkward romance between Warren Beatty and Madonna.
Dick Tracy's awards for Best Art Direction seemed a given for a movie with such dazzling design, which faithfully—and practically—replicated the primary-hued splashes of Chester Gould's original comic strips. Ditto its awards for Best Original Song, which went to Stephen Sondheim's sultry "Sooner Or Later," and Best Makeup for the grotesque recreations of Tracy's rogues gallery, wrought from latex in the era just prior to CGI's predominance. But singling out Pacino for his role as crime boss Alphonse "Big Boy" Caprice was a genuine surprise for a movie that many contemporary critics derided as an empty spectacle, one that had been done zero favors by Disney's exhausting, Batman-aping promotional blitz.
G/O Media may get a commission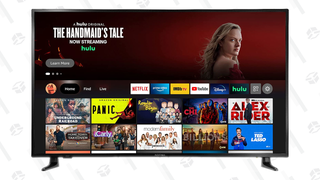 38% Off
Insignia 50" 4K UHD Smart TV
Far removed from the McDonald's tie-ins, Madonna videos, and toy store takeovers, history has been slightly kinder to Dick Tracy. Beatty's film—a passion project that saw him starring, producing, and directing—is still primarily a marvel of craft, its hemorrhaging budget evident in every frame of its hand-painted, Sunday comics page-evoking backgrounds. Unfortunately, its spirit remains equally two-dimensional: Beatty's straight-arrow detective slugs his way through a gang of cartoonish, hydrocephalic mobsters and wavers unconvincingly between Madonna's seductive lounge singer, Breathless Mahoney, and his loyal girlfriend Tess Trueheart (Glenne Headly), all while mentoring a street-smart audience surrogate named The Kid (Charlie Korsmo). It's a fitfully entertaining, but slightly hollow story that never quite matches the bombastic grandeur of Danny Elfman's score nor the emotional depth of Sondheim's songs. Dick Tracy burns itself into your retinas, but it leaves little impression on the mind.
Nevertheless, it remains one of the most singular comic-book films ever made, if only for boasting such a deep bench of talent consigned into doing some of the most bizarre performances of their careers. Pacino's Big Boy—capturing him a couple years before he descended fully into "Hoo-ahhhh!" self-parody—is a particular tour de force of never being told no, an outsized gangland fascist that Pacino copied direct from his recent off-Broadway role in Bertolt Brecht's The Resistible Rise Of Arturo Ui, hunched Richard III posture and all. Big Boy is a bug-eyed, jabbering, false-Nietzsche-quoting toddler in oversized pinstripes, the complete opposite of Beatty's bland, tall-drink-of-milk hero, and whenever he's on screen, the film briefly rises above the scenery as it's gnashed in Pacino's teeth. Whether he's screaming at his Godfather brother James Caan or roughhousing Madonna through the paces of a musical number, Pacino is always shamelessly, amusingly over the top in a way Dick Tracy, generally speaking, could have used more of.
Did he deserve an Oscar nomination for it? Probably not. While Pacino definitely stands out—even amid a stacked supporting cast that also includes Dustin Hoffman, Mandy Patinkin, William Forsythe, Seymour Cassel, Dick Van Dyke, Paul Sorvino, and Kathy Bates—it's impossible to put Big Boy up against that year's winner (and inarguably iconic movie gangster), Joe Pesci in Goodfellas. Even in his own film, Pacino runs neck and neck with Hoffman's Mumbles for most memorable performance. Besides, the fact that Pacino was nominated for Dick Tracy, as opposed to that same year's The Godfather Part III, suggests the nod was little more than a consolation prize.
Nevertheless, the fact that he was nominated is just one of many reasons Dick Tracy is not so easily forgotten (whether Beatty's repeated, occasionally bizarre attempts to revive it pan out or not). And it's a heartening reminder to the Deadpools et al. that the Academy does occasionally take comic-book movies seriously—even if it doesn't always get them right.
Availability: Dick Tracy is available to buy on Blu-ray and DVD at Amazon, and it can be rented on DVD from Netflix or possibly your local video store/library. It can also be rented or purchased from the major streaming outlets.