On July 4, 1999, my wife and I went to see South Park: Bigger, Longer & Uncut at a multiplex on the pedestrian mall in downtown Charlottesville, Virginia. After 80 minutes of shit jokes, clit jokes, sodomy jokes, and blasphemies both sacred and secular, Donna and I walked around the city that Thomas Jefferson and James Monroe once called home, and where Edgar Allan Poe and William Faulkner had lived and worked. After a few minutes of silence, I turned to my wife and said, sincerely, "God bless America."
I can think of few products of American popular culture that make me swell up with pride like South Park. The show's origin story alone is inspiring: Two wise-asses found each other at the University Of Colorado, where they created a violent, foul-mouthed, sacrilegious Christmas cartoon, which led to them being hired by a Hollywood executive to make his Christmas card, which led to a TV series that's now entering its 15th season. But that story wouldn't resound so strongly if said wise-asses—Trey Parker and Matt Stone—weren't reliably clever and boundary-pushing, using their platform to explore the petty annoyances of modern life along with the big questions about how a society can get in its own way. Parker and Stone take freedom and free speech seriously, and consider "getting a laugh" and "making a point" as equally valid reasons to risk being offensive.
Ergo "Cartoon Wars," the controversial two-part South Park which aired on April 5 and 12, 2006, early in the show's 10th season. Ostensibly a reaction to the outcry over a Danish newspaper's decision to solicit cartoons featuring drawings of the Muslim prophet Muhammad, "Cartoon Wars" slyly deals with censorship and public pressures of varying degrees—including some that are fairly discreet.
G/O Media may get a commission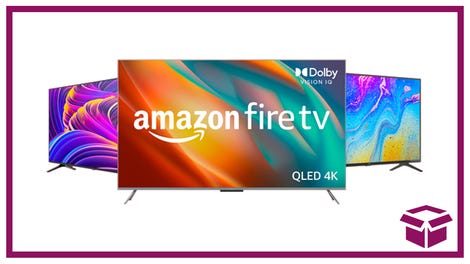 Ooh. stunning.
New Amazon Fire TVs
Part one of "Cartoon Wars" opens with the citizens of South Park taking cover in their community center, in a panic because word has gotten out that a television program is planning to broadcast an image of Muhammad that night. When the kids of South Park ask which show, they're told it's "the cartoon that's always pushing buttons," the Fox animated sitcom Family Guy. When morning comes and the world hasn't been blown up, the town learns that the network censored the joke, putting a black box over Muhammad. But they also learn that the episode was a two-parter, and that the Family Guy writers, upset over the censorship, have vowed to put Muhammad in the second part—prompting threats of retaliation from some Muslim religious leaders. The South Parkers vote at a town meeting to bury their heads in the sand—literally—to garner some mercy from the terrorists by demonstrating that when it comes to Family Guy, "We didn't watch it, we didn't hear it, and we didn't talk about it." But obese, obnoxious fourth-grader Eric Cartman wants to go one step further: He and his classmate Kyle Broflovski take a road-trip to Los Angeles to convince Fox to yank Family Guy and avoid offending one of the world's major religions.
In actuality, Cartman couldn't care less about Islam; he just really hates Family Guy. Cartman believes that if he can convince Fox to yank one episode due to viewer complaints, it'll open the floodgates for other people to complain about every petty slight, and soon Family Guy will be cancelled. (The same thing happened with Laverne & Shirley, Cartman insists.) Part two of "Cartoon Wars" follows Cartman as he skulks around the Fox lot, trying to sabotage the show. He finally hits paydirt when he learns a secret about the Family Guy writers: They're actually manatees who push "idea balls" with random words printed on them through a series of tubes, which generates the show's jokes. If even one idea ball is removed from the tank, the manatees refuse to work. So Cartman does just that, then urges the head of Fox to stand up to those slacker manatees by refusing to air their second Muhammad episode. But after Kyle makes "one of his gay little speeches" on behalf of free expression, Fox airs the unexpurgated Family Guy, and the Muslim world does retaliate, by airing their own cartoon in which George W. Bush, Jesus, and a selection of "typical Americans" take turns shitting on each other and on the American flag.
Both the setup and the follow-through of "Cartoon Wars" are standard South Park. One of the show's central premises is that its preteen heroes are often more courageous and honest than the town's adults, who overreact to crises and make a lot of noise, but usually fail to do anything. After the initial Family Guy/Muhammad scare, for example, the grown-ups react by forcing the children to take Muslim Sensitivity Training, where the kids learn that Muslims are angry because they're stuck in a desert and sexually frustrated. ("Imagine it's Friday night, but you can't have sex, and you can't jack off, there's sand in your eyes and probably in the crack of your ass, and then some cartoon comes along, from a country where people are getting laid, and mocks your prophet.")
Later, in the town meeting, a local parent (father to occasional Cartman lackey Leopold "Butters" Stotch) responds to the "head in the sand" plan by saying that rather than acquiescing to terrorist demands, everyone should draw cartoons of Muhammad, to show that our society values free expression and won't be intimidated. Instead, the town decides to go with the sand idea, because it's easier. ("Did you eat your fruit roll-up?" a father asks his son. "All right, make sure your snorkel is working.") President Bush tries to take charge of the situation, but when he talks about the First Amendment at a press conference, the reporters get blustery, saying that the U.S. Constitution "sounds like a lot of bureaucratic jibbery-joo." And while Fox heightens security at its lot in response to the crisis, Cartman is able to pedal his Big Wheel right under the gate.
"Cartoon Wars" also extends Parker and Stone's habit of riffing on the conventions of movies and TV, as seen in the above scene between Cartman and Kyle, where they play the stock roles of the idealistic loner and the skeptic who's been swayed to the cause—"I got some sound advice… from an old friend," Kyle says, while Cartman beams proudly—before pedaling slowly and anti-climactically offscreen. This episode keeps toying with outsized expectation vs. pathetic reality, in a glancing shot at the way overpreparation for terrorism is often worse than the actual threat. See also the way Kyle is driven to Cartman's cause by an apocalyptic dream in which his baby brother melts in a nuclear holocaust, even though the most epic act of violence that occurs in response to the whole Family Guy kerfuffle is a ridiculous slap-fight between Kyle and Cartman.
In keeping with Parker and Stone's mission as puckish provocateurs, "Cartoon Wars" alternates between hammering home its message, making points more subtly, and occasionally even contradicting itself. The episode is littered with petty blasphemies, whether it's an adult shouting "Jesus Christ!" while he pounds on his TV, or Cartman asking Kyle (who is Jewish), "How would you feel if there was a cartoon on television that made fun of Jews all the time?" (A cartoon like South Park, say.) "Cartoon Wars" considers the paradoxes of power and influence, from Cartman ironically insisting that he's taking a stand against terrorism by "using fear to get what I want," to the Family Guy manatees holding an entire network hostage by refusing to work. Even after Kyle gives his persuasive speech—saying of potentially offensive humor, "Either it's all okay, or none of it is"—Cartman tries to shoot first the network boss and then Kyle, but his pistol won't fire.
It's funny because it shows what an awful, awful kid Cartman is, while also underlining how ridiculous it is for anyone to resort to violence over a cartoon.
Parker and Stone had their own behind-the-scenes problems with Comedy Central over "Cartoon Wars." They'd intended to put an image of Muhammad in the episode, and according to their commentary track on the South Park season 10 DVD set, the reason "Cartoon Wars" is a two-parter is because they were bickering with Comedy Central right down to the last minute. They added a second episode to keep the discussion open. (Part one even ends with an announcer asking, "Will Comedy Central puss out?") The second part references the squabbles by opening with an announcement that South Park has been preempted by a special installment of the flatulence-friendly Canadian cartoon The Terrance & Phillip Show. The Terrance & Phillip episode also features Muhammad, again with a black box over him, having been censored by the CBC. Terrance and Phillip themselves storm into the CBC office to complain, and get told by a floppy-headed honcho that their show would be more funny if it were less preachy.
On the commentary track, Parker and Stone note that a Muhammad drawn in Terrance & Phillip's super-abstracted style would be so unrecognizable that it'd be nuts for anyone to be offended by it. And that's one of the main questions raised by "Cartoon Wars:" What makes an image offensive? Really, the depiction of Kyle's dad in the episode (yarmulke aside) looks as much like Muhammad as any straight-up drawing might. If South Park had put a Muhammad-looking character in the episode and hadn't labeled him as such, would that still have been cause for uproar? On the flipside, when they say that a black box represents Muhammad, why isn't that offensive? (I'm reminded of an old Rand Holmes cartoon in which Holmes drew a character with a raging erection in one panel, then showed in the next panel that he was only wearing a strap-on dildo, so it wasn't technically obscene… even though the hard-on in question looked effectively the same.)
Ultimately, Comedy Central nixed Parker and Stone's plan, so the big climactic moment in part two of "Cartoon Wars"—in which Family Guy shows Muhammad—is replaced by a black screen bearing a description of what's happening.
On the commentary track, Parker and Stone express irritation with their network bosses, but some sympathy too, given that in the real world, people have been hurt over images of Muhammad. (Even though Cartman is being disingenuous, he has a point when he asks Kyle in the episode whether a joke is still funny if people die because of it.) Then again, as Parker notes, they put Muhammad in a South Park episode five years earlier, pre-9/11, and nobody cared, so he felt obliged to comment on "a new taboo being formed."
During the mid-season hiatus, Parker and Stone talked to the press and fans, and were prepared for a rousing debate about censorship. Instead, they found that most people they met were mainly interested in two topics: Tom Cruise (whose sexuality and religion were skewered in the season-nine episode "Trapped In The Closet") and Family Guy. The latter was probably inevitable. "Cartoon Wars" is savage to Family Guy, and on the commentary track, Parker and Stone outright say that they don't respect the show's writing, adding that they feel its creative team takes the lazy way to a joke. (Parker: "You can tell there are smart people working on it." Stone: "I don't think they work hard enough.") Asked about the South Park slams at ComicCon, Family Guy creator Seth MacFarlane was surprisingly gracious, saying he had no plans to retaliate: "We were actually overjoyed that they spent two half-hours of their airtime talking about us." ("I don't have that kind of time," he added, as a mild dig.) But the criticism had to sting. MacFarlane is a bright guy whose shows presume a certain edginess and superiority. Then along comes South Park, with a similar attitude, having its most vicious character, Cartman, hissing, "Don't you ever compare me to Family Guy!"
Even Osama bin Laden complains in "Cartoon Wars" that Family Guy's plotless jokes are "totally gay," while Ayman Al-Zawahiri insists that the ultimate indignity of Family Guy showing Muhammad is that Family Guy basically sucks.
But nothing tops South Park's actual Family Guy parodies, which hammer the show for being a soup of meaningless, unmotivated pop-culture references.
Parker and Stone have said that when they trashed Family Guy, they received "attaboy" notes from the staffs of The Simpsons and King Of The Hill—both of which receive appreciative nods in the second part of "Cartoon Wars." The episode features a cameo by Bart Simpson, who hangs out in the Fox lobby waiting to file his own complaint about Family Guy. Yet South Park dings The Simpsons a little bit too, if so lightly that it barely registers. When Bart and Cartman compare the worst things they've ever done, Bart mentions that he once cut the head off a statue, while Cartman says that he once killed a boy's parents and fed them to him in a bowl of chili. Later, Bart smashes Kyle on the head with his skateboard and says, "Cowabunga, motherfucker!" (at least in the unedited version of the episode). Hearing profanity that harsh coming out of Bart's mouth is bracing, and a reminder that while Bart has always been an iconic TV bad boy, The Simpsons' writers are hardly as unfettered as South Park's when it comes to playing rough.
Did Parker and Stone's focus on Family Guy obscure their ultimate message? Not necessarily. Sure, they may have inadvertently turned "Cartoon Wars" from "those episodes about the Danish cartoon controversy" to "those episodes about how Family Guy is written by manatees." But anyone who watches "Cartoon Wars" is bound to get what South Park is trying to say about intimidation and censorship. It's not like Parker and Stone are keeping their opinions to themselves.
Besides, there's more to these two episodes than just "the First Amendment rocks." At one point, a Fox staffer notes admiringly that the Family Guy manatees—who look oddly beautiful, by the way—are "the only animals completely unmoved by terrorist threats." But that isn't necessarily a plus. That means these manatees lack basic human compassion and reason, and in that way are no different from a terrorist who responds only to doctrine, devoid of nuance. There should be some semblance of individuality to a creative endeavor, not faceless ideology. Also, freedom of expression shouldn't portend outright chaos. I'm sure South Park fans aren't encouraged to stand up and start yelling when Parker and Stone make a public appearance, nor are they asked to send in their own jokes for the show. (Actually, over the past few years, the writing staff on South Park has shrunk to Parker alone, more or less.)
Parker and Stone are part of a breed that takes comedy seriously: a breed that wears its tastes in what's funny as an identity. For them, comedy isn't about wanton wackiness; it's about having a point of view. And if there's a successful show out there that doesn't meet that minimum standard of quality, well, they certainly have a right to exist. But that doesn't mean other comedians can't try to shame it into irrelevance.
---
Addendum: I feel obliged to note that while I consider myself a South Park fan, I'm no super-fan. I used to watch fervently in the early years, and then it became one of those shows I drop in on, whenever I hear that they've come up with a particularly good episode. I actually do think that Parker and Stone can be too preachy at times, putting speeches where the jokes should be. That may be a function of the way South Park is produced, being that they keep to such a tight schedule that they frequently make references to events that happened less than a week before airtime. Or it may just be that South Park is Parker and Stone's show, and they can do with it what they damn well please.
Next time on A Very Special Episode: Family Ties, "A My Name Is Alex"