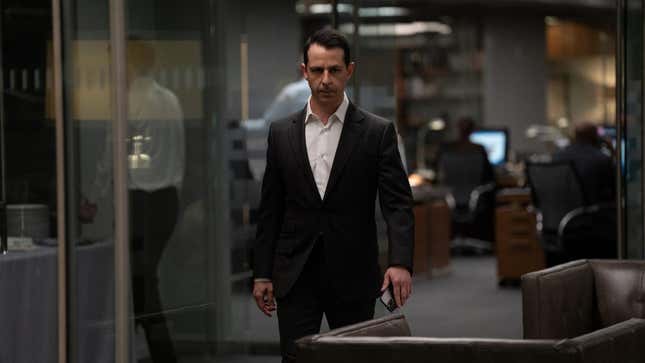 From the beginning, Succession has cribbed storylines from reality. It's never been a secret that the Roys are based on real-world media dynasties—especially the Murdochs, but also the Redstones and Hearsts. Although it's set in a fictional world and couched in satire, one of the things that makes Succession so fascinating is that it feels utterly, horrifyingly plausible. Election interference. Tech mogul misconduct. Reality-adjacent media narratives. It's all grist for Jesse Armstrong's mill.

That's been especially true in this fourth and final season. The more we learned about Lukas Matsson, the more we were reminded of Elon Musk and his fraught reign as Twitter CEO—which is kind of astonishing when you realize that this season was written long before he took over. The further into the season we've gotten, the more real-world parallels have started to creep in. And this week's election-focused episode, cynically titled "America Decides," was the most relevant yet.

Just last month, Fox News settled a lawsuit for $787 million over its broadcasting of election disinformation and on-air defamation of Dominion Voting Systems. The internal communications still coming out from that case read like something ATN host and Nazi sympathizer Mark Ravenhead would have communicated to his supervisors at the Fox-inspired news network. Just last week, CNN gave an authoritarian ex-president a friendly forum to spew lies and rehash disproven election fraud claims, mere days after he was found liable for sexually abusing and defaming a journalist. That's not too far from the kind of cozy relationship right-wing candidate Jeryd Mencken enjoyed with the editorial staff at ATN. You could argue that the writing was on the wall (in the original German) but it's all pretty uncanny.

What's really disturbing about all this are the more extreme things that happened in "America Decides" that have no direct real-world parallels. At least, not yet. We hear a story from Shiv about vans of Nazis— or "fun buses," as Roman, in full gaslight mode, calls them—picking up groups of people on their way to vote and then dumping them on the side of the road. There are voter intimidation campaigns across the country. Each side jumps in to control the narrative, and we get a behind-the-scenes look at how a news outlet with an agenda can frame reality, while maintaining the illusion of impartiality. No matter where you fall on the political spectrum, it's not hard to imagine the current state of our political discourse leading to exactly this outcome.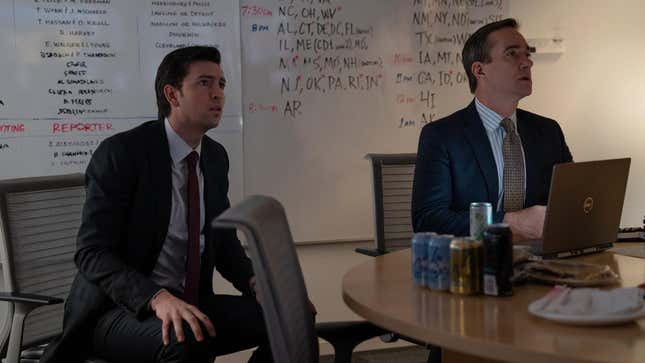 Most frightening, the episode turns on a potential act of arson at a vote-counting center in Milwaukee. We never find out the cause of the fire, but we know the result—as many as 100,000 absentee ballots go up in flames. Protesters and counter-protesters swarm the scene, as both sides rush to control the narrative. To Shiv's point, it's pretty obvious who benefits most from the torching of ballots from a historically blue district. But Roman gives voice to every reality-denying alt-right troll on the internet, screeching "false flag!" and invoking go-to scapegoat Antifa as the culprits. Meanwhile, Kendall is the overly cautious centrist who can't tell the difference between a reasonable argument and ideologically driven talking points.

If this is truly where we are headed as a country—and given Succession's track record of accurate foresight, it certainly could be—we are in deep trouble. The show's fictional world has uncomfortably overlapped with the real one in the past, but here we are getting a peek into a potentially ugly future. The violence and menace isn't even the worst part, though. What "America Decides" demonstrates so effectively, besides the depressing fact that America doesn't actually decide anything, is that we are not in a place to properly reckon with any of it.

One of the overarching themes of Succession is the corrosive power of money in general, and capitalism specifically. We've seen on a micro scale how it destroys families and relationships. This episode addresses its effects on the fourth estate, and democracy itself. The real world has plenty of ATNs, and Jeryd Menckens, and Roman Roys. And it has anti-democratic groups capable of intimidating voters and firebombing election sites. Or worse. If you had a sinking feeling watching this episode, you weren't alone. Armstrong and his writing team know exactly what they're doing. They might even be too good at it.