A guide to what we're barely putting up with this week.
The return of the only reality competition still worth watching, RuPaul's Drag Race. Eight seasons, and it's still the queen.
ABC's erotic Old Testament series, Of Kings And Prophets. A.k.a. The Bible: Book Of Network-TV-Approved Sex.
G/O Media may get a commission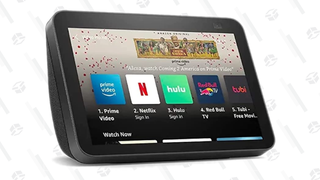 Chelsea Handler's vanity documentary series, Chelsea Does. At least now Netflix has a show that your spouse will actually encourage you to go ahead and watch without them.
Bravo's more-unnecessary-than-usual reality show, Tour Group. Pretty sure the only people who go on tour groups are 60-plus retirees, not young, reality-ready singles.
McDonald's testing a Chicken McGriddle sandwich. Beige on top of beige on top of beige. If it tastes as good as it looks, it'll be quite a bland mouthful.
The Batman V. Superman commercial for Jeep. Owning a Dawn Of Justice Special Edition Jeep is only slightly less embarrassing than owning a Gigli edition Acura.
VS's thoroughly pointless bikini parade—featuring Demi Lovato!—The Victoria's Secret Swim Special. This is the program you should reference whenever anyone says we're in a golden age of television.