Soon, TNT and TBS won't just be your source for Law & Order reruns and new episodes of American Dad!—their parent company, Turner, has just picked up the cable rights for the complete Star Wars saga, including all the movies that haven't even been made yet. The multi-year licensing agreements with Walt Disney Studios and 20th Century Fox grant TNT and TBS the rights to air everything from Star Wars: A New Hope to the forthcoming Rogue One. The cable networks have also nabbed premiere windows for 2015's The Force Awakens, as well as Gareth Edwards' standalone film. Deborah K. Bradley, a Turner media company executive, confirmed the details in a press release issued today.
The Star Wars movies and characters are beloved across generations, captivating audiences and breaking box office records around the globe for nearly four decades. Through this deal, TNT and TBS will be the exclusive basic cable home of one of the most iconic, enduring and valuable movie franchises of all time, giving viewers the chance to watch this amazing collection from the very beginning.
The twin networks hope to muscle in on fall TV premiere season, presumably, by rolling out the films and tacking on one new adventure daily from September 20-25. So later this month, you can make your way through the entire (released) saga again, beginning with the prequels (yes, really). You'll have a chance to do it all over again in December, just in time for the release of Rogue One. But TNT and TBS won't broadcast The Force Awakens and Rogue One until 2018 and 2019, respectively. In the meantime, here's the schedule for Episodes I-VI.
Tuesday, September 20
8 p.m. (ET/PT) Star Wars: The Phantom Menace
11 p.m. (ET/PT) Star Wars: The Phantom Menace
Wednesday, September 21
8 p.m. (ET/PT) Star Wars: Attack of the Clones
11:05 p.m. (ET/PT) Star Wars: Attack of the Clones
Thursday, September 22
8 p.m. (ET/PT) Star Wars: Revenge Of The Sith
11:05 p.m. (ET/PT) Star Wars: Revenge Of The Sith
G/O Media may get a commission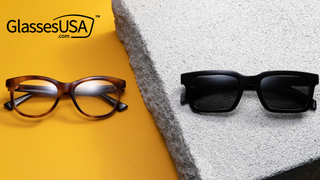 60% off frames
GlassesUSA.com Back to School Sales
Friday, September 23
8 p.m. (ET/PT) Star Wars: A New Hope
10:45 p.m. (ET/PT) Star Wars: A New Hope
Saturday, September 24
10:45 a.m. (ET/PT) Star Wars: The Phantom Menace
1:45 p.m. (ET/PT) Star Wars: Attack Of The Clones
4:55 p.m. (ET/PT) Star Wars: Revenge Of The Sith
8 p.m. (ET/PT) Star Wars: The Empire Strikes Back
10:45 p.m. (ET/PT) Star Wars: The Empire Strikes Back
Sunday, September 25
5:15 a.m. Star Wars: The Phantom Menace
8:15 a.m. Star Wars: Attack Of The Clones
11:20 a.m. Star Wars: Revenge Of The Sith
2:25 p.m. (ET/PT) Star Wars: A New Hope
5:10 p.m. (ET/PT) Star Wars: The Empire Strikes Back
8 p.m. (ET/PT) Star Wars: Return Of The Jedi
11 p.m. (ET/PT) Star Wars: Return Of The Jedi
2 a.m. (ET/PT) Star Wars: The Phantom Menace