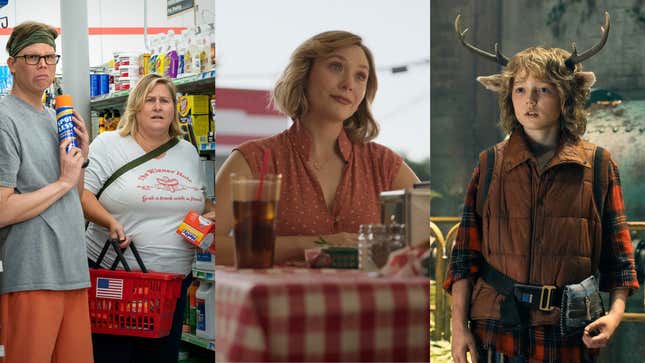 Welcome to What's On, our weekly picks of must-watch shows. Here's what you need to watch from Sunday, April 23, to Thursday, April 27. All times are Eastern. [Note: The weekend edition of What's On drops on Fridays.]

---
The biggies
Somebody Somewhere (HBO, Sunday, 10:30 p.m.)
HBO subscribers will feast on quality television for the next few weeks because Somebody Somewhere is back, airing right after Succession and Barry. Co-created by Hannah Bos and Paul Thureen, the comedy follows Sam (Bridget Everett), who goes through an identity crisis when she returns to her hometown of Manhattan, Kansas, when her sister dies. As she grapples with her grief, Sam finds a friend in Joel (Jeff Hiller) and finally embraces her singing talent by joining a community of outsiders who don't fit in and don't give up. The A.V. Club will recap Somebody Somewhere weekly, and be sure to check out our high-energy interview with Everett and Hiller.
---
Love & Death (HBO Max, Thursday, 3:01 a.m.)
It's only been a year since Hulu's Candy tried to unpack the Candy Montgomery case. (Did she or did she not kill her friend, Betty Gore, with an axe?) Now, HBO Max's Love & Death does the same. Lesli Linka Glatter's series stars Elizabeth Olsen as the titular suburban housewife, who starts an affair with Betty's (Lily Rabe) husband, Allan (Jesse Plemons). Soon, their situation spirals, and Betty is discovered dead. The seven-episode limited series also stars Patrick Fugit, Tom Pelphrey, Elizabeth Marvel, Krysten Ritter, and Brian d'Arcy James. Look out for The A.V. Club's review on Monday.
---
Sweet Tooth (Netflix, Thursday, 3:01 a.m.)
Netflix's underrated fantasy drama Sweet Tooth returns for its sophomore run after an almost two-year break. Developed by Jim Mickle and based on Jeff Lemire's comic books, the post-apocalyptic TV show centers on part-human, part-deer Gus (Christian Convery). In a world where hybrids exist and are violently hated on, Gus is on a quest to find his mother and finds a protector in Jepperd (Nonso Anozie). Season two follows up on Gus being captured by the Last Men, who hunt hybrids, and the revelation that his mom is hiding somewhere in the Arctic and doing crucial medical research. Dania Ramirez and Stefania LaVie Owen also star.
---
Hidden gems
John Mulaney: Baby J (Netflix, Tuesday, 3:01 a.m.)
John Mulaney's third comedy special with Netflix has a due date approaching. The comedian's Baby J is ready to roll on April 25, in which he talks about having a son with Olivia Munn, getting sober after rehab, and joining the five-timers club on SNL, among other things.
---
The Gentle Art Of Swedish Death Cleaning (Peacock, Thursday, 3:01 a.m.)
Amy Poehler produces The Gentle Art Of Swedish Death Cleaning, an adaptation of Margareta Magnusson's book of the same name. The show follows people at a major crossroads who need to get their houses and lives in order. So a Swedish "death cleaner" helps them organize while preparing for their big sendoffs. Honesty, all of this sounds highly relatable.
---
More good stuff
Family Legacy (Paramount+, Tuesday, 3:01 a.m.)
The five-part musical docuseries Family Legacy dissects the lives of some of music's biggest artists, including the Notorious B.I.G., Diddy, and Nathan Morris, through the eyes of their children. Quincy Brown narrates each episode.
---
Saint X (Hulu, Wednesday, 12:01 a.m.)
Hulu has decided to make its version of The White Lotus with Saint X, a mystery thriller set on a Caribbean island. However, brace yourselves for two timelines because that's just the annoying nature of TV right now. One is set in the past when a family mourns the sudden disappearance of their daughter while on holiday. Years later, Emily Thomas (Alycia Debnam-Carey) makes it her mission to obsessively search for the truth about what happened to her sister. West Duchovny, Josh Bonzie, Betsy Brandt, and Michael Park co-star, and The A.V Club's review of the show publishes Monday.
---
The Good Bad Mother (Netflix, Wednesday, 3:01 a.m.)
Another week, another promising K-drama. South Korean drama The Good Bad Mother explores the complex parent-child dynamic over 14 episodes. In the series, Young Soon (Ra Mi Ran) lives for her son but their universe topples when Kang Ho (Lee Do Hyun), a prosecutor, suffers from amnesia after an unexpected accident.
---
Can't miss recaps
Succession (HBO, Sunday, 9 p.m.)
Barry (HBO, Sunday, 10 p.m.)
Perry Mason (HBO, Monday, 9 p.m., season two finale)
The Real Housewives Of New Jersey (Bravo, Tuesday, 8 p.m.)
Ted Lasso (Apple TV+, Wednesday, 3:01 a.m.)
Top Chef (Bravo, Thursday, 9 p.m.)
Yellowjackets (Showtime, Friday, 3:01 a.m.)
---
Arriving now
From (MGM+, Sunday, 9 p.m., season two premiere)
Awkwafina Is Nora From Queens (Comedy Central, Wednesday, 10:30 p.m., season three premiere)
---
Ending soon
Great Expectations (FX on Hulu, Sunday, 12:01 a.m., season one finale)
Sanditon (PBS, Sunday, 9 p.m., series finale)
Rain Dogs (HBO, Monday, 10 p.m., season one finale)
Workin' Moms (Netflix, Wednesday, 3:01 a.m., series finale)
Bel-Air (Peacock, Thursday, 3:01 a.m., season two finale)
Firefly Lane (Netflix, Thursday, 3:01 a.m., series finale)