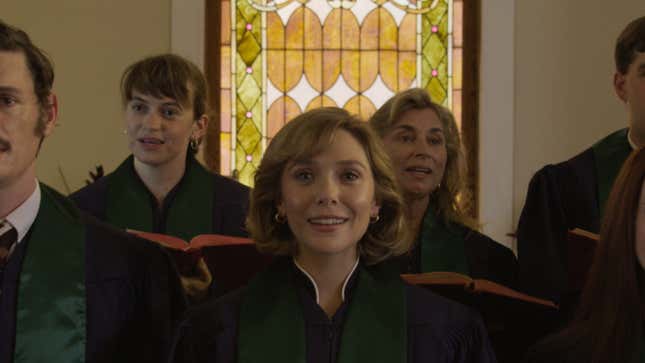 The Snapped-to-prestige-limited-series pipeline prevails again: the first trailer for HBO Max's Love And Death is here. Penned by Big Little Lies scribe David E. Kelley, Love And Death chronicles the true story of Candy Montgomery, a Texas housewife who was accused of murdering her lover's wife with an axe in 1980. Olsen, with her doe-eyed yet sinister gaze, makes an eerily believable unhinged romantic as the new teaser duly demonstrates.
"I have done all the things a wife is supposed to do: the house, the meals..." Candy muses in voiceover as a montage plays depicting her domestic, demure, and God-fearing life in rural Texas. "Where is the payback?"
That existential question is what leads Candy to proposition married fellow churchgoer Allan Gore (Jesse Plemons), initiating an affair that comes to a brutal apex when Allan's wife Betty (Lily Rabe) is found dead with 41 axe wounds. "I just don't want anyone to get hurt," Candy (Elizabeth Olsen) opines to Allan at one point as they laze together—someone really should have knocked on wood.
Love And Death isn't the first time Candy Montgomery's story has been put to screen— in fact, it isn't even the first time this decade. In 2022, Hulu's limited series Candy: A Death In Texas aired five episodes chronicling the story, with Jessica Biel starring as Candy and Melanie Lynksey stepping into the role of Betty.
Patrick Fugit also stars in Love And Death as Candy's legally wedded partner, Pat; Krysten Ritter, Tom Pelphrey, Keir Gilchrist and Elizabeth Marvel round out the cast. The first three episodes of Love And Death will drop on HBO Max on April 27—after that, a new episode will air weekly through May 25.