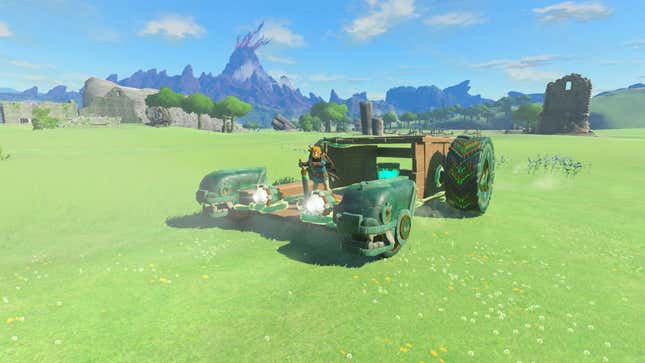 As we race to put our time in on new Zelda game Tears Of The Kingdom, we thought we'd put together a first-impressions review based in our first 20 hours with it. We'll revisit the game as we get more time with it in the coming weeks.
Chris Pratt thinks you'll really like his Mario voice
---
Here's the best shot we've got, after 20 hours with The Legend Of Zelda: Tears Of The Kingdom, at explaining why it's the most fun video game Nintendo has released in at least a decade. And it comes in the form of a question: Y'all ever watch the experts play 2017's The Legend Of Zelda: Breath Of The Wild?

They were incredible: Physics-defying daredevils, breaking the Switch hit in half using blue-clad hero Link's robust power set, and the game's own physics, to do truly stupid, beautiful stuff, like launching themselves halfway across Hyrule with a single dose of time-stopping Stasis. Certainly, their exploits made for fun videos to watch while we, muddling through what we are forced to concede was the exact same game, found ourselves clinging uneasily to the side of a mountain, desperately managing our stamina bars, and trying not to get struck by lightning.
The brilliance of Tears Of The Kingdom, then, is this: It sets out to—and, impossibly, succeeds at—making players like us feel like high-flying demented geniuses like them. And it does it pretty much right from the jump.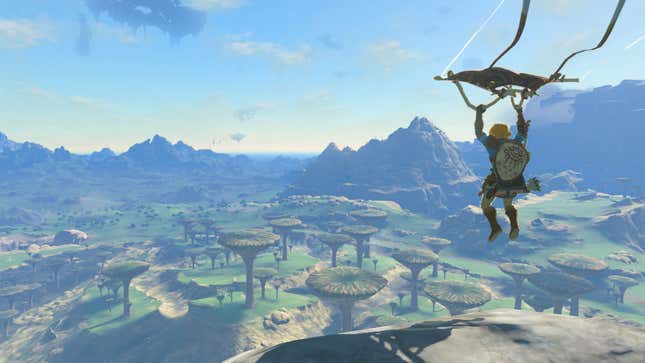 With a plot picking up a few years after the end of BOTW, Tears Of The Kingdom wastes no time in stripping Link back down to basics—so that it can build him right back up in its new (aggressively shirtless) image. Clearly noticing how much joy BOTW players got out of the game's high-flying tutorial area The Great Plateau, Tears' creators doubled down on both the verticality and the intensity of its own opening areas, sending Link sky-diving, sans parachute, between multiple impossibly floating islands, before handing him the first of the game's incredibly impressive set of environmental tools: The Ultrahand, a grabbing tool that allows the player to move objects in their environment, and, critically, glue them together with magic glue.
As Tears' first few hours steadily demonstrate, that attachment ability is far more than just a revenge rip-off of Fortnite's basic building mechanics: It's the secret ingredient that allows players to do pretty much anything they can imagine in this space, provided they've got the logs, planks, boulders, and an ever-expanding set of electrical "Zonai" devices to pull it off. By hour two, we were already being asked, on a regular basis, to build the sort of stuff you'd normally see only in the bizarre depths of some physics-obsessed indie game: Fanboats, rocket cars, catapults, and more, all simple to build, all clearly expected of players by the game itself. All of this, as filtered through Nintendo's typical technical brilliance; Breath Of The Wild already had a great physics engine, and Tears more or less hands players the keys to it and invites them to go nuts. That's our point, really: They took the fun that was always lurking in the world they'd created, and made it so accessible as to become purely irresistible.
Meanwhile, much of the core gameplay of BOTW has been kept intact: A massive world to explore, now supplemented by huge regions in the skies, and deep beneath the earth, for players to explore. (Don't sleep on the Depths, either: The game tucks some of its most joyful surprises down in those dark, hostile chasms.) There's still a blessedly minimalist approach to writing, with a story that mostly serves to introduce new abilities or toys and then gets out of the way so you can spend most of your time in blissful, creative solitude. And there's still a robust combat system that punishes foolish players with broken weapons and brutally hard hits—and encourages the creative with numerous new ways to fight. (The new Fuse tool, which lets you merge your precious, fragile weapons with environmental objects, monster parts, and even other weapons, is the star here; the possibilities begin with "glue a spear to another spear for double reach" and then just get sillier and sillier from there.)
Notably, Hyrule has once again found itself filled with shrines, those bite-sized mini-dungeons that made up so much of Breath Of The Wild's run-time. But where the BOTW shrines could often feel like they were trying to create, in aggregate, the feeling of running through the more traditional and larger Zelda dungeons that game mostly lacked, the shrines in Tears Of The Kingdom now serve almost solely as mini-tutorials to spark player creativity. Almost all of them focus on a single building technique or object—hot air balloons, massive trampolines, literal high-powered rockets—designed to get you thinking about all the stuff you could build with these things out in the real world. In 20 hours with the game, shrine duty never felt like chores, because we always knew they'd be showing off something cool. (And also, of course, granting us 1/4 of a heart container or stamina upgrade in the process—critical, as Tears Of The Kingdom remains committed to making you feel vulnerable in its early game.)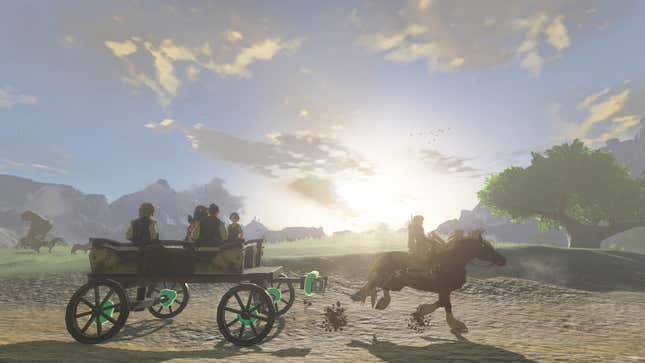 Meanwhile, each area of the game world has been filled with stuff to do, with a shockingly high hit rate of enjoyability. Sick of shrining? Go follow some sidequest that'll likely lead you to a new building tool. Poke into a cave for treasures, and then use your Ascend power to pop right back out via the roof. Help this one poor bastard hold up a sign. (God, we love helping that poor bastard hold up his signs.) Or just go hunt down towers to fill out your map—a now-standard bit of video game design that is turned joyfully on its head here; instead of testing your climbing prowess, each lookout tower now hurls Link into the air to snap a picture of the landscape with his anachronistic smartphone, and then lets him glide wherever the hell he wants. Why? Because that's fun, and Tears Of The Kingdom chooses the fun option every single time, with a consistency and dedication that is absolutely shocking.
Want to build a 100-foot-long bridge so you can ride a horse across a lake? Do it, friend. Want to strap a rocket to a helpless Korok and launch them in the direction of their buddy? Decent odds that it'll work. Want to beat a monster to death with a giant dick made out of rocks and boulders? Best believe Tears Of The Kingdom has got your back. And none of these things—sans the lithic phalli—are unintended by the developers. It's clear that the dev team here looked at the toolset of Breath Of The Wild, saw what players were doing with it, and steered into it so hard that they made a Zelda game that's about building your own monster truck to fight evil ninjas with. And it all works, both practically—you will be shocked by what this game lets you get away with, in terms of video game physics—and spiritually. In their, and your, hands, this version of Link becomes the ultimate improviser, employing cunning and craft to overcome literal mountains and overwhelming odds.
To have all of this come from Nintendo—a studio that has struggled, for decades, with its warring love for, and fear of, the imaginations of its own players—is a genuine, joyful shock. Coming across some little treat—to pick an example out of dozens, finding a set of objects that, you slowly realize, are car wheels, ready to start spinning with a simple smack—and realizing that the game wants nothing more from you than to just play, is completely exhilarating. That it presents this overwhelming playground while also serving wonderfully as a Zelda game, complete with dungeons, massive and cinematic boss fights, and an expanding array of items and abilities, is simply breathtaking.
In a gaming landscape where nearly every open world game can, eventually, be reduced into a simple set of chores on a map, the first 20 hours of Tears Of The Kingdom are a revelation. No game since Elden Ring has sparked our sense of discovery so strongly—and where that game over-awed with scale and mystery, this latest Zelda game does something similar with an energetic sense of play. If the phrase "The WarioWare of Zelda games" makes sense to you, you understand what we're trying to convey here; if not, then we'll put it in simpler language: One of the most talented video game design teams on the planet has let their imaginations go with this one, and the results are impeccable. We can't wait to play more.