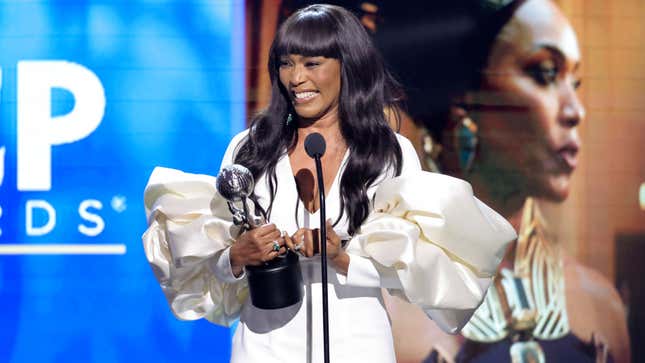 For those dear readers who either a) live under a rock or b) have found a spiritual, unplugged peace away from online discourse: aspiring MC Ariana DeBose notched her first major hit last weekend with the delicious, ridiculous simplicity of the line "Angela Bassett did the thing." Whether she knew it or not, when DeBose uttered the phrase during a rap honoring actresses at the BAFTAs on February 19, she created the internet's latest and greatest meme.
Kevin Costner's attorney would like to inform you the star is not a jerk
Over the weekend, the viral ubiquity of Debose's rap came full circle when Bassett herself, accepting the NAACP Image Award for Entertainer of the Year on February 25, referenced the song.
"I guess Angela Bassett did the thing!" Bassett joked while accepting the award at Saturday night's ceremony, garnering a laugh from the crowd. A clear student of the medium, Bassett even accompanied the joke with a DeBose-esque shoulder shimmy. (Cameras have yet to reveal whether, as with the original, Viola Davis was snapping along supportively).
Although Bassett may be joining in on the joke, it's all in good fun: Bassett says she got in touch with DeBose after noticing just how much online traction the rap was picking up.
"I DM'd her last night. I did. It was beautiful," Bassett told Variety's Angelique Jackson of DeBose during the NAACP Image Awards' Red Carpet. "I just wanted to make sure she was okay because, you know, it's a lot of attention. And she is A-Okay."
In the wake of all that attention, DeBose briefly deactivated her Twitter account, but kept things light in an Instagram post, where she highlighted some of her favorite send-ups (and a bouquet of flowers from Wanda Sykes) alongside the caption: "The internet is wild y'all! Appreciate all the love." If being a good sport is the thing, DeBose definitely did it.